Chicken & Rice Casserole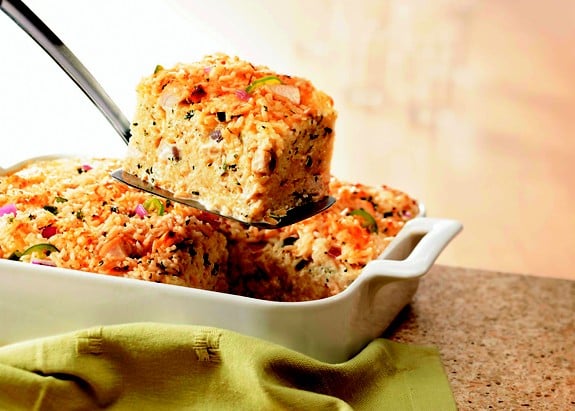 Chicken & Rice Casserole
Family-Friendly Flavors Chicken and rice casserole delivers big, family-favorite flavors with very little effort.
Ingredients:
2 c (Cup) cooked rice
2 c (Cup) shredded Monterey Jack cheese
1 c (Cup) cooked, chopped chicken breast
12 oz (Ounce) Nestle Carnation Evaporated Milk
0 c (Cup) finely chopped red onion
2 (Unit) large eggs, lightly beaten
0 c (Cup) finely chopped cilantro
2 T (Tablespoon) tablespoons butter or margarine, melted
1 T (Tablespoon) diced jalapeños ((optional))
Instructions:
1. Preheat oven to 350°F. Lightly grease 2-quart casserole dish.
2. Combine rice, cheese, chicken, evaporated milk, onion, eggs, cilantro, butter and jalapeños in prepared casserole dish; stir well.
3. Bake 45 to 50 minutes or until knife inserted in center comes out clean.
Preptime: 10
Source: Nestle
Cooktime: 45 minutes
Ready time: 45 minutes