Chefs go to school: Charcuterie Class with Bruce Aidells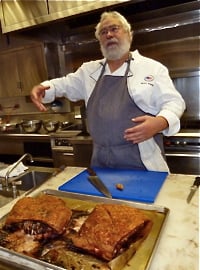 Expect more charcuterie—housemade bacons, pates, mousses, sausages, salamis—on Hawaii menus.
When the Hale Aina Ohana brought the "King of Meat Cookery" Bruce Aidells to Hawaii for classes, the room was packed with top chefs.
Among others: Ed Kenney and the crew from Town. Kevin Hanney and Bobby McGee from 12th Avenue Grill. Jackie Lau and a whole panoply of chefs from the various Roy's Hawaii restaurants. John Memering and Jason Iwane from Kalapawai Cafe. In from the Big Island, Faith Ogawa and Merriman's Waimea chef Alan Hess.
All were there because Aidell, who founded but is no longer with the national sausage company that bears his name, was in town to demonstrate everything from curing and smoking your own bacon ("Oh, nice and porky," he said of the finished samples) to creating your own sausages.
With Aidell came his friend of 40 years, chef and sausage maker Franco Dunn. It was Dunn who demonstrated a dish that was so good, Aidell threatened not to share it with the class: a pork belly stuffed with Swiss chard, onions, pine nuts and bread crumbs.
The room could hardly wait to have slices passed around by the culinary students, all them with a golden crust that just sang in your mouth. Kalapawai's Jason Iwane said, "This is one of the best things I've ever eaten."
The instruction was rapid-fire and technical. How long to smoke bacon or sausages, what temperature and humidity were best for curing sausage, where to get the best sausage casings, how to season salami mixture. (Answer to the last: with restraint, because flavors intensify during curing.)
Aidell and Dunn demonstrated a dozen or more recipes, including some elaborate preparations, like a boneless whole chicken stuffed with an Italian sausage mixture.
As Aidell was struggling with deboning the chicken, a tricky maneuver since it had to stay intact, he asked the room, "How many of you have ever done this?" Most of the hands went up. "How many have done this since culinary school?" The hands went down.
Perhaps the greatest comic relief came when Dunn and Aidells demonstrated making sausage with KCC's somewhat primitive sausage press (left). "I doubt my union contract allows me to work this thing," said Aidells.
The sausages and salamis came out fine, especially Dunn's variations of Portuguese sausage with pineapple.
Since charcuterie can take weeks to cure, most of the dozen or so finished sampling dishes were created from Aidells' recipes by KCC chef-instructor Alan Tusuchiyama. "I'm always glad to see my recipes actually work," said Aidells. "Hats off to Alan did."
"Really good class," said 12th Avenue's Bobby McGee. "Wait till you see what's coming at the restaurant."
From the enthusiasm in the room, there's a lot of housemade charcuterie on its way to a menu near you.
The Hale Aina Ohana supports culinary education for the state's students and professionals.