Chef Mavro's Greatest Hits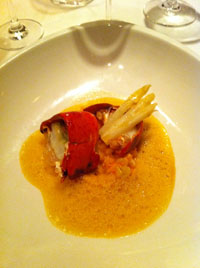 One of the many fun things going on surrounding the 20th anniversary of Hawaii Regional Cuisine is that Chef Mavro has brought back some beloved dishes from his eponymous restaurant for a limited time. We had a chance to enjoy the full six-course presentation and it was amazing: ahi tartare with caviar, dayboat snapper baked in Hawaiian salt crust, Keahole lobster risotto, certified Angus filet mignon, Hawaii island fresh goat cheese mousse and lilikoi malassadas, all paired perfectly with a wine of their own.
The menu only runs to the end of the month, when Chev Mavro unveils his fall menu, so hurry for this gastronomic blast from the past.
Update 9/28/11: The menu has been extended through October 16.