Celebrating Moms
Web Exclusive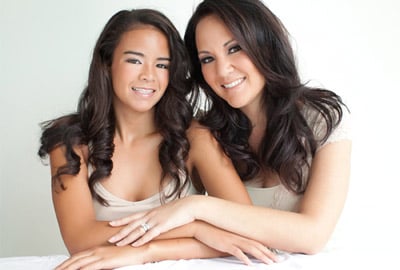 Mothers often put everyone else's needs ahead of their own. Why not treat your mom to a glamorous session with Mapuana Reed Photography? It's the perfect time to capture that mother-daughter moment on film, or bring in your grandmother and sisters.
Mapuana Reed Photography specializes in glamorous portraits for everyday women. Born and raised in Hawaii, Mapuana Reed is a mom to six children; gave birth to three. She has two children in college, two in high school and two in preschool—and knows how hard it can be to be a mom.
"I love moms," she says. "They're inspiring and selfless, often running around the house taking care of everyone else, but they may unknowingly neglect themselves. I want to give them a chance to feel beautiful and pampered for a day."
After browsing through Reed's portfolio, one would think that her clientele were professional models. Surprisingly, a lot of the women are actually mothers, but she enjoys capturing the different stages in a woman's life: from the early years to the golden years.
"My target is the normal girl," says Reed. "No matter what age you are, it's all about embracing your curves and celebrating who you are. Women will come in to do special photo shoots as a gift for their husband or for themselves. Some even come in to celebrate turning 50!"
Reed has also done a surprise photo shoot at the request of a client's sister.
"We knocked on the door and basically said, 'Hello… Get ready… We are about to glam you up,'" she says. "That's what I love about my job. It's exciting to see the smiles on people's faces. I am just so grateful to have a job that I absolutely LOVE. It feels weird calling it a job. It's more like hanging out with friends and taking pictures."
Photo sessions start at $250 and include professional hair and makeup. For more information, or to book your Mother's Day glamour session, call (808) 755-9100 or visit www.MapuanaReed.com.