Celebrate Lei Day Year-Round with a New Kind of Flower from Arlie Glass
Stay glassy.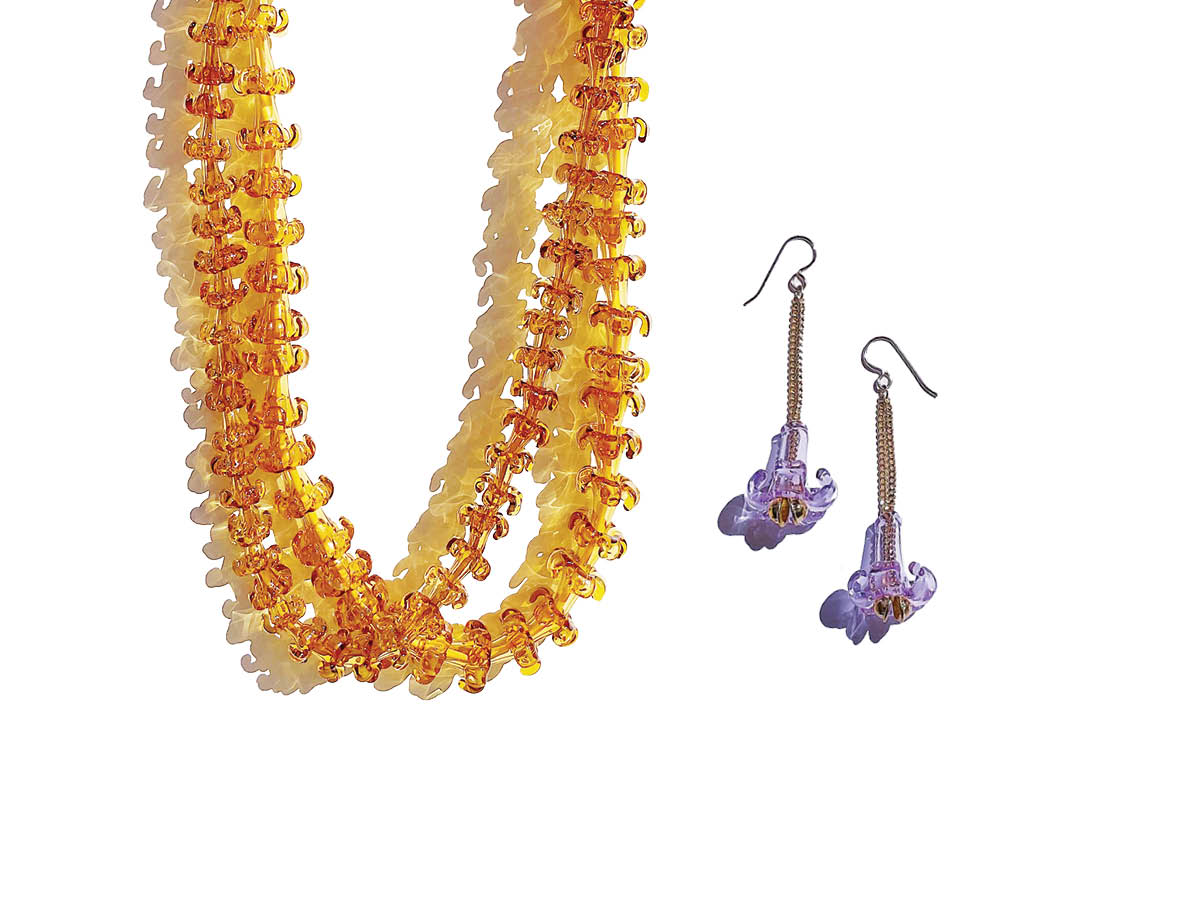 There's something so calming about Arlie Glass' handmade puakenikeni. Whether it's their mellow lilac, light orange and soft pink hues, or how each delicate flower catches the light, the captivating glass blooms conjure a dreamy golden hour, when everything looks magical.
They're some of the latest works from Arlie Pemberton, whose one-of-a-kind glass creations include home décor, fun reusable straws and jewelry, such as earrings and necklaces. Individual pua can act as keepsakes, while lei—featuring anywhere from one to more than 40 flowers—serve as eye-catching statement pieces. Each lei takes between one week and two months to complete, depending on how many pua are included.
SEE ALSO: 7 Local Treats to Thank Our Teachers
"The glass puakenikeni lei is just the beginning of what I hope to be an ever-evolving body of glass-lei work," Pemberton says. "I am so inspired by lei makers and the endless combinations of tropical flowers." Pemberton also crafts custom anthuriums, allowing the perennials to truly shine year round. She says her pieces have always been inspired by textures and colors found in nature, and when she moved from North Carolina to Hawai'i in 2016, she was "immediately enamored [of] all the tropical plants, flowers and the act of making and giving lei. I knew I wanted to incorporate it all into my work but it wasn't until the pandemic started in 2020 that I really honed in on the anthuriums and puakenikeni and started producing Hawai'i-inspired pieces."
The professional flameworker has been creating shining wonders since 2009, when she was taking art classes at Virginia Commonwealth University. Though Pemberton majored in photography, an elective course in glass set aflame her creativity. She began selling glass rings on Etsy, and her business took off. Now it's her full-time gig.
Pemberton crafts each piece in her Hale'iwa home studio built by her husband, Stephen. "It's difficult working from home no matter what kind of work you do. Especially with a little one around," says Pemberton, who has a 2-year-old daughter, "but I have never structured my time and avoided procrastination as well as I do now." She creates each delicate piece by melting and shaping borosilicate glass rods and tubes over a concentrated oxygen/propane flame exceeding 3,000 degrees. And while those materials can't be sourced here, the company she buys from plants a tree for every $100 she spends, allowing her to give back to her source of inspiration: nature.
Full glass puakenikeni lei, price upon request. Pua flower drop earrings, $120. Custom glass anthurium flowers and vase sets, prices upon request.