Catch a Special Episode of Nā Mele with Robert Cazimero and Kuana Torres Kahele on Dec. 12
And find out how to bid on Ni'ihau shell lei made by Kahele himself.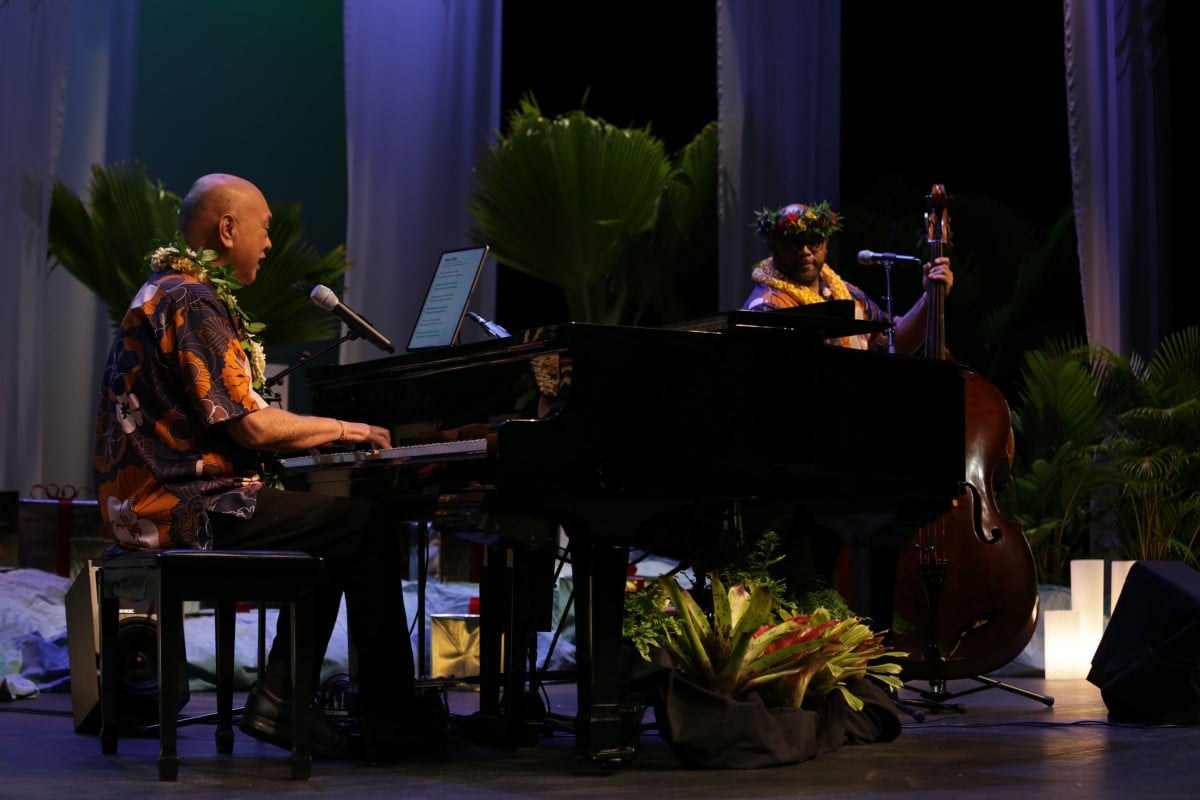 Perpetuating the Hawaiian tradition of song has always been the goal of the long-running PBS Hawaiʻi program Nā Mele. For years, it has showcased legends like Jerry Santos, the Lim Family and Ledward Kaʻapana. With a new generation of artists like Josh Tatofi and Paula Fuga, the sound of the Islands evolves—and Nā Mele evolves with it. (Episodes featuring both Josh Tatofi and Paula Fuga can be found on pbshawaii.org and the PBS Hawaiʻi YouTube channel.)
On Monday, Dec. 12, watch as Robert Cazimero and Kuana Torres Kahele, two distinct voices of their respective generations, team up to celebrate the holiday season for a special episode of Nā Mele, recorded earlier this year at Windward Community College's Palikū Theatre. The award-winning musicians—Cazimero on piano and Kahele on the upright bass—perform classics for a captivated live audience.
This episode of Nā Mele will be part of PBS Hawai'i's annual pledge event, with the station taking calls of support live. The concert can also be viewed online on PBS Hawai'i's YouTube and Facebook sites.
In addition, the station will hold a special auction in which you can bid on three one-of-a-kind Niʻihau shell lei, handcrafted and donated for the auction by Kuana Torres Kahele himself. Bidding opens on Thursday, Dec. 8, at 8 a.m. and closes at 5 p.m. on Tuesday, Dec. 13. Christmas is coming up—just saying. Go to pbshawaii.org for more information, or click here to go straight to the auction page.
Nā Mele: A Holiday Concert with Robert Cazimero and Kuana Torres Kahele, Monday, Dec. 12 at 7:30 p.m., broadcast on PBS Hawai'i and streaming on pbshawaii.org
---
Every month, HONOLULU publishes a blog written by the folks at PBS Hawai'i, the only locally owned, statewide television station in Hawaiʻi that receives support mainly through donations. Visit pbshawaii.org to learn more about exceptional, locally produced shows and the most prominent provider of educational and national programming. Explore music and the arts, discover in-depth documentaries and learn what makes Hawaiʻi so special. Follow PBS Hawai'i on all platforms: @pbshawaii