Carbo Load Before the Honolulu Marathon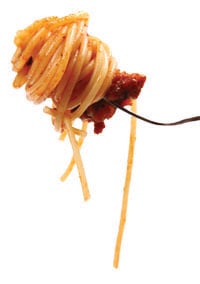 It's that time of the year again where locals and visitors join together to run more than 26 miles on a course that stretches from WaikĪkĪ to Hawai'i Kai and back again—it's the Honolulu Marathon.
Preparation for such a physical trial requires months of training, traveling for some and eating right. One of the most important meals is the dinner before your shoes hit the pavement on Dec. 12 at 5 a.m. the next morning.
If you'd like to skip the Marathon' s $50, all-you-can-eat luau on Dec. 11, here are three pasta restaurant suggestions for a carbo-loading session before the big race.

Auntie Pasto's
Creamy Pesto, $11.50. Multiple locations, auntiepastos.com.
Café Sistina
Spaghetti al Pomodoro, $12.75. 1314 South King St., 596-0061, cafesistina.com.

Assaggio
Fettuccini Alfredo with broccoli, cream and cheese sauce, $18.90. Multiple locations, assaggiohi.com.