Captured Moments in Time
Photographing children isn't easy. Taking a family portrait with young children can be even more challenging. What's a busy parent to do with the holidays looming and to-do lists growing? If you're like me, you rely on the "professionals" to capture special moments in time, such as pregnancies, births, birthdays, events and holiday portraits.
To help families gear up for the holidays, we asked a few local family photographers the secrets to capturing perfect family photos.
How do I plan for holiday portraits?
Karen De Borja of Karen DB Photography suggests planning ahead to avoid the holiday rush. "Select a date that works for the entire family," says DeBorja.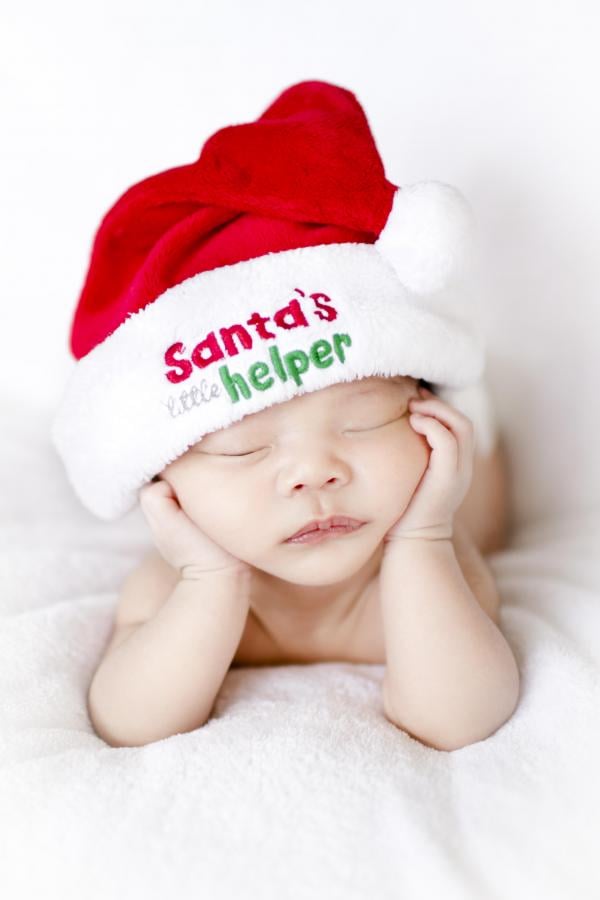 newborn holiday portrait
Monica Lau of Monica Lau Photography says that September and October are great months to shoot. "This provides plenty of time to edit and retouch images. Also, it allows you ample time to order prints, holiday cards and books, while avoiding shipping delays and rush charges," says Lau.
What is the best time of day to shoot? Is indoor or outdoor better?
Joanne Barratt of Island Style Images says, "It is important to schedule your session around the kids' best time of day. For babies and toddlers this is usually the morning hours. If you are doing an outdoor session, lighting is critical, and early mornings or just before sunset are the best times to capture the perfect light." Barratt starts many of her sessions in studio but eventually heads outdoors to capture a variety of images that includes the beautiful landscape and scenery of Hawaii.
De Borja says that studio shoots are great when you are trying to coordinate a time that will work best for younger children with "sleepy-and/or fussy-time" schedules.
Lau says that Lanikai and Kahala Beach Park are great spots to capture the beautiful outdoors.
What should we wear? Should it be color coordinated or themed?
According to De Borja, you can never go wrong with simple, classic outfits like white shirts and jeans, but the holidays are a great reason to choose outfits that are more festive and fun. Clothes do not have to match, but it works best if you stay within a chosen color scheme.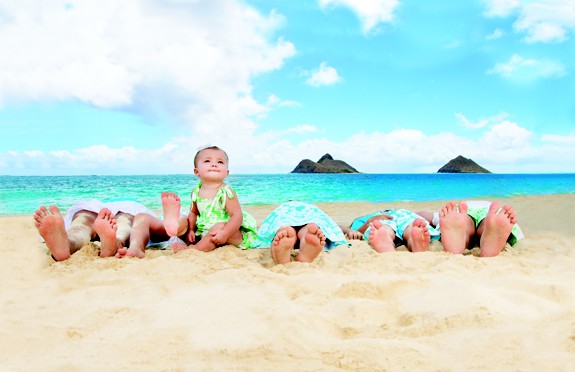 beach family portrait
Lau says she leaves clothing up to the client, because, "It's a personal expression." When asked for recommendations, she suggests bright colors and sun dresses for the girls and women. The colors look pretty and vibrant against the beach back drop. She prefers polo shirts for men and boys as opposed to button down shirts. She also suggests the fun alternative of beach clothing and toys such as boogie boards and surf boards, whatever best describes the family. Consider including a child's blankie or stuffed animal. It makes the sweetest, most sentimental portrait.
Barratt feels clothing selection is integral to a successful session. "Clothing should be comfortable and something you would wear every day. Coordinating colors and patterns are great, but matchy matchy doesn't usually work very well," says Barratt.
How do you get kids in the mood to take photos?
"Do not put pressure on them," says De Borja. "Let them have fun and make it an enjoyable family experience. Your photographer should help make this possible."
Lau and Barratt suggest not offering sweets as a bribe for good behavior. This will almost always backfire.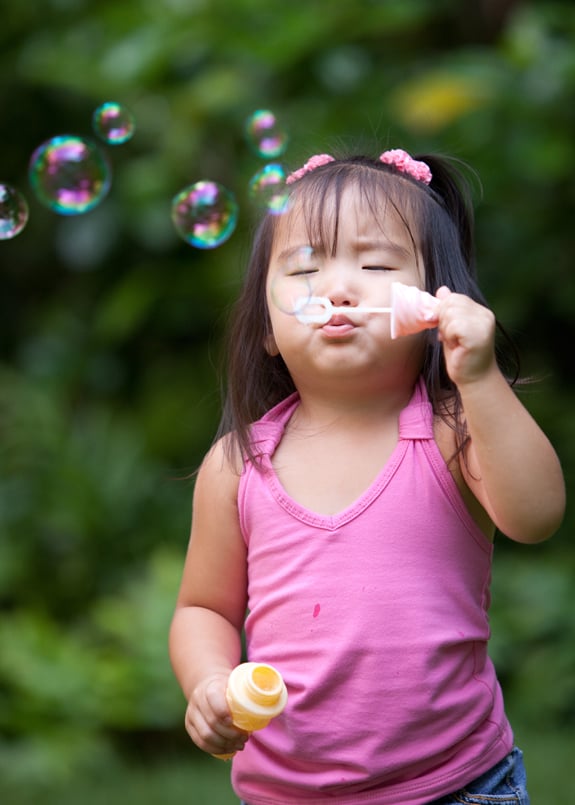 Little girl portrait with bubbles
Barratt says her sessions are like play dates. You will find her interacting, running around and exploring with children. "I capture natural images of kids being themselves in this kind of setting. We sit still and get some of the posed-style images, too, but the session needs to be fun for everyone in order to get real expressions," says Barratt.
De Borja says to let your children's personalities shine by letting them be themselves. You will cherish these photos the most.
How do I turn photos into cards and gifts?
Photography gifts make the greatest presents for loved ones. Check with your photographer. He or she may offer customized cards and gifts, in addition to special rates.
Photography Resource
Island Style Images
IslandStyleImages.com | 638-5050
Joanne@IslandStyleImages.com
Karen DB Photography
KarenDBPhotography.com | 382-6616
KarenDBPhotography@gmail.com
Monica Lau Photography
MonicaLauPhotography.com | 349-5148 MonicaLau@earthlink.net