Calling all Golfing Foodies: Hale Aina Golf Tournament, Apr. 25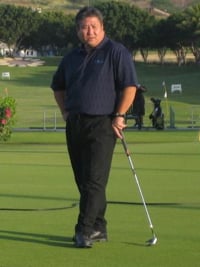 Don't expect a major chef in a restaurant Monday.
Chefs love golf. Many of our town's award-winning chefs will be competing in the 13th Hale 'Aina 'Ohana Charity Golf Tournament on Monday, Apr. 25, at the Kapolei Golf Course.
"It's the premiere golfing event in the Islands, in our 13th year now," says tournament organizer, George Szigeti of Better Brands.
There are a few team slots left, if you wish to join them.
The 3-person scramble format tourney has thousands of dollars in prizes, including Neighbor Island trips, electronics and dining gift certificates. There are plenty of chances to win: hole-in-one, closest to the pin, putting, chipping and driving competitions.
But that leaves out two good things.
First, the tournament is the principal fundraiser for Hale Aina Foundation, which puts on master classes and sponsors visiting master chefs to promote culinary education in the Islands.
Second, there's food and drink. Biting Commentary doesn't even golf, and has been known to show up just for the eats.

On the course:
• Murphy's Bar & Grill
• Jose's Mexican restaurant
• Grey Goose Bloody Mary Cart
After the tournament:
• Sam Choy's Breakfast, Lunch & Crab
• Roy's
• Alan Wong's/The Pineapple Room
• Tango Contemporary Cafe
• Side Street Inn
• Morimoto Waikiki
• Hokulani Bake Shop
Entry is $1,250 a 3-person team. Call 234-0404 to register.