Building Character Through Community Giving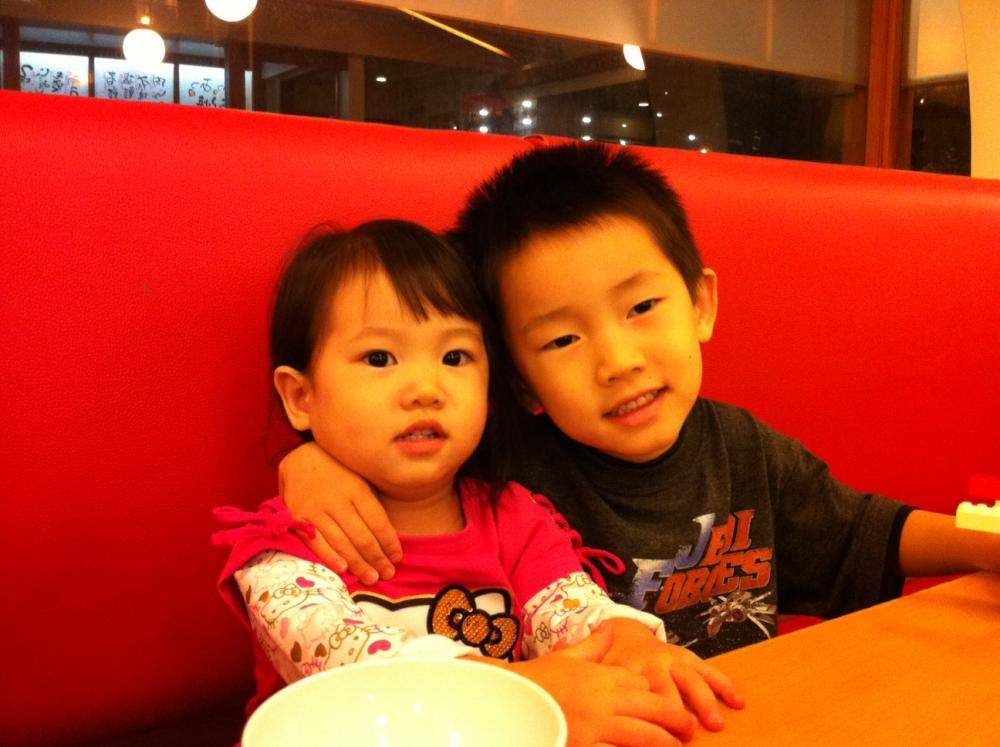 "It's better to give, than to receive." An adage to live by and a life value I'm grateful my parents instilled in me at a young age. It's been engrained in the way I operate both personally and professionally and has brought much meaning and happiness to my life.
When Kelly and I became parents, we knew it would be an important value we would work hard to instill in our children, Ensen and Avery. We believe that, by teaching them to be good, caring and generous at a young age, their payoff will be greater in the long run. Proudly, I see this spirit alive and well in both of my children.
Ensen is a great big brother. He's always taking care of his sister and making sure she's happy and satisfied. Whether it's compromising on what kind of snack to eat or activity to do, he's always there to support her. He's also a compassionate little man. This trait is evident in all he does, with extended family, school friends or other adults. He's personable, makes everyone feel included and is unselfish (98 percent of the time). It's no wonder he's made a lot of friends in kindergarten and is doing well in school.
Avery embodies the same caring spirit, although she can be a little more temperamental at times. I'm not sure if it's the "terrible twos" or the Korean blood. In all seriousness, her brother, Ensen, is a good role model. She has an outgoing personality, loves to be around people, is adventurous and is always willing to share what she has with others (96 percent of the time). She's also doing well in preschool. How do I know? She tells us she already has a boyfriend … or two. Help!
So how did Kelly and I manage to raise two angels? (Admit it, that's what you call your kids, too.) There's certainly some luck involved, but we do our best to lead by example, you know, walk the walk.
Here are a few ways we let our actions speak louder than words. Each one has provided thoughtful discussions with our kids.
Charitable Giving. Our family believes in giving as much as possible. Whether it's contributing to Aloha United Way, stuffing a few dollars into a fire fighter's boot during a fundraising drive or donating a pint of blood to the Hawaii Blood Bank, it feels good to help others. We make sure to involve the kids in all of these efforts, whether we simply explain why we're writing a check, or why the fireman said "thank you" after they stuck money in a boot or why the bandage on Daddy's arm isn't covering up a boo boo, they provide an opportunity for us to discuss the importance of giving.
Sharing with Our Neighbors. When we moved to Pearl City last year, one of the first things we did was meet our neighbors. We quickly discovered that we moved into a great family-friendly neighborhood, with young children Ensen and Avery enjoy playing with. We now exchange baked goods, vegetables that we grow in our garden and even the responsibility of watching out for each other's property. It's enabled us to quickly assimilate into the area and teach Ensen and Avery the importance of being a good neighbor.
Donations in Public Places. Our family loves exploring Oahu, which means from time to time we stumble upon places that suggest a donation in lieu of an admission fee. They say you can learn a lot about someone out on the golf course, but, honestly, it's situations like this, in which you can see someone's true colors. You know, those who leave contributions and those who don't. While there's no obligation to give, we know that nothing in this world is truly free. When we visited the Hawaii State Art Museum last weekend, we made sure that Ensen personally left a donation. Sure, he asked, "What was that for?" Which gave us another teaching opportunity.
Community Work Days. Through some of the relationships I've built with community-minded chefs such as Mark Noguchi, of Pili Hawaii, and Ed Kenney, of Town, I've learned that one of the most rewarding things one can do is participate in community work days to support areas around Oahu. I've gotten my hands (and feet) dirty in the loi patches at Mahuahua Ai O Hoi and in the historic fishpond in Heeia. It's an amazing experience that I would recommend to others. It connects you back to the land and introduces you to inspiring people along the way. It's also something I plan to get Ensen and Avery involved in the next time around. A great resource for environmental volunteer opportunities around Oahu (and Hawaii) is preservehawaii.org.
Nathan Kam is a Honolulu public-relations executive, husband and a proud daddy of two incredible kids, Ensen (5) and Avery (2), who enjoys cooking, gardening, traveling, blogging and golfing. You can reach him via email, Twitter, Facebook, LinkedIn or via his personal Kam Family Blog.