Build a Family Nest Egg of Gold and Silver
Many parents dream of putting away something for their kids' college years and their own retirement, but, in these uncertain economic times, what constitutes a reliable investment? Where should the family build its nest egg?
Kathleen Boucher, independent business owner of Younique Wealth, joins many financial experts who believe that owning gold and silver is the best hedge against inflation.
"Throughout history, gold and silver have shown themselves to be the most lasting form of true, tangible wealth," she says. "Our goal at Younique Wealth is to help people from Hawaii and around the world find protection from the challenging global economy through the long-lasting value of these precious metals."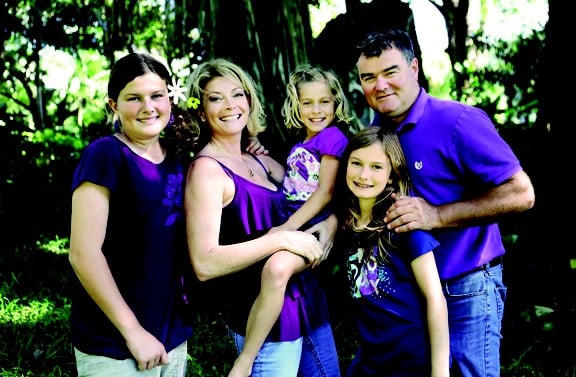 Kathleen Boucher and her happy ohana
"There are basically only two ways to earn money: The first one, and the most common way, is to work in exchange for money; the other one is to make money work for you, which all of us would prefer, because it frees us up to spend more time as parents and productive citizens," says the avid outdoor person, community volunteer and busy local mother of three daughters.
Boucher is a firm believer that precious metals are the best and safest assets to overcome inflation and to protect your assets and liabilities from the diminishing value of paper currency.
"You've seen the ads promising fast cash for gold and silver? As tempting as it may be to trade in your gifted old jewelry for cold, hard cash, the real winners are the traders. It makes much more sense to be buying precious metals than selling them. That's why there are so many of those businesses out there begging you to sell."
"The coming years might end up being pretty hard on us as parents," she says. "But it is even more worrying to know that it is our children who will pay the price for the poor fiscal management of governments worldwide."
Younique proposes starting a monthly "Nest-Egg Savings Plan" in precious metals as a means of creating generational wealth—putting in place a financial protection plan for yourself, your children and their children.
For centuries, private ownership of precious metals was the privilege of the ruling class and the financial elite. Now, with Younique's Nest-Egg Savings Plan, you can select your gold or silver product and commit to a monthly payment of your choice, starting as low as $25.
When your savings have accumulated sufficient gold or silver for your chosen product, it will be shipped to you or, if you prefer, be safely stored in an accredited vaulting facility in Switzerland.
The precious metals are guaranteed 999.9 percent pure and are Hallmark refiner stamped. They are also numbered for authenticity and certified by the London Bullion Market Association.
Twenty years from now, are you going to be telling your grandchildren that you saw the coming financial crisis and regretfully did nothing to prepare, or that you happily took action to ensure a strong financial future for generations to come.
"I recommend you look into our Nest-Egg Savings Plan, because, no matter what your background, experience or current financial means, it makes the private ownership of gold and silver possible for everyone," says Kathleen.
For more information, visit AlohaYouniqueWealth.com. To learn about other products, services and for direct investments offered by Younique Wealth, visit YouniqueWealth.com/GoldSuccess.

Younique, The Gold Tribe
Email: info@alohayouniquewealth.comCall: 808-330-1893