Breaking News: major Hawaii Food & Wine Festival Slated for This Fall, Honolulu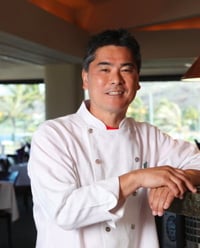 Honolulu is getting a major, statewide Hawaii Food & Wine Festival, Sept. 29-Oct. 1 this year.
"We've been trying to put this together for three years now. It's time to move," says chef Roy Yamaguchi. Yamaguchi and Alan Wong co-chair the festival, which has received $125,000 funding from the Hawaii Tourism Authority and is quickly garnering support from hotels, chefs and beverage suppliers across the state.
Expect three nights of major events, with the Hilton Hawaiian Village, Waikiki Edition and the Halekulani providing venues. Expect also an array of top Island chefs, Mainland chefs like Hubert Keller and Alexander Strada, and international culinary celebrities like Edward Kwon from Korea and Yoshihiro Murata of Japan.
"This is not a Roy's Restaurant event," says Yamaguchi. "I won't make a penny from it. I'm not doing this because I want it. I'm doing it because the state needs it."
The destination event will not just stimulate tourism in a soft shoulder period. Yamaguchi and Wong are focused on two other aspects.
First is getting farmers involved. "Not just Oahu farmers," says Yamaguchi. "All of them on the Neighbor Islands. We want them to take on the task of sustainable agriculture, so we are less dependent on imported food."
Sustainable ag will, he argues, result in a major economic boost for Hawaii, as well as creating greater food security. The festival will include daytime educational programs, with experts on sustainability like Rick Moonen of Las Vegas' RMC Food.
Second, Hawaii needs to become a world-class culinary mecca. The festival will involve students and young culinarians, exposing them to the best of international talent. Says Yamaguchi, "It's important for us, for tourism and other reasons, to make sure we have the best food in the world."
The festival is getting great response from the hospitality and culinary industries, says Yamaguchi. "Southern Wine and Spirits is in, Anheuser-Busch is in, the hotels are in. Everyone involved is doing it because it will be good for all of us, the whole state."
Beneficiaries of the festival will be Hawaii Agricultural Foundation and the culinary programs at Kapiolani Community College.
The festival will have a web site up in a month or so. But all you need to do is stay tuned to Biting Commentary for updates.