Recipe: Breakfast Pizza
Pace Picante sauce adds texture and zest to breakfast.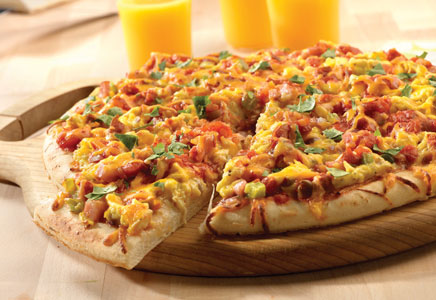 Breakfast Pizza
Ingredients
1 tablespoon butter
Chopped onion
Chopped green pepper
Chopped Canadian bacon
1 12-inch prepared pizza crust
8 eggs, beaten
Ground black pepper
Pace Picante sauce
2 ounces shredded cheddar cheese (about 1/2 cup)
2 tablespoons chopped fresh cilantro leaves
Instructions
Preheat oven to 400 degrees.
Melt butter in a 10-inch skillet over medium heat.
Add onion, pepper and bacon. Cook until vegetables are tender.
Place pizza crust onto a pizza pan or baking sheet and place in oven to warm.
Stir eggs and black pepper into skillet.
Cook and stir until eggs are set, then spoon egg mixture onto pizza crust.
Top with picante sauce and sprinkle with cheese.
Bake for 5 minutes or until cheese is melted.
Sprinkle with cilantro and cut pizza into 6 slices.
Prep Time: 15 minutes
Cook Time: 5 minutes
Ready Time: 20 minutes
Source: Family Features