Boys vs. Girls: Do boys and girls learn differently?
Yes! Say local educators and parents, who offer surprising insighs on why gender matters in learning—and why it doesn't.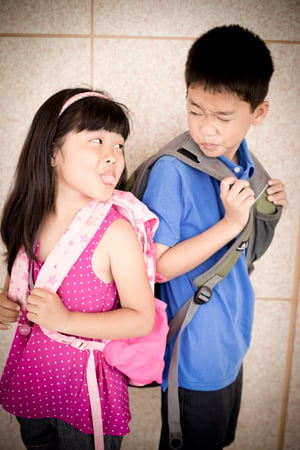 When Tracy Kimura's 8-year-old twins, John and Sophia, study at home, "they completely play out the differences in learning styles between boys and girls," says Kimura, director of counseling for grades nine to 12 at Iolani School. (The twins are second graders at Iolani.)
"My daughter can sit quietly herself and work independently to finish her homework. Her brother has to get up, move around and talk to us a number of times before he completes his work. Same parents, same school, same grade. But so different," says Kimura, who's been at 'Iolani for 14 years.
Parents are likely nodding in agreement, and so are teachers. While there are exceptions, how the Kimura twins—one boy and one girl—behave as they each tackle a learning lesson has been observed in classrooms and homes for generations.
What's different is that "we know so much more now. The science of brain development has advanced," says Kimura, who has attended training sessions for educators on how neuroscience applies to teaching.
"Brain research has revealed why boys, whose brains develop later than girls, are outperformed in academic learning at certain ages," says Sione Thompson, vice president of student affairs at Saint Louis School, Oahu's only all-boys school. Thompson has trained at The Gurian Institute, one of the pioneers of efforts to bring neurobiology and brain research into learning environments, including schools.
"By the time they enter Saint Louis in the sixth grade, some boys are starting to disconnect with school," says Thompson. "For these boys, an all-boys school is not just an option but a viable means of ensuring that they don't fall behind during adolescence."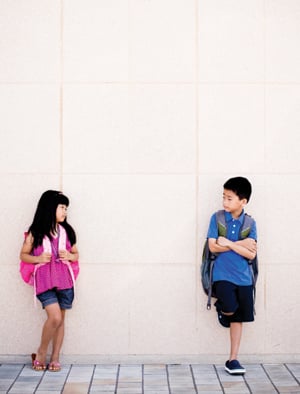 NATURE OR NURTURE
When Daniel Amen, Michael Gurian and others began applying brain research's findings to gender-based learning in the late 1980s and early 1990s, they were responding in part to why boys were lagging behind girls in educational attainment. This followed on decades of strides girls and women had been making in education as school systems and colleges nationwide responded to providing them with long overdue equal access to education.
From grade school to high school nationwide, girls have been closing academic gaps—in science and math test scores, for example—and even surpassing boys, such as in high school graduation rates. By 1991, the proportion of women enrolled in college nationwide exceeded that of men, a trend that continues today. The same holds true on the graduation end. In 2012, UH Mānoa awarded 55 percent of all degrees to women.
Seeking answers in brain research to the gender shift in educational attainment, Gurian identified several ways girls and boys learn differently. Here are five examples for parents to consider. These tendencies spill over into social interactions, which are also learning experiences for girls and boys. They include play in younger kids, and friendships and romantic relationships in older teens. Keep in mind that these are general tendencies with many individual exceptions.
Reasoning: Boys tend to be more deductive, from the general to the specific in processing information, and excel in abstract multiple-choice tests. Girls are inductive, from concrete examples to generalizations, and do well in expressing thoughts in writing.
Boredom: Boys need stimulation to stay interested and bore more easily than girls who stay focused longer. Movement: Girls can sit still longer in learning situations than boys who like more frequent stretch breaks to move around.
Symbolism: While both genders like pictures to help them learn, boys tend to depend more on visuals for greater understanding.
Cooperation: Girls learn more easily in group settings than boys who are more socially aggressive and competitive. Girls are more sensitive to the emotions of others in solving a problem, while boys focus on finding the answer quickly.
Not surprisingly, brain research's application to gender-based learning styles is not without controversy, touching on the age-old question of whether innate ability or environment determines the ability to learn.
Moreover, neuroscience, while making remarkable progress, still remains an emerging area of research.
One outspoken critic is educator Caryl Rivers who argues against what she calls "a new biological determinism" – the belief that boys and girls learn differently and should therefore be taught separately. She contends that "the brain is always being rewired. It always interacts with the environment. Gender (in education) is really irrelevant. What really matters in the classroom is parent involvement, teacher quality, class size and, of course, social class."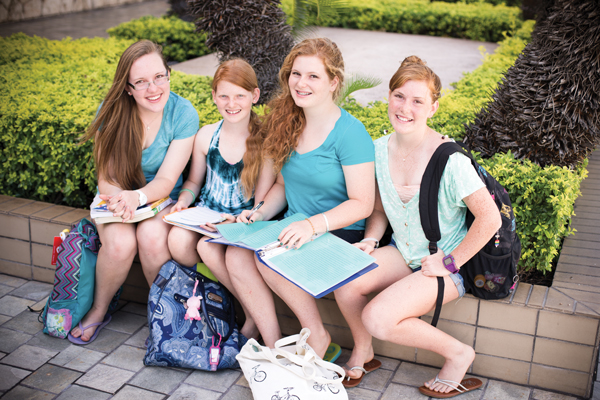 SINGLE GENDER OR CO-ED LEARNING
For many parents, schooling choice is a deeply personal decision for their individual child—girl or boy. Current thinking on gender differences in learning styles have made an impact on single gender and co-ed schools in Hawaii. Educators and parents of children at some of Hawaii's private schools share some of their experiences as well as some surprising insights.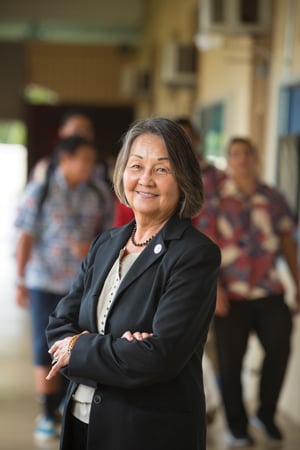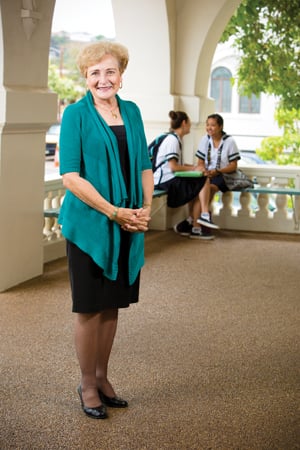 Patricia Hamamoto, principal of Saint Louis School, and Betty White, head of school for Sacred Hearts Academy, lead the two largest single-gender schools in the state. Both educators will quickly tell you that "we're not right for every child."
In 2012, Saint Louis School (founded in 1846) had a student body of 617 in grades 6 to 12, and 99 percent of its graduates went on to colleges and universities. Sacred Hearts Academy, founded in 1909, annually educates about 1,000 girls from pre-kindergarten to grade 12, with nearly 100 percent of its graduates going on to college.
White says brain research has substantiated what educators have long observed in boys and girls in classrooms. "This is not about stereotypes, but about what we as educators and parents can do to help our children, boys and girls, develop critical skills that may not be innate to them, but in such a way that also does not go against how they learn. In my opinion, no single methodology or teaching tactic is only good for girls. Good basics for teaching and learning work for both girls and boys."
Recognizing the still large gender gap in women working in the fields of science, technology, engineering and mathematics (STEM), Sacred Hearts emphasizes STEM education – "areas that girls have traditionally not gravitated toward naturally," says White. In an all-girls school, girls can be themselves and try anything they want, free of distractions, especially during "adolescence, a turbulent time" she adds. "It's good to give girls this period to find their voice, to gain confidence and take the lead. This gives them an advantage in STEM fields."
Alana Busekrus and her husband, Donald, chose Sacred Hearts for Nadia (16) and Nikaela (15), the two eldest of their four daughters.
"We felt that for this important time in their lives, the opportunity for learning is best in an all-girls school," says Alana, a third-grade teacher at St. Anthony Catholic School, a co-ed kindergarten-to-eighth-grade school in Kailua. "Our girls are thriving. We love the STEM opportunities in advanced math, robotics in an all-girls setting. Nadia's a junior and looking at co-ed universities, where I think she'll do just fine."
For Pat Hamamoto, her three years at the helm of Saint Louis, the last all-boys school on Oahu, have been an "eye-opener." The former superintendent of the Hawai'i State Department of Education has spent more than 20 years in public education, including 12 years as a classroom teacher in co-ed public schools.
"In an all-boys setting, we can focus on their unique learning styles. Boys here feel safe to speak up in class more and are willing to be wrong," says Hamamoto. "Saint Louis is about building boys into men of high moral character and confidence. Boys here succeed in an all-boys environment, free from the distractions of girls."
In 2011, the school engaged Abigail James, author of Teaching the Male Brain, to share the latest research on "how boys learn. This helped teachers understand how to more effectively involve boys in the learning process. According to Hamamoto, Saint Louis teachers employ multiple instructional strategies to accommodate boys, including more movement, visuals and stretch breaks.
English teacher Kimarie Meilleur, for example, uses more hands-on activities, such as creating posters and PowerPoint presentations, to teach seventh- and eighth-grade English at Saint Louis.
"But our students do focus on writing, for example, as they would in a co-ed school. I forewarn them when we have a lesson that requires them to sit and go through the material. The goal is for our students to be well-rounded and prepared for the real world, the workplace that will expect them to be able to learn in many ways," says Meilleur, who is also the mother of two Saint Louis students, 14-year-old Chase, an eighth grader, and 15-year-old Taylor, a ninth grader.
"Our boys chose Saint Louis. They told us this is where we belong. They instantly felt a connection," says Meilleur, whose family, including husband, Aaron, moved to Hawaii two years ago from the Mainland. "We never pressured them," she says of the boys' decision after the family had visited several schools here.
As a parent and teacher of middle school boys, Meilleur also "sees a lot less conflict and emotional drama as they develop during puberty. At this point in their lives, they're facing so many changes. In an all-boys environment, they are protective of and take care of each other."
Iolani School, which began as an all-boys school 150 years ago, transitioned to a co-ed campus in 1979. The kindergarten to twelfth-grade private school graduated its first co-ed class more than 30 years ago, in 1982, and today serves a student body of 1,800 students. Ann Yoneshige, the dean of Upper School, who began her teaching career in the 1970s at 'Iolani, has taught both boys only and co-ed classes.
A brand-new teacher at age 21, Yoneshige found herself being stricter in her language in dealing with high school boys. "It had to do with my age," she says. Later when teaching seventh- and eighth-grade co-ed classes, "I had to tone down my sternness in talking to the class." She found that girls were more sensitive and didn't respond well to this stronger communication style.
Yoneshige says that "good teachers today have a variety of teaching concepts and strategies to adjust to the students they have. (At 'Iolani) we have a strong focus on experiential, hands-on learning, which appeals to both boys and girls." She has found that "students also adjust," whether it's a lecture format that girls generally sit through more easily or a lab setting where boys can do more hands-on learning.
Yoneshige believes that guiding and challenging students, regardless of gender, to learn in different ways broadens their ability to learn in ways that may not come naturally to them and prepares them for life beyond school.
Damien Memorial School Director of Admissions Brent Limos says he can "see the advantages of both kinds of schools. For some boys, an all-boys school will work best. For others, being in a co-ed setting provides the challenges to do better." In fall 2012, the former all-boys school for grades six to 12 welcomed 75 girls to its first co-ed class in its 50-year history.
"Academically, we found that the girls challenged the boys to do better. Teachers report less of a struggle with classroom management. The girls seem to mellow the boys. They provide a stabilizing, calming effect on the learning environment," says Limos, who notes that the newly elected sophomore class officers for next school year will be all girls.
In preparation, Damien brought in experts, held workshops on classroom dynamics, prepared teachers with in-service training, and added teachers with co-education backgrounds. At this point, the school has made no major changes to its instruction methodologies. "We still have room to grow, but it's an exciting start."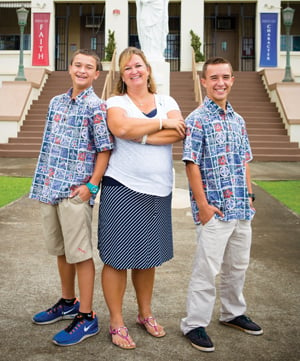 UNLEASHING POTENTIAL
When asked if there are some do's and don'ts for parents to consider about gender learning differences, none of the educators and parents interviewed for this story offered any specifics. What they universally agreed on is these differences should be considered among the many other characteristics that make up your individual boy or girl.
Indeed, your child may be the girl who's a whiz at rocket science or the boy who writes expressively, while being "typical" in other ways of their gender. Gurian says such children possess "bridge brains" that can straddle both gender learning styles. Above all, Saint Louis' Thompson advises parents to be "observant, open and patient."
Bear in mind that gender inequity continues to prevail in the world today and is a detriment to both individual and collective growth and progress. While women go on to earn greater numbers of college degrees than men, more men choose the more lucrative engineering and computer science jobs and women continue to gravitate toward the so-called traditional and less financially rewarding fields of education and nursing.
Kimura sees no huge differences in gender by 'Iolani students in grades nine to 12 selecting Honors and Advanced Placement (AP) courses in the math and sciences, as well as in history and English. But Sacred Hearts' White points out, women today "continue to be underrepresented in key areas of leadership in corporate and political arenas, as well as in the worlds of finance, medicine and academia, including STEM fields." By 2016, employment opportunities in science and engineering occupations alone are expected to more than double the growth rate for all other occupations. Warren Buffett, the world's third richest person, counts himself among the optimists about America's future because, as an untapped and rising resource, "women are a major reason we will do so well."
Our future also needs the full potential of men. Boys have outnumbered girls for decades in "negative" statistics of crime, drug use, poor grades and school dropout. In 2010, high school dropout rates nationwide range from a high of 12.8 percent for Hispanic boys, three times the low of 4 percent for Caucasian girls.
Understanding the role of gender in learning is a step in the right direction to tapping the full potential of our youth. Understanding, too, how social and environmental factors influence how boys and girls perceive their learning abilities in career-related fields is also critical.
"Learning is a journey. Pathways can differ for boys and girls by many factors, but we are not predestined by biology nor is learning pigeon-holed by gender," says Saint Louis' Thompson. "We know today that gender can be a factor in learning and that is another tool to enlarge a teacher's ability to reach and engage students to build excitement for learning."