Biting Commentary on TV! Premieres June 19, KGMB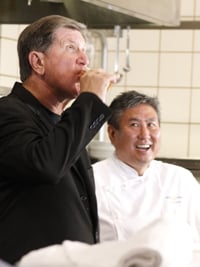 Biting Commentary on TV!
"Honolulu Magazine's Biting Commentary with John Heckathorn," presented by Hawaiian Airlines, premieres June 19 on KGMB.
We did our first day of shooting (though not necessarily the first episode) in the kitchen of Alan Wong's, where I jumped in and started helping Alan cook.
Cooking with Wong is a mixed blessing. He's a genius, of course. But he tends to scold you for not doing things the "Wong way."
He was especially displeased with the way I pitted the green olives (left). "You can't just hack them up," he said. From then on, he called me Hack-a-thorn. Chef humor.
We created two dishes from The Blue Tomato, Wong's innovative new cookbook.
First, cheese toast. Well, Big Island goat cheese mousse on toast with tomato salad and crispy pipikaula. The tomato salad included Ho Farm tomatoes (more on Ho Farms in a subsequent post).
I managed to cut myself, trying to keep up the TV repartee and slice tomatoes simultaneously. (Not badly, but, should you find yourself in his kitchen, watch out: Wong's knives are extremely sharp.)
When I returned, Wong had a whole first aid kit spread at my station in the kitchen.
Despite my help, the goat cheese mousse and salad turned out great, hacked-up green olives and all.
Second, we made two variations on a dish Wong learned in Peru, leche de tigre, tiger's milk, the spicy liquid for Peruvian ceviche.
I made shrimp shooters, which looked great, see right. Wong took great delight in making me drink one on camera. He'd blended a whole jalapeño pepper into the mix.
"It needs some spice, it's tiger's milk," he said. "It cures hangovers."
The tiger's milk worked perfectly as a sauce for the dish Wong made: a crab and shrimp-stuffed avocado, complete with lime supreme and a surprise ingredient that brought back my childhood.
What was it? Tune in and see. Plus my misadventures in the kitchen and a discussion with Wong about why it's critical we use local ingredients.
Honolulu Magazine's Biting Commentary with John Heckathorn, presented by Hawaiian Airlines, KGMB, Sunday, June 19th, 2:30 p.m.