Bikini Trends for Summer 2010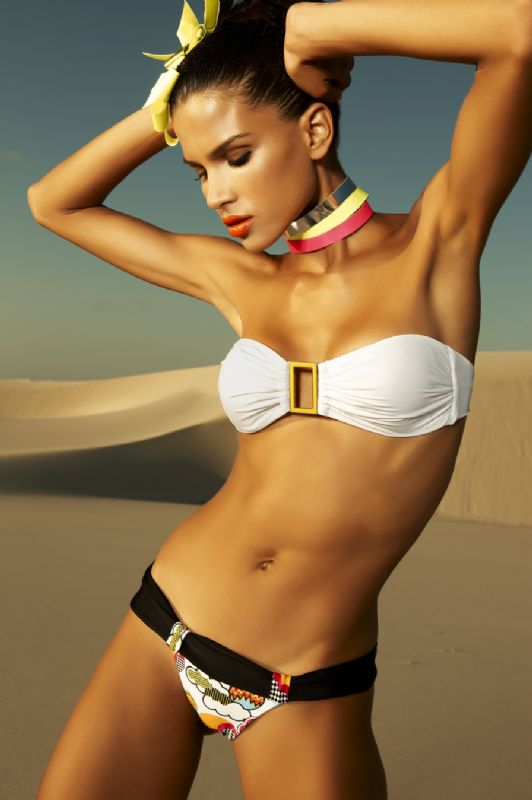 Ready to hit the beach or pool on Memorial Day? We checked in with our 2010 HONOLULU Best Sexy Swimsuit store, Brazilian Showroom, to find out what the hottest trends are in bikinis. Owner Nadia Ribeiro should know; the native Brazilian has been selling bikinis for more than 25 years and twice a year, returns to her homeland to scoop up new looks. Here's what she recommends:
Bandeau tops
The triangle top has been king, but the new look is a throwback to fashion of the past: the shoulder-bearing bandeau top (see an example at right). Some are pretty much a straight band across, while others feature more support. If you want to add volume, look for a bandeau that has the fabric twisted in the center. Bandeaus are a sexy, pinup style that work on a variety of body shapes.
Reversible
With the economy still a concern, swimsuit manufacturers have been offering reversible styles—it's a great way to get more looks for less money. For example, Riberio showed me a Banco de Areia suit that's yellow on one side, and a black/white pattern on the other. By mixing and matching sides and tops and bottoms, you could have four different looks for the same price as one bikini.
Graphic prints
Spring clothing showed watercolor-inspired prints, and for summer, prints have gotten even brighter and bolder, particularly on swimsuits. Look for punchy, 1980s-style patterns in colors like teal.
Once you buy a suit, take care of your investment. Always rinse your suit with fresh water after swimming, and hang it up to dry. "Don't leave it bunched up," says Ribeiro, who notes how quickly a wet suit can mildew.
If you want to see more hot bikinis from Brazilian Showroom, check out Sunday's Splash event at Pearl. The evening will feature a bikini fashion show, drink specials and patrons are also encouraged to show up in beachwear. The event starts at 8 p.m. at ends at 4 a.m.