Big Island Update: Original Merriman's, Waimea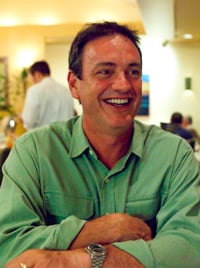 Merriman's, Waimea
The Roy's in Hawaii Kai is now called the original Roy's. So perhaps Merriman's Waimea should be called the original Merriman's.
Much was originated here back in 1988, when then young chef Peter Merriman set out to locally source his restaurant, a notion that many people in the industry considered daft.
Within a few years, Merriman would join with 11 other Hawaii chefs to spearhead Hawaii regional cuisine.
Merriman now has restaurants on three islands, including three on Maui where he now lives. The kitchen at Merriman's Waimea was for the last five years captained by a remarkably talented former New Yorker, Neil Murphy.
Murphy has gone on to become corporate chef for Merriman's Hawaii, and executive chef of Merriman's Kapalua, where he better get on his game, because I'm expecting great things.
At Waimea, he's been replaced by Allen Hess, who was Slow Food Hawaii's delegate to the 2010 Slow Food Conference in Torino, Italy. Hess is legendary in little Waimea town for his wild boar bacon, cured with local herbs and spices. People stand in line for his BLT's at the town's Farmers Market.
We wanted to see, however, what he was doing in Merriman's kitchen. He has a lot to live up to.
His wild boar bacon replaces the hamburger patty in Merriman's version of a loco moco (left). This upscale take on the local favorite also includes a poached egg, watercress, macadamia nut rice and a tomato-pineapple-jalapeño vinaigrette. The bacon's thick, not too smokey, and the sauce dances all over your tongue. I regret you have to be on the Big Island to eat this. It may not be ultimate local moco, but it's certainly the ultimate bacon and eggs.
There's plenty of classic Merriman food on the menu, all of it revolving around local ingredients in a locality that may raise the best food in the Islands. The spinach salad from Honopua Farms was so vibrant and green it seemed to be growing off the plate.
Among the entrees, you can get leg of lamb raised just 10 minutes up the mountain, with lamb shoulder braised in red wine and tomatoes, and roasted broccoli with a cannellini bean puree.
Vegetarians, and those eating light, can order taro cakes. That sounded like a mistake to me, like eating cardboard, but Merriman's Maui Lehua taro cakes were soft yet substantial, amped up with ginger-curry sour cream, and served on an array of farm sourced vegetables.
Still, I kept returning to the wild boar. The plate (right) included pork shoulder braised in boar stock, with kabocha and vibrant, just picked corn. But that's not all. There were housemade ravioli filled with goat cheese and pork confit, with a generous sprinkling of pork confit and spinach on top.
This was the richest, most satisfying entree plate I remember in a long time, the ravioli given a fresh bite by a reduction of vine-ripened tomatoes.
Merriman likes drinkable, alternative wines—and the way to go here is the $28 red wine sampler, a 2-ounce pour of four unusual, but powerful reds, like Grant Burge "Holy Trinity," a grenache-shiraz-mourvedre blend from the Barossa Valley, and, even rarer, a Spanish Finca Sandoval, which the menu accurately describes as "an inky purple gorilla."
As we were finishing up, I felt a hand on my shoulder. "What are you doing here?" asked Peter Merriman. I returned the question, since I've seen him in the last couple of years on Maui and Kauai, but never the Big Island.
We ordered him wine, catching up on old friends and developments in Waimea, including Merriman's bemused complaints about government spending. "They built a road there? About three people a year use that road."
"How are we doing on the food?" Merriman finally asked. "It's good?"
Yes. Merriman's remains the quintessential Big Island eatery. Even though almost every other restaurant now insists it is farm-to-table, Merriman's is still the place that gets the best local ingredients and simply lets them shine.
This is high-end dining on the Big Island, figure $80+ a person, but much of that money gets directed into the slim pocketbooks of Big Island farmers and ranchers.
Merriman's Waimea, Opelo Plaza, 65-1227 Opelo Rd., Waimea, Big Island, (808) 885-6822, www.merrimanshawaii.com