Bid on a Stunning, 53-Acre Canadian Ranch on the Big Island
Hale Mehana Estate is up for auction Jan. 15.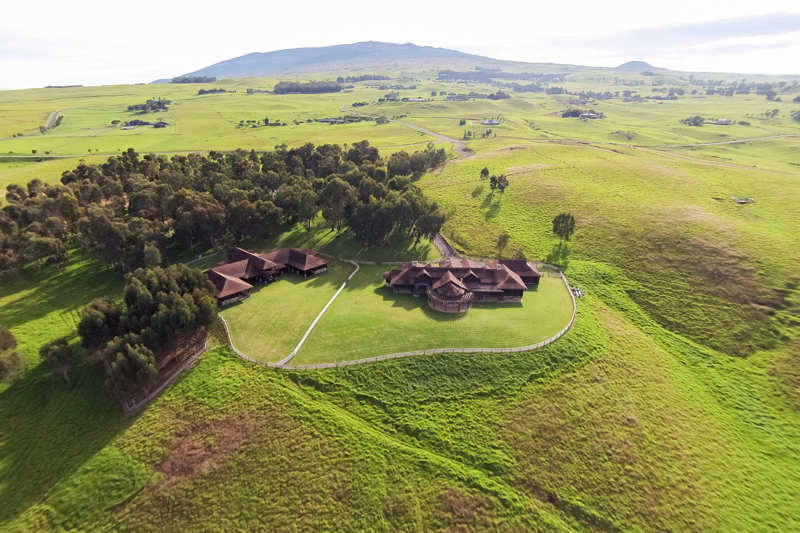 It's not every day you have the opportunity to own your own ranch in paradise. And tomorrow, Jan. 15, Hale Mehana—a 53-acre estate at 3,750 feet in the exclusive Waiki'i Ranch community on the Big Island — will be up for auction without reserve (That's the auction process where the sale item goes to the highest bidder, without a minimum upset price).
The main residence is 7,000 square feet with four bedrooms, five full bathrooms, and five half bathrooms. The guest cottage is 912 square feet, with one bedroom and bath. The home is completely custom-designed, using only superior materials and finishes, and was built of impeccable joinery (that's builder talk for—impressively—put together without a single nail) in British Columbia, Canada. It was later deconstructed, shipped, and re-assembled in Hawai'i.
The ranch buyer will also get 9,087 square feet of European-inspired stables (classified as a multi-use facility) with seven high-tech stalls plus one extra-large stall for foaling, and saddlery, tack, and feed rooms. All the stalls are fitted with surround sound and closed-circuit video cameras for the contemporary rancher. Upstairs, there are living quarters, an office, and an observation deck.
No ranch is complete without a high-performance riding arena, and Hale Mehana comes with one that features a 14,140-square-foot training and showcase facility. There is dramatic lighting for nighttime events, and a large, Brazilian Ipe viewing deck so that your VIPs get the best view from a stylish perch.
In addition, there is a 3,480-square-foot garage/barn and an electrical generator building.
This is Big Island, so the home was thoughtfully equipped with many sustainable features. Although it's just 11 miles from town, you may not want to leave the estate. There's a radiant floor heating system, ultra-high efficient solar-assisted water heating system, emergency backup power system for the main buildings, electrobraid horse-safe fencing, a water softener system, 25,000-gallon water storage tank, 100 zoned sprinkler system, and more.
To learn more about the property or the upcoming auction, visit the Concierge Auction's website here.