Beyond the Beach
20 easy and inexpensive ways to create lasting memories with your children this summer.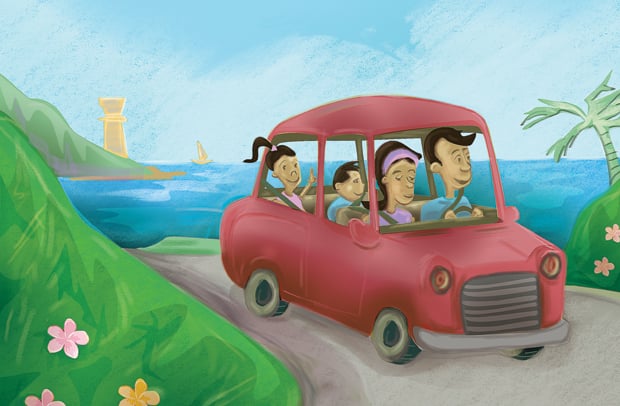 Illustrations by Andy Catanzariti
Earlier this year, famous syndicated advice columnist Dear Abby (Pauline Phillips, a.k.a. Abigail Van Buren) passed away, leaving behind a treasure trove of common-sense advice for her legions of readers. The no-nonsense quote below, concerning parenthood, ranks among the wisest words of her legacy:
"If you want your children to turn out well, spend twice as much time with them, and half as much money." —Abigail Van Buren
Apparently, it's as simple as that. Money may buy things, but time is probably our greatest human currency— doubly so when it's spent with your children. Here, then, are 20 fun, inexpensive ways to create lasting memories with your children this summer. Be there.
1. Embark on a Circle-Island Adventure
Jump in the car and visit locations all around the island. Create a travel log and memory book, adding keepsakes along the way. To keep things interesting for the littler ones, focus on identifying locations with catchy names: Punchbowl Crater, Sandy Beach, Cockroach Bay, Valley of the Temples, Chinaman's Hat, Turtle Bay, etc. What other places can they identify? Kids get bonus points for finding locations on their maps.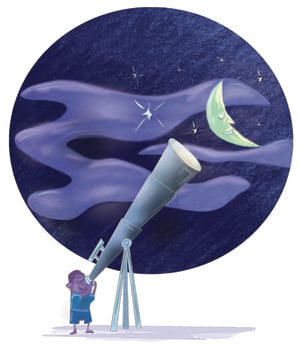 2. Shoot for the Stars
Even young children can observe the changes in the night sky. Teach your little ones how the moon appears to gradually grow bigger (waxing), reaches a full circle, then gets smaller once again (waning). Then, on June 23, you can show them 2013's biggest full moon.
If you have older children, consider staying up late with them (or setting an alarm) to catch the Perseids meteor shower on the night of Aug. 11. "This should be a good year for the Perseids," says Chris A. Peterson, data manager of the Pacific Regional Planetary Data Center. "Meteor showers are best seen between midnight and dawn, so maybe not so good for young children." The moon will set before midnight on the Perseid dates this year, so the sky will be dark during the shower. The maximum hourly rate of visible meteors in perfect conditions should be 60 to 80; a smaller number should be visible a night or two before and after, says Peterson. They can be viewed from anywhere, but the darker the sky the better.
Finally, the Honolulu Zoo offers Stargazing at the Zoo evenings throughout the summer months, where parents and kids can learn about constellations, look through telescopes and learn more about the heavens through the University of Hawaii Institute of Astronomy's portable planetarium. Visit honoluluzoo.org and click Education Programs for more information and registration forms. Also, be sure to check out the newly renovated J. Watumull Planetarium at the Bishop Museum and experience the new hybrid video system and star machine. Visit bishopmuseum.org/planetarium.
3. Hop on the Bus, Gus
For smaller kids, taking a city bus anywhere can be an enormous highlight—and often is more exciting than the destination itself. Why not take TheBus the next time you're headed out for an adventure? Adult one-way fare is $2.50; kids 5 and under who sit on your lap are free. Kids ages 6 to 17 are $1.25.
4. Dig into reading
Public libraries statewide offer programs for pre-readers, kids and teens tailored to encourage summer reading, and many even offer small incentives (stickers, pencils, bookmarks, for example), for participation. ("Pre-readers can also participate and earn prizes by having a parent, older sibling or caregiver read to them," says Hawai'i State Public Library System section manager Susan Nakata.) Registration begins the week of May 28; the five-week program runs from June 2 to July 6.
Summer's the perfect time for kids who don't yet have a library card to get one of their own. Children must be able to print and sign their own names on their library card applications and library cards. A parent with a picture ID must be present at the time of application. To find the location of your closest Hawai'i State Public Library branch go to librarieshawaii.org, then click "Locations."
At home you can also create a target-reading list for your kids with small rewards or privileges for achieving a certain number of hours and pages read along the way. Now that school's out for the summer, though, let them choose the topic. Learning to read for enjoyment rather than on assignment can help foster a lifelong love of reading.
5. Get Crafty
If you like crafts but hate the mess, there are a variety of places to explore, no clean up required. Check out the Open Studio hours at Art Explorium in Kaimuki (artexplorium.org). Take a hand building clay class or just paint some pottery at Clay Café at Ward Warehouse (claycafehawaii.com). Visit Ben Franklin Crafts in Market City, Enchanted Lake and Pearl City and take one of their weekly art classes (bfcraftclub.com). Enjoy creative workshops at Adventures in Art, LLC, in the Waipio Business Center (advinart.com). The Waikīkī Aquarium offers an interactive activity every Wednesday called "Afternoons at the Aquarium" ( waquarium.org). Don't miss the "Bank of Hawai'i Family Sunday" at the Honolulu Museum of Art. The event is free to the public the third Sunday of every month. Enjoy art activities and entertainment (honolulumuseum.org).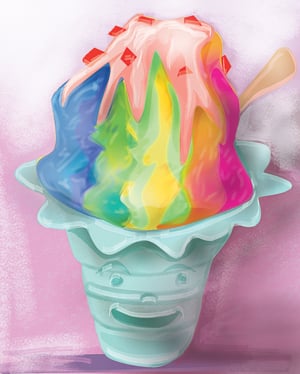 6. Get Messy
Order the grandest shave ice on the menu, with the works. Everybody gets a spoon. Go!
7. Do Not Pass Go, Do Not Collect $200
Monopoly, anyone? Pictionary? Life? Sorry? Put some mileage on the classic board games you've had tucked away for years, then ask your kids to teach you one of their newer favorites.
8. Have a Catch
Every kid should know the words to "Take Me Out to the Ball Game." Teach your little ones the words to this classic baseball tune as you have a good, old-fashioned game of catch in the backyard or at a local park. Before you know it, they'll be asking for Cracker Jacks and you'll both be fishing for the surprise in the box.
9. Picnic in a New Park
While Hawai'i has some of the most beautiful beaches in the world, we're going to assume you've already found your favorite and are visiting it often. It's time to hit the park! Whether you pack PB&Js or grab a bento, settle the family down on a picnic blanket for lunch in a spot you've never visited before. Don't forget the Frisbee. Visit hawaiistateparks.org/parks/oahu to find a new park not near you.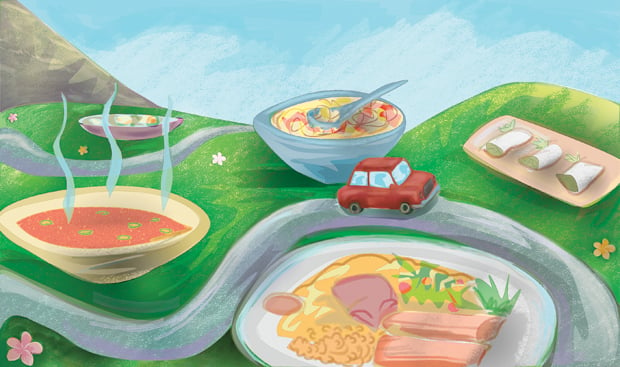 10. Around the World in 80 Dishes
One of the benefits of living in a thriving metropolis like Honolulu is access to unforgettable flavors from around the world. Not just Pacific Rim countries, either; in addition to plenty of delicious Thai, Japanese, Chinese and Vietnamese offerings, Honolulu boasts restaurants in such diverse categories as Indian, Argentinian/Peruvian, Greek, Moroccan, French, "Soul" food from the American South and more.
While some of the exotic flavors might be on the advanced (read: spicy) side, ask your server to recommend items suitable for kids. Saying au revoir to the french fries and grilled-cheese meals on so many restaurants' kids' menus allows your little ones to develop broader, more refined palates. Praise them for trying new flavors, textures and smells, and allow them to critique each restaurant and take photos of dishes they try. Dining can also be a great point of entry for a discussion about the art, music and cultural traditions of the geographic area from which the food comes.
11. Change the Season
If you just can't take another day of the summer heat, put on your jeans, hats, scarves, mittens and jackets and hit the ice rink for a few twirls. You'll hardly believe the kids are asking for hot chocolate in the summertime. Visit icepalacehawaii.com.
12. Stroll Down Memory Lane
Remember the bliss of gliding down the grassy slopes of Kaka'ako Park? Or flying a kite on a blustery day at Sandy's Beach Park? Show your munchkins some of the activities you used to partake in—long before the days when everyone had an electronic rectangle in hand—for some simple, summertime fun.
13. Let Them "Help" in the Kitchen
Sure, it takes twice as long and makes three times the mess when the kids participate in the kitchen. But the memories they make—and the sense of independence and accomplishment it fosters—makes it all worth it. Bonus points: Anything-Goes Dinner.
14. Take a Hike
Really, when was the last time you took the kids hiking? O'ahu is even more beautiful when seen from a little elevation. Visit everytrail.com for inspiration.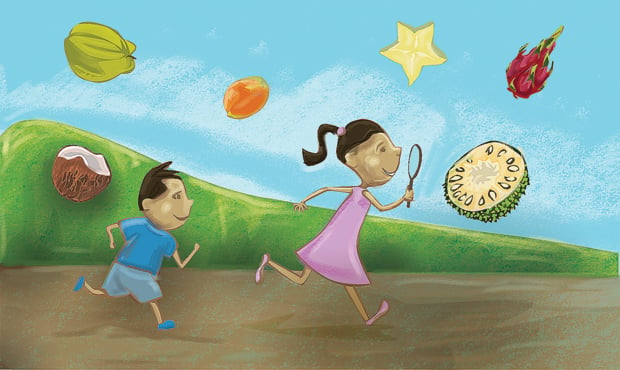 15. Go on a Scavenger Hunt
Here's the challenge: Find 15 fruit flavors. They may know their way around a papaya, but have your kids ever tasted a dragon fruit? What about a rambutan, jackfruit or star fruit? Scour Chinatown, farmers markets and roadside stands over the summer to taste 15 different tropical fruits available on O'ahu. Keep a list and check them off as you sample them. Maybe your vendor can suggest a new one you've never heard of yet. Your kids may surprise themselves with a new favorite flavor!
16. Listen to the Olden Days
Once upon a time, kids could browse through their parents' album collection and wonder about what sounds each of the strange, vinyl circles held. But, today, chances are your family music collection lives in the mysterious recesses of a computer they may or may not be allowed to touch. If you still have them, break out your old CDs, vinyl records and cassette tapes (and 8-tracks, if you've got 'em!) and show them how music was once played at home.
17. Reveal Yourself
There are few things kids enjoy more than poring over their baby books and hearing stories about when they were little. But have you shared memories from your childhood with them? Shown them photos of what you looked like at their age? Talked about what you did, thought and felt when you were in their-size shoes? Crack open an old yearbook or photo album of yours and see what happens.
18. Get Back to Nature
There's nothing quite like the sound of a tent zipper singing its song on a balmy summer evening to instill the thrill of an outdoor adventure. Whether at a formal campsite or in your own backyard, pitch a family tent for some fun summer memories. Break out the sleeping bags, fire up the flashlights, tell ghost stories and don't forget the s'mores. Visit camping.honolulu.gov to find and reserve campsites.

19. Play Tourist
t's not just our beautiful beaches and balmy waters that draw countless tourists from around the globe to O'ahu each year; we also have amazing cultural and historical attractions to explore right in our own backyard. When was the last time you toured historic Waimea Valley? Or visited the Polynesian Cultural Center? Have your older children ever learned about World War II at the Pearl Harbor Visitor Center?
And don't forget the activity jewel that is Waikīkī, with the newly refreshed Honolulu Zoo, always engaging Waikīkī Aquarium or countless events at Kapi'olani Park. Best part? Discount kama'aina rates!
20. Offer a Helping Hand
Volunteer together on a project that will not only teach your child valuable life lessons, but also make a difference in the lives of other people. The O'ahu chapter of the Surfrider Foundation hosts monthly beach cleanups. Kids of all ages, as long as they are closely supervised so they don't pick up dangerous items, are welcome to join in the efforts. Visit oahu.surfrider.org and check the calendar on the home page to find the next scheduled cleanup.
Also, the Aloha United Way conducts an annual School Supply Drive, collecting school supplies for at-risk or homeless students. Items donated by organizations and individuals are collected during the month of June. If you and your children would like to help sort, pack and distribute supplies at the AUW offices at 200 N. Vineyard St. (on a date to be determined in July 2013), contact AUW vice president of marketing and communications Jody Shiroma by the end of June at jody@auw.org to register. "This helps kids understand that not everyone is fortunate enough to have a pencil or pen or even folder paper to do their assignments on," says Shiroma.