Best Spots on O'ahu to Catch Amazing Sunrises and Sunsets
We're spoiled in Hawai'i with sunsets that sport Rainbow-sherbet shades and sunrises full of drama. Here's where to see them.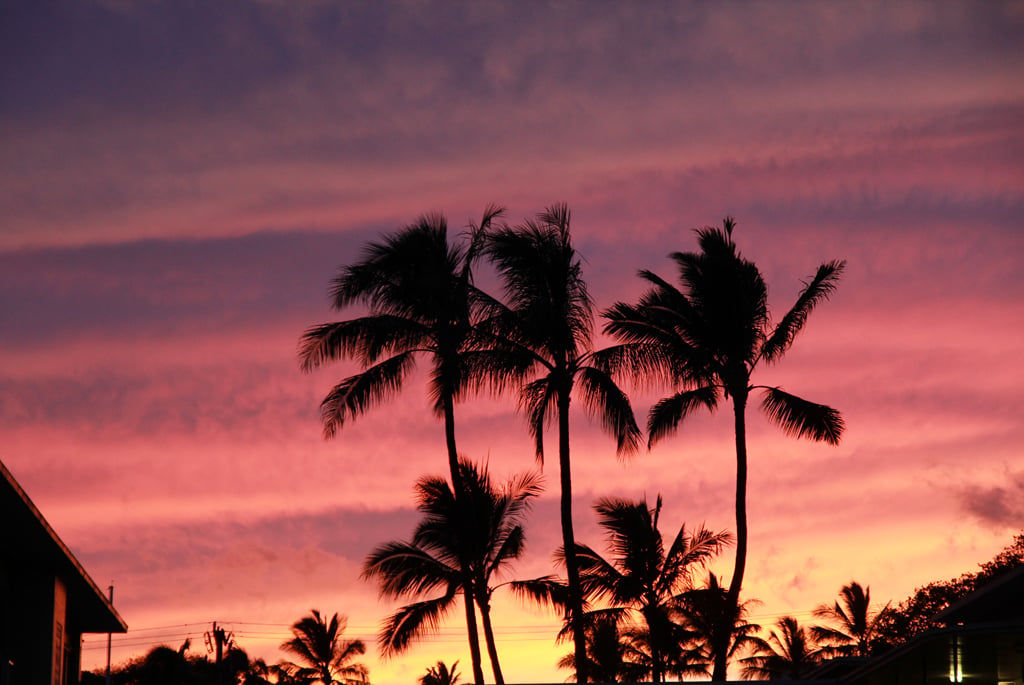 What is it about a sunrise or sunset that never gets old, no matter how many times you see it? Here in Hawai'i we're particularly spoiled, with sunsets that sport Rainbow-sherbet shades and sunrises full of high-drama and sky-streaking lights. We might go so far as to say that on O'ahu, sunset- and sunrise-viewing is an extreme sport (extremely awesome, not exerting). In fact, you've probably got more than a few friends who swear by their favorite viewing spots, are we right? Sure. But have you tried any of our favorites, below? Let the sunset crawl begin!
Sunset
Pu'u 'Ualaka'a
Smack dab in urban Honolulu (you'll drive up into the mountainous Tantalus neighborhood to get to the park this lookout is in), this spot is as convenient as they come, with no hiking required. There's also a small lot right by the lookout and a large grassy area for your lounging, hand-holding, sunset-viewing romantic pleasure. While it's not always busy, this spot is definitely on some tourists' radars.
Yokohama Bay
It's a bit of a schlep (an hour or so by car!) but this beach at road's end, near the northwesternmost tip of the island, is like a front-row seat to the daily sun show.
Hau Tree
Located right on Kaimana Beach, a favorite sunset-viewing spot for locals and tourists alike, Hau Tree gives you great same views, plus comfortable restaurant seating, trendy vibes —and a wine list!
SKYY Waikīkī
This rooftop raw bar and cocktail lounge has a wraparound roof deck with glass railings and a gorgeous, panoramic view of the sun going out in a blaze beyond Waikīkī. And, once it sets, you can take in some pretty beautiful city lights too.
Sunrise
Sandy Beach
It's known for its high-drama waves, which pair perfectly with high-drama views. Grazing the southeastern tip of the island, the rocky shores and out-of-the-way coastline make itfor the perfect sunrise- spotting beach.
Makapu'u Lighthouse
Another southeastern gem, the area near the lighthouse provides a bird's-eye view of the sun rising over the ocean. The only catch? You'll have to hike your way up to it (don't worry, the trail is paved and pretty easy), and battle any other hikers competing for parking space.
Pu'u Mā'eli'eli
It's off the beaten path, which means that with a little luck you may find you have the lookout to yourself. But with stunning views of Kāne'ohe Bay and far, far beyond, it's worth a try. You will have to do a bit of hunting: The entrance to this trail is across the highway from Valley of the Temples, and not immediately apparent. You'll also, obviously, have to do most of the hike in the dark, so bring a headlamp! And this baby isn't paved. It's not the most difficult hike on the island, but it's still a workout!
Koko Head Crater
Speaking of workouts, Koko Head Crater is everyone's favorite go-to cardio boost, and what better way to reward yourself than hitting the top in time for sunrise views? After an hour or so (depending on how hard you want your workout to be!) of straight uphill jogging, hiking and climbing, you deserve it!