Best of HONOLULU Family: Eat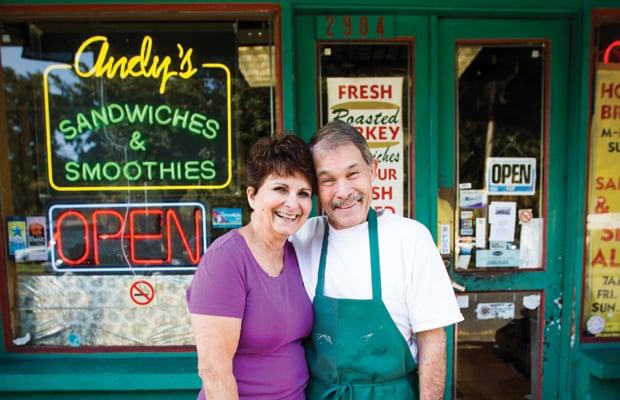 Best Place to Get Your Kids to Try Sprouts Without Complaint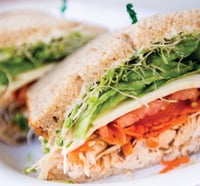 Andy's Sandwiches and Smoothies
Editors' PIck
If you attended the University of Hawaii at Manoa and somebody says, "let's go to Andy's," you know exactly what he or she is referring to. The quintessential "mom-and-pop shop" in the heart of Manoa, run by Andy and Norma Rodrigues, offers up simple, delicious deli fare, breakfast and more. The turkey sandwich is an iconic menu item. Freshly roasted turkey is piled on soft, homemade wheat bread and lots of veggies, including sprouts and a sprinkling of a special seasoning. Consuming Andy's giant sandwiches is an art form, worth the oral exercise. 2904 E. Manoa Road, 988-6161, andyssandwiches.com.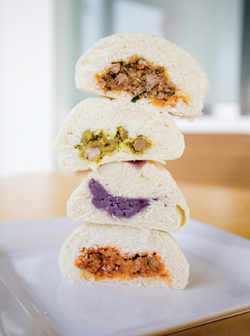 Best Variety of Steamed Vessels
Chun Wah Kam
Editors' Pick
The prize for tasty variety and convenience goes to Chun Wah Kam. It boasts 17 unique fillings, from curry chicken to spicy pork, roast duck to pizza. Baked and mini manapuas are also available. Four island-wide locations, chunwahkam.com.
Best Non-Spam Musubis
Mana Bu's
Editors' Pick
These are not standard convenience-store musubi. Mana Bu's offers 35 varieties of musubi, made fresh every morning—combinations such as ume and brown rice, unagi stuffed into 10-grain rice, mentaiko in Tamanishiki premium short-grain rice. Each little package contains perfectly cooked rice and delicate fillings, great to pack into lunch boxes, if you can keep from eating them all yourself. Make sure to get to the shop early: it opens at 6:30 and, sometimes, by mid-morning, Mana Bu's sells out and closes. 1618 S. King St., McCully-Moiliili, 358-0287, hawaiimusubi.com.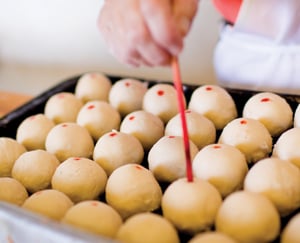 Best Front Row Seats to Authentic Dim Sum Production
Char Hung Sut
Editors' Pick
You've got to get to this Chinatown locale early (between 5 to 8 a.m.) to catch the impressive handcrafted dim sum production in action. The steamed char-siu bao is our pick for "best" taste, partly due to its perfect ratio of meat to bun and flavorful breading that is worth the added carbs. 64 N. Pauahi St., Chinatown, 538-3335.
Best Kids-Eat-Free Deal
Gyotaku
Readers' Pick
Fresh ramen or udon noodles and other kid faves. Bonus: Shave ice or ice cream included and kids can pick a free toy. Kids eat free on Mondays and Tuesdays. Three locations. Gyotakuhawaii.com.
Best Shave Ice
Waiola Shave Ice
Readers' PIck
Smooth as silk ice shavings set this locale apart from its competitors. The flavors and toppings meld nicely together to make each bite mmm … good! 2135 Waiola, Moiliili, 949-2269, 3113 Mokihana St., Kapahulu, 735-8886.
Best Food Truck with Kid Appeal
Fairycakes
Readers' Pick
Sweet treats that come to you? Who wouldn't love that? Homemade cupcakes, whoopie pies, brownies, mochi, bars and cakes can be delivered right to your door. 447-8862, fairycakeshawaii.com.
Best Bubble Drink with All Fresh Ingredients
Mai
Editors' Pick
A drink you can eat. How clever is that? Add locally grown fresh fruit, ice and blend, and you have a refreshing bubble drink worth the trek into Chinatown. Try honeydew melon or our fave, mango/lychee. Yum! 1120 Maunakea St., Suite 187, Chinatown, 543-0186.
Best Pizza
Pizza Hut
Readers' Pick
If you've ever brought Pizza Hut pizza to a potluck party, you know how fast those slices disappear. Have you seen the new mix-and-match pizza sliders? This new size is even better for little tummies than a personal pan pizza. Twenty-four island-wide locations, 643-1111, pizzahuthawaii.com.
Best Burgers
The Counter
Readers' Pick
Build your own gourmet burger with fresh, 100-percent-natural Angus beef, cheese, up to four toppings, sauce and your choice of six kinds of buns. Need we say more?
4211 Waialae Ave., Kahala Mall, 739-5100, thecounterburger.com.
Best Sweet Treat
Hokulani Bakery
Readers' Pick
Taste and presentation helped this local cupcake boutique take home the top prize in season four of Cupcake Wars on the Food Network. Yummy local flavors, such as guava and lilikoi make these sweet treats extra special. Two locations, 537-2253, hokulanibakeshop.com.
Best Healthy Dish Kids will Love
Pho noodle soup
Editors' Pick
A warm and hearty dish, packed with flavor and good for your health. If your kids enjoy Campbell's Chicken Noodle soup, then he or she will love a warm bowl of rice noodle Pho.
Best sit-down-and-order Dim Sum
Happy Days
Editors' Pick
Ordering is entertaining at dim sum restaurants. Wide-eyed kids watch as cart workers lift the lids off steaming baskets to reveal delicious dumplings, char siu bao, noodles and more. Happy Day has all the usual dishes, and two advantages over the many small shops in Chinatown: Its roomy interior means little waiting for a table, and all takeout orders before 11:30 a.m. receive a 15-percent discount. 3553 Waialae Ave., 738-8666.
Best Healthy Snack You Can Buy and Kids will Love
Jamba Juice
Readers' Pick
Why is Jamba Juice Hawaii so popular with families? Kid size-cups, healthy baked goods, fresh-squeezed juices, fruit and veggie-blended smoothies, fundraising opportunities and now a new Jamba Kids Meal. Enjoy a kid-size smoothie and a cheesy stuffed pretzel of pizza swirl. What could be better? Twenty-three island-wide locations, jambahawaii.com.
Best Create-Your-Own Takeout Location
Whole Foods 

Editors' Pick

Two locations, wholefoodsmarket.com/stores/honolulu.
Best Breakfast Restaurant
CinnamonsReaders' Pick315 Uluniu St., Kailua, 261-8724, cinnamons808.com.
Best Family Deal
Bucca di Beppo

Readers' Pick

1030 Auahi St., Ward Center, 591-0800, bucadibeppo.com.
Best Family-Style Caterer
Tanioka's

Readers' Pick

94-903 Farrington Highway, Waipahu, 671-3779, Taniokas.com.
Best Family-Friendly Potluck Item
Zippy's chili

Readers' Pick

zippys.com
Best Local Food or Beverage Brand
Hawaiian SunReaders' Pickhawaiiansunproducts.com
BEST KIDS MENUS
EDITORS' PICKS
California Pizza Kitchen (Ashley de Coligny)
With five kinds of pizza, five kinds of pasta, two kinds of chicken and a salad topped with Goldfish crackers, young diners are bound to find something they love on CPK's kids' menu. All are either $5.50 or $6, and include a drink and free refills. Kids also love the four-page coloring and activity book. Five island-wide locations, cpk.com.
Gyotaku (Christi Young)
Three reasons why this Japanese menu is great for your kids: 1) Between the fresh ramen or udon noodles, cone sushi, shrimp tempura and karage chicken, something is bound to be a hit, 2) shave ice or ice cream is included and kids can pick their own free toy, 3) kids eat free Monday and Tuesday. Three locations, 373-2731, gyotakuhawaii.com.
Mariposa (Christine Hitt)
Mariposa may seem like an unlikely place to take your kids for lunch, but it's actually one of the few upscale restaurants your kids will love. Not for its coloring books or toy—there are none—but, for its food. The creamy orecchiette pasta with alfredo sauce is a favorite among little ones, and will make them forget about homemade mac-and-cheese. Throw in unlimited, free orders of Mariposa's famous popovers with strawberry butter (only served during lunch), and your kids will need a nap afterward. 1450 Ala Moana Blvd., Neiman Marcus, Third Floor, 951-3420, neimanmarcushawaii.com.
Town Kaimuki (Nathan Kam)
A charming restaurant in Kaimuki. Chef/owner Ed Kenney's motto: "local first, organic whenever possible, with Aloha always." Kids will love the "unofficial" kids' menu and the many appetizers, entrées and desserts. The secret menu is fairly simple—two choices of pasta, butter, and cheese or tomato sauce. A grilled-cheese sandwich is also available. Another offering is smaller entree portions from the regular menu. Enjoy gnocchi, hand-cut pasta with Ragu and pan-roasted chicken. Try the fresh fish with local root veggies, and the charcuterie plate when it's available.
3435 Waialae Ave., 735-5900, townkaimuki.com.
Roy's Restaurant Hawaii Kai (Helen McNeil)
There are two locations on Oahu, but the one more conducive for kids is the Hawaii Kai restaurant. No reservations needed, but come early to nab a great spot on the outside terrace. Friday and Saturday nights offer musical entertainment. This provides a comfortable, grooving ambience the kids will enjoy and also helps to mask "inside voices" that get a tad too loud outside. A treasure chest of toys is offered, so the kids have something to play with while they wait for their food, along with an activity book and crayons. Children are treated to three courses: an appetizer of veggies, fruit and quesadillas, a main course of either pasta, short ribs, hibachi salmon or teriyaki chicken, and a colorful ice cream cookie sandwich to top off the meal. 6600 Kalanianaole Highway, Hawaii Kai, 396-7697.
Sabrina's Italian Restaurante (Michele Aucello)
If you drive too fast onto Waialae from town or the University of Hawaii, you might miss this quaint Italian restaurant nestled on the corner of Waialae Avenue and St. Louis Drive. Start with the prosciutto and melon as an appetizer, split the Arugula or the caprese salad. If you order one day ahead, you can get a filet (filetto con pepe verde), but there are lots of chicken dishes. Enjoy eating family style and split two pastas. Favorites include mushroom or asparagus risotto, gnocchi with pesto or brown butter and sage and Penno Dello Chef, Sabrina's Dream or Spaghetti Alla Carbonara. 3036 Waialae Ave., Kaimuki, 739-0220.