Bento Master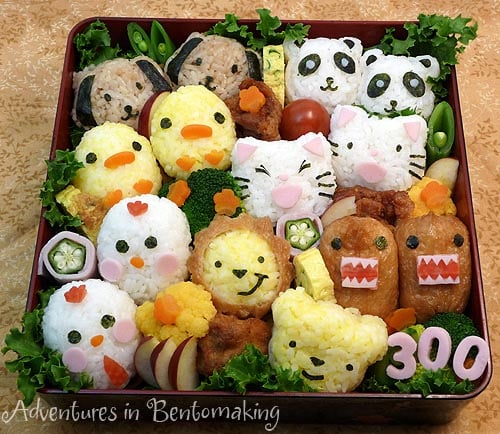 Tired of the same old, same old when it comes to lunch? Check out the work of Honolulu-based bento expert Crystal "Pikko" Watanabe. Her blog, Adventures in Bentomaking, will inspire you with its adorable, painstakingly created bento.
As a kid growing up in Hawaii, Watanabe enjoyed bento "like all the other kids," she says. "There were 7-11 bentos, okazuya bentos, supermarket bentos, field-trip bentos…" But her obsession with the boxed meals started two years ago, she innocently went online to search for an image of a bento, and "found all this achingly cute stuff. Now a good part of my kitchen is bursting with bento 'junks,' as my husband likes to call it." She whips her foodie fans into a furikake frenzy with elaborate creations, including tributes to the TV series Lost. (You can see a step-by-step on one at http://www.aibento.net/2009/03/a-shirt-for-sawyer-lost-bento-3/.) Her work is also featured in an upcoming book, 501 Bento Box Lunches: 501 Unique Recipes for a Brilliant Bento, which she says will be released in the U.S. in the next few weeks.
So what tips does she have for aspiring bento-makers? "For accessories, I love nori punches and food picks, as I think they add so much to a bento's presentation." She recommends shopping at Marukai 99 Cent for supplies, but warns, "Addictive personalities beware! If you thought you go nuts in a scrapbooking or art store, just wait till you're staring at a set of miniature soy sauce bottles or molds that can make you bunny shaped boiled eggs or little kitty cat musubi."
If you want to learn how to make bento, Watanabe teaches classes at the Temari Center. She says she hasn't done catering, but is open to special requests. "Turning this into a job would be a dream come true," she says.