Benefits of Home Cooking Extends Beyond Nutritious Meals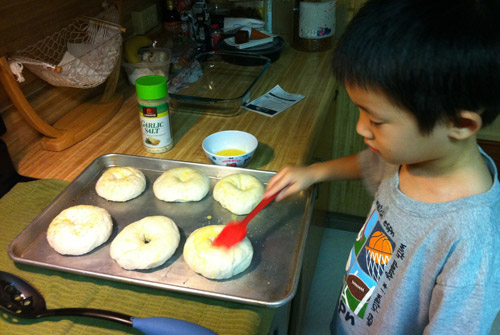 "I remember hanging out at your house and watching cooking shows all the time," reminisced an old high school friend I ran into a couple of months ago. "And Headbangers Ball on MTV."
I admit he has a pretty good memory. I also recall watching shows such as The French Chef (Julia Child), The Galloping Gourmet (Graham Kerr) and Pasquale's Kitchen Express (Pasquale Carpino) religiously. Classics of their time, long before the Food Network, Cooking Channel and shows like Top Chef, MasterChef and Hell's Kitchen took over our television sets.
I'm not certain why these shows get me hooked, but I'm sure it helped growing up in Kona with a mom who loved to cook and a grandma whose incredible meals were masterpieces we looked forward to inhaling during each visit to Oahu. Perhaps it is simply the process of turning ordinary ingredients into dishes that make your mouth water that motivates me?
Whatever it is, my enthusiasm for cooking is stronger than ever and remains one of our favorite things to do as a family. My wife, Kelly, has a passion for cooking (and baking) too and our combined efforts mean the majority of our meals are cooked at home, usually with a healthier twist (reduced fat, less sugar, etc.), a lot of flavor and love, and less time than we like to have on a daily basis.
With the exception of the weekend, cooking at home can be a challenge for two working parents, but we strive to do it because of the positive impact it has on our family beyond nutrition. Cooking together bonds us through conversation, creativity and discovery.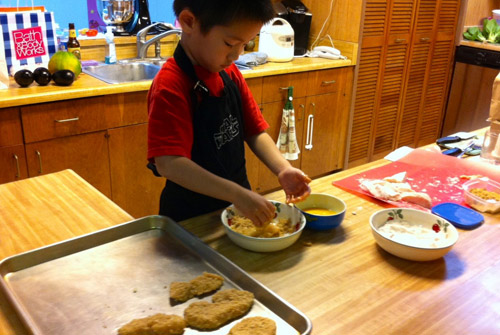 It is really exciting to see Ensen and Avery become so fond of the kitchen. Whether it's rolling fresh pasta, kneading pizza dough, shaping bagels or scones, dredging chicken strips in flour, egg and corn flakes, seasoning steaks, or simply tasting, the kids enjoy getting their hands dirty.
As I was writing this post, I came across a story titled "Out of the Kitchen, Onto the Couch" written by Michael Pollan in 2009 for New York Times Magazine. A statistic caught my attention that, despite the rise of cooking shows on television, "the average American spends a mere 27 minutes a day on food preparation (another four minutes cleaning up)." Pollan concluded, "What this suggests is that a great many Americans are spending considerably more time watching images of cooking on television than they are cooking themselves, an increasingly archaic activity they will tell you they no longer have the time for."
Sure, that story was written three years ago, but I can't imagine that 27 minutes has gone up dramatically since.
Has the world today become so hectic that we can't stop for an hour or two each day to nourish our bodies with a home-cooked meal, sit down together as a family to savor each bite and enjoy each others' company? Have our priorities changed so much that this isn't important to us anymore?
It's a scary thought that many of us will have to confront sooner or later. Our family did just that a couple of years ago. Kelly and I committed to putting our family first, with home cooking as a way to bring and keep us together—the best decision we ever made!
Five Ways to Channel the Home Cook Inside of You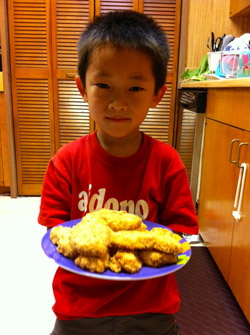 • Start simple. Don't worry about what everyone else is doing around you or what you're seeing on television. Go at your own pace and grow from there. Even if it's simply buying fruits to make a fresh fruit salad at home versus buying the premade type, it's a great start.
• Watch Cooking Shows on Television or Online. There are hundreds of cooking shows available, both new and old, that will teach you the basics of cooking. My favorites at the moment are America's Test Kitchen on PBS and The Chew on ABC. In both cases, the recipes are easy to follow and watching them cook the dishes and hearing them talk through the process has really helped me in the kitchen. On Hulu.com, I also enjoy watching old episodes of Avec Eric, which follow master chef Eric Ripert of Le Bernadin in New York City around the world and into the kitchen. MasterChef (FOX) and Top Chef (Bravo) are also regular favorites.
• Read. It never hurts to read cooking magazines and cookbooks for inspiration and tips. However, I've found that, unless you're a more experienced cook, trying to replicate a recipe from words alone can sometimes be tricky. It's for this reason that I like watching cooking shows, then referencing the recipes online.
• Experiment. Don't be afraid to experiment at home. It's part of the fun. Yes, you're going to make some terrible, unedible stuff along the way, but at some point you'll discover flavor combinations, textures and ingredients you never though you'd ever enjoy. As in all other aspects of life, practice makes perfect.
• Eat Out and Ask Questions. One of my favorite things to do is eat at great restaurants. I enjoy the experience of tasting different styles of cuisine, seeing familiar and unusual ingredients prepared in amazing ways, and learning about the preparations by asking (not too many) questions to the server or chef if given the opportunity. You may hear terms that sound like rocket science, but ultimately you'll walk away with new ideas to try at home. Here's a hint, roast broccoli in olive oil, salt and pepper for 15 minutes or so in a 400-degree oven. Heavenly!
Kam Homemade Bagels
Yield: Eight Bagels



Ingredients:

1 cup warm water (80 degrees)

1 ½ tablespoons sugar

1 ½ teaspoons salt

1 ½ cups all-purpose flour

1 ½ cups bread flour

2 teaspoons active dry yeast -

1 egg (beaten)

Optional Toppings: garlic salt, dried onion, cheddar cheese, sesame seeds, togorashi (for spicy)
In a mixer, start by combining water, salt and sugar. Then, add all-purpose flour, bread flour and yeast. Continue mixing thoroughly for 8 to 10 minutes. Remove dough from mixing bowl and kneed for 1 to 2 minutes on a floured surface. Return dough to mixing bowl and cover with plastic wrap. Allow dough to rest and rise for approximately 40 minutes in a warm place.
After dough has risen, remove from mixing bowl and kneed again on a floured surface for 1 to 2 minutes. Shape into a nice ball and portion eight equal pieces. Roll each piece into a ball, tuck the edges under and pinch the bottom to create smoother topsides. Using your thumb, press a hole into the center of the ball and stretch the dough into the shape of a bagel with a one-inch center hole. Place on a floured baking sheet and let dough rise for another 10 to 15 minutes in a warm place.
Preheat oven to 400 degrees and bring a large pot of water to boil. Add two tablespoons of sugar to the water. After the dough rises, place three to four in boiling water and cook each side for roughly one and a half to two minutes. When done, remove from water with a slotted spoon and place on an oiled baking sheet. Brush the top half of the bagel with egg wash and add desired seasoning. (Note: If you are preparing cheddar-cheese bagels, egg wash is not necessary.) Bake at 400 degrees for approximately 20 minutes or until done. Cool on a wire rack and enjoy.
Nathan Kam is a Honolulu public-relations executive, husband and a proud daddy of two incredible kids, Ensen (5) and Avery (2), who enjoys cooking, gardening, traveling, blogging and golfing. You can reach him via email, Twitter, Facebook, LinkedIn or via his personal Kam Family Blog.