The Benefits of a Christ-Centered Early Education
Christ-centered, Bible-based preschool education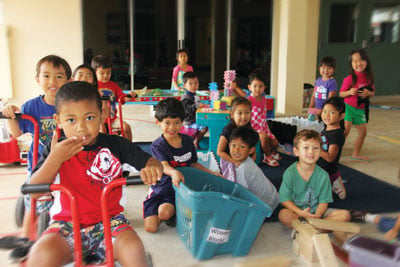 Christian Pre-School
If you're looking for a Christ-centered, Bible-based preschool education for your son or daughter, Hawaii Baptist Early Education Association (HBEEA) has 19 preschools on Oahu, Maui, the Big Island and Kauai that offer the perfect program for your child.
Families do not need to be Baptist or from any particular faith to attend Hawaii Baptist preschools. Individual schools have various accreditations with NAEYC and NECPA and each preschool is unique in what they offer in terms of hours, price, etc.
Parents looking for a nurturing, loving environment in which their children can thrive can trust HBEEA to provide that setting. In addition to a Bible-based curriculum, every school includes grace at meals, daily chapel and prayer times.
Makakilo Baptist Church Preschool offers a modified Montessori curriculum for those interested in this type of education.
Formed in the 1970s under the direction of a group of Baptist preschool directors, the mission of HBEEA is to increase awareness and enhance the quality of church-related early-education programs, such as early-education ministries for all young children.
HBEEA provides annual leadership training and professional development for all HBEEA preschool directors.
HBEEA prohibits discrimination in all its programs and activities on the basis of race, color, national origin, gender, age or disability.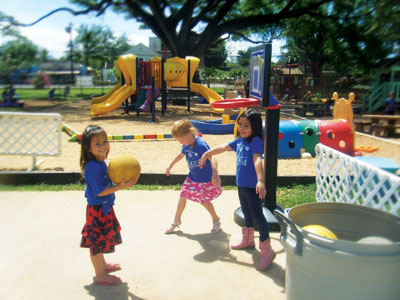 First Baptist Preschool of Haleiwa

Hawaii Baptist Early Education Association Schools
OAHU
Cornerstone Early Education Center

Director: Nelda Oberes

ceec.cfmm@hawaiiantel.net

626-8798

First Baptist Preschool of Haleiwa

Director: Toni Respicio

firstbaptistpreschoolofhaleiwa.com

637-4847



Hawaii Kai Church

Early Learning Center

Director: Charlene Sato

hawaiikaichurch.org

395-7854

Kailua Baptist Church Preschool

Director: Kay Eargle

kailuabaptist.org

262-6070



Makakilo Baptist Church Preschool

Director: Jessica Corliss

makakilochurch.com

672-3505

Mililani Baptist Preschool

Director: Curt Fajardo

sites.google.com/site/mililanibaptistpreschool

625-7499



Nuuanu Baptist Preschool

Director: Janice Nakamura

nuuanubaptist.com

537-3644



Olivet Baptist Preschool

Director: Rebecca McGuire

olivetpreschool.com

949-7548

Pali View Baptist Preschool

Director: Katie Mulliskatiepaliview@gmail.com

235-2271

Palisades Baptist Preschool

Director: Kimberly Inafuku

palisadesbaptistchurch

preschool.weebly.com

456-9066



Tiny Tots Christian Preschool at FSBCPH

Director: Ashli Krause

fsbcph.com

423-1318



University Avenue Baptist Preschool

Director: Shanta Danaraj

preschooluabc.googlepages.com

947-6679



Wahiawa Baptist Preschool

Director: Edwina Wong

wahiawabaptistpreandk@yahoo.com

622-2454



Waialae Baptist Preschool   

Director: Danette Abe

waialaebc.org

732-5558



MAUI

 


Kahului Baptist Preschool

Director: Melanie Nishita

kahuluibaptistpreschool.com

(808) 877-7243



Kihei Baptist School

Director: Joey Mizufuka

kiheibaptist.org

(808) 875-4985



BIG ISLAND


Kaumana Baptist Keikiland

Director: Veronica Higa

kaumanabc.org

(808) 961-3309



Waikoloa Baptist Keikiland

Director: Christine Mader

wbc.keikiland1@hawai​iantel.net

(808) 883-8202



KAUAI


Waimea Baptist Preschool

Director: Dawn Alrin

dawn@waimeabaptistpreschool.com

(808) 338-0730