Beer Cocktails?! Singha Beer's Full Moon Party, Waikiki Edition, Apr. 7 & 9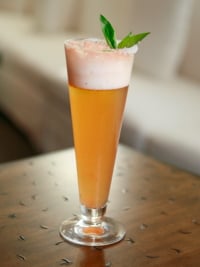 Apparently, there's a party that Honolulu missed.
Thailand holds rollicking all-night, beachside "Full Moon Parties."
Thailand's major brewery—Boon Rawd , maker of Singha Beer—is bringing a Full Moon Party to Honolulu next week (even, though, alas, the actual full moon is the week after). The host is the Waikiki Edition Hotel.
In honor of the occasion, the Edition challenged its master mixologist in residence, Christian Self (below left), to come up with beer cocktails.
That sounded like a horrible idea to me, so I dropped by the Edition Lobby Bar last night to taste for myself.
I could have skipped Self's Singha Shandy, which tasted like a beer with homemade 7-up in it. But his other drinks showed real promise.
There's a Singha Cure (a variation of a drink Self found in a New York bar, made with Miller High-Life).
The Singha Cure is essential a shot in a beer. The shot is Canton, the Cognac-based ginger liqueur, and there's a squeeze of fresh lime. I winced at the beer foretaste, but as the ice melted and the ingredients mellowed, this became a balanced cocktail.
The winner was the Singha Bloody Mary. No, Self didn't pour canned tomato juice into the beer. He muddled a Roma tomato with salt, black pepper, Thai basil and dried Hawaiian chili pepper, strained the juice into a beer glass and topped it off with Singha.
This was either the world's mildest, most refreshing Bloody Mary, or a great glass of beer with a kick of fire at the end.
Thursday, Apr. 7, 4-9 p.m., you can order Christian's beer cocktails at the Edition Lobby Lounge.
To accompany them, the chef has come up with an Asian beer-friendly menu as well: crispy pork belly with green apple salad in a mushu bun, salt and pepper calamari with jalapeño, and duck confit spring rolls with black pepper vegetables.
Of course, you could simply order a beer.
The Full Moon gala itself begins Saturday, Apr. 9, 8 p.m., with an invite-only party at the Sunset Private Beach, with Chutinant Bhirombhakdi, Singa Beer's third-generation owner, in attendance.
At 10:30 p.m., the party moves to the hotel's Crazybox, and is open to the public. Music, dancing and death-defying displays of fire dancing and fire rope stunts. Not to mention beer cocktails.
Waikiki Edition Hotel, 1775 Ala Moana Boulevard, (808) 943-5800, Waikiki Edition website