Beefeater 24 gin makes its Hawaii debut, at Waikiki Edition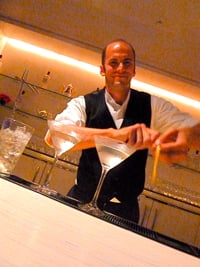 Desmond Payne has been distilling gin for 43 years, but always from someone else's venerable recipe, like James Burrough's 1820 recipe for Beefeater London Dry gin.
Payne was in Honolulu last night, part of a nationwide rollout of the first gin Payne himself created, Beefeater 24. "The whole time I was working on it, I had James Burrough's portrait on my wall, watching over me," he says.
Gin is a neutral grain spirit redistilled with what are called botanicals. The only required botanical is juniper berries, the rest can be anything the distiller likes: lemon peel, coriander, orris root, almond, on and on. The original recipe for Beefeater gin had nine botanicals. Payne's new gin has 12, including grapefruit peel, Chinese green tea and Japanese sencha.
Tea? Tea is in fact a botanical. Payne stumbled on the idea while in Japan. "I like a gin and tonic after a day's work," he says. "But tonic in Japan doesn't have quinine, and doesn't taste right, so I began having my gin with green tea."
Beefeater 24–the name comes from 24 hours the botanicals are steeped before distilling–isn't an infused tea product. In fact, it's more citrus-y than tea-y on the nose and more licorice on the finish. For most people, it will just taste like gin.
"Gin's back and cocktails are back," said an exultant Payne (left). "My assistant is back in London distilling gin, while I get to fly around the world and have cocktails with you."
The Waikiki Edition lobby bar was cocktail central last night, as head bartender Sam Treadway and staff handmade four different cocktails, three of them tea-inspired.
The English Breakfast (Beefeater 24 infused with English Breakfast tea, simple syrup, marmalade and a little too much lemon juice) was served in an actual teacup, foamed with a little egg white and garnished with orange zest.
The Lapsang Mar-tea-ni (right) was gin, Lillet rouge and a syrup made with the Chinese tea smoked over a pine fire, Lapsang souchang.
The one drink everyone seemed to want was Treadway's tea-free Bond 5-O Martini (Beefeater 24 and hibiscus-infused Lillet blanc).
The crowd was full of bartenders and cocktail mavens, so if I may be permitted one cocktail geek moment here: This is not the original James Bond martini.
The Vesper, as Bond called the drink, was three ounces of Gordon's, not Beefeater, gin. Plus one ounce of vodka (because three ounces of gin aren't enough?) and a half ounce Kina Lillet, a form of Lillet which has not been available since the 1980s.
Even shaken not stirred, the Vesper is probably undrinkably alcoholic, so I'd go with Treadway's creation any day.
The lobby bar at the Edition provided a stylish evening—flowers, candles, displays of botanicals and waitresses in fitted frocks passing canapes. In a few short months, the Edition has carved out a welcome place in Honolulu's cocktail scene.
Waikiki Edition Hotel, 1775 Ala Moana Boulevard, (808) 943-5800, editionhotels.com