Becoming Moana
What keeps Hawaii's Aulii Cravalho grounded on her rapid rise to Disney princess
Fans already excited by the trailers and video teases will finally get to feel the full impact of Aulii Cravalho's big Island personality when the film opens this week. But there's substance beneath the showbiz machinery, too.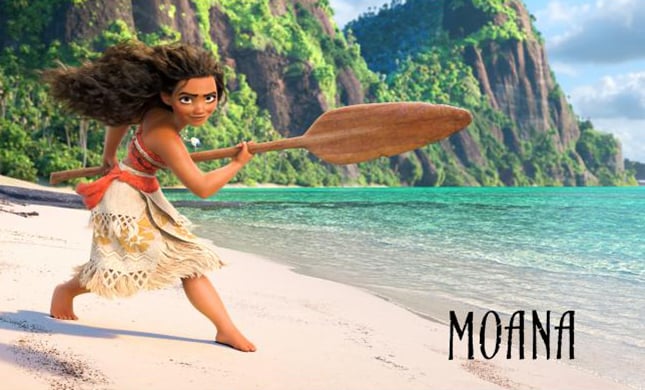 Image: Walt Disney Studios
A spunky 16-year-old girl sets off to save her culture by navigating a canoe across the Pacific, joining forces with a demigod and a bunch of singing sea creatures—sounds like a Disney film, all right. And the plot of Moana would seem to deliver drama and one-liners in the tradition of Finding Dory and The Little Mermaid, too.
But, in a departure for Disney, Moana has a real-life subplot: how the film stacks up against the story of Aulii Cravalho, the Mililani girl and Kamehameha Schools student who voices the main character. And, if you're used to your Disney princesses coming off an assembly line of miniature Hollywood-based show-biz professionals, then you may be in for an enjoyable surprise.
Moana has a lot of Aulii in her. In fact, as our conversation with the young actor reveals below, the producers and directors took the basic character idea from the screenplay and filled it out with Aulii's own personality.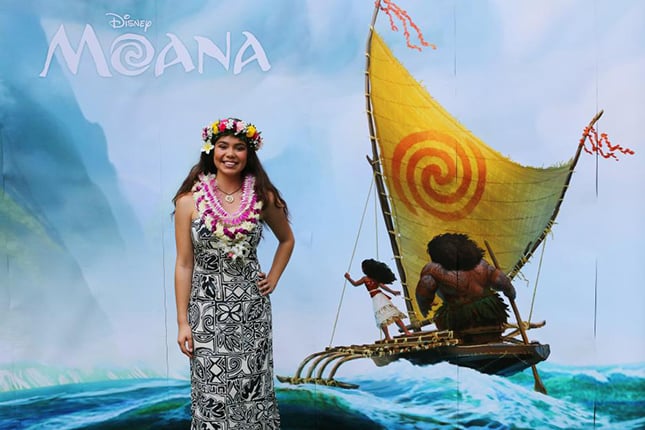 Photo: Walt Disney Studios
HF: Had you done voice work before? Acted?
AC: I was 15 and had never done any of this. I wasn't prepared for this. I mean, I've had to memorize lines for theater. But, in animation, you don't memorize a speech. Instead, you have to say the same line 20 times, 30 times, bringing different inflections and intonations to it. I definitely wasn't prepared for that!
HF: Weren't you scared?
AC: It was not nearly as scary as I thought it would be. Maybe because Moana grew up on an island and is rooted in the ocean, like me.
HF: You're 15 and putting in full work days with professional actors—wasn't that hard?
AC: I think it helped that in my freshman summer I worked on an honors biology project. We'd come in at 7 a.m. and leave at 2 a.m. My teacher, Mrs. Ishimoto, really opened up a whole new world for me.
HF: What are you taking in school?
AC: English, trigonometry and Native Hawaiian—I'm taking them now so I can move on to calculus and chemistry.
HF: Wow. Are you a numbers person?
AC: I'm not a math brain. I just kind of worked hard on it. I'm more of an English person. And biology. I'm torn between English and biology.
HF: Did the animators study your expressions and gestures and use them in creating Moana?
AC: They absolutely recorded me! They do watch your movements and facial expressions. When I was doing voice recordings there were two or three cameras always on me from every angle. It sounds funny, but I do believe the animators were looking for me.
HF: We always ask this. What's your favorite food?
AC: I would say anything on Highway Inn's menu. I'm a big fan of Highway Inn. I love its kalua quesadillas. I'm part Puerto Rican, so they remind me of that.
HF: Part Puerto Rican—what else?
AC: I'm also Native Hawaiian, Portuguese, Chinese and Irish.
HF: How do you handle all the business that comes with being a Disney princess?
AC: Here's where my mom comes in.
HF: Did fame change your mom?
AC [laughs]: She hasn't changed at all. And Mom makes sure fame hasn't changed me, either. She keeps me grounded.
Aulii almost didn't audition at all. Find out what almost kept her from becoming Moana and see the casting video that went viral on honolulumagazine.com.
Moana is rated PG and runs 1 hour and 53 minutes. It opens in theatres on Wednesday, November 23. The soundtrack is available now to download on iTunes and in the Google Play Store.