Beachfront Lanikai Villa Reduced by $2 Million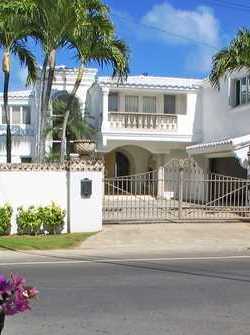 "It's the only home on Lanikai Beach that has sandy beach, a yard and a big house," says Annie Kwock. "Whereas, the other listings in Lanikai that have a nice yard and pool are on the sea wall. This house has got great beach access, and it's private. And you just don't see this style in Hawaii. It's very charming and romantic. It has kind of a Romeo and Juliet feel inside." The home's design, by architect Ralph Gray, is textbook Mediterranean: A gleaming, white-stucco exterior contrasts a turquoise-tiled roof, while curved doorways and stone pillars mark the transitions between indoor-outdoor living spaces.
The architect clearly knew how to make an entrance, as this home's foyer is a welcoming, sun-drenched space with 24-foot-high ceilings. Accessible from the entry, the travertine staircase leads up to the home's six bedrooms. Three of the rooms face the ocean and open up to balconies, while one of the "suites," which has a separate entrance, can double as a caretaker's quarter since it can be separated entirely from the rest of the bedrooms. There are five full baths and two half baths, all of which were renovated when the current owners acquired the property in 2000.
The main level, which has mostly marble flooring throughout, is open and bright with ocean views framed by curved archways. The kitchen has a "great layout," says Kwock, with Corian counters, whitewashed cabinets, a "large" center island and eight-person eat-in bar. But perhaps the home's strongest feature, aside from its location, is its covered swimming pool, which is gas heated and has a travertine deck. "When it's windy on this side, if your pool is up on the beach, you can't use it much," says Kwock, "so this way it's always usable regardless of the weather. And it's very pretty—it feels like a Roman spa."
Other relevant details: The home has central air conditioning, a two-car garage, security system and carpeted floors in all of the bedrooms. The home is occasionally rented out as a vacation rental. According to Kwock, the home can rent for $40,000 to $50,000 per month.
Money talk: The home was originally listed at $12.9 million, reduced to $9.8 million and is currently listed at $7,895,000.
Contact: David Catanzaro, REMI Realty, 230-8200, david@remiteam.com.
Annie Kwock, Trinity Hawaii, 247-7521, annie@trinityproperties.com.