Bath & Body Works Hawaii Grand Opening
We've waited long enough. Now Hawaii has its own Bath & Body Works store on Oahu at Ala Moana Center. Island Family Magazine was there at the two-day count down and grand-opening celebration.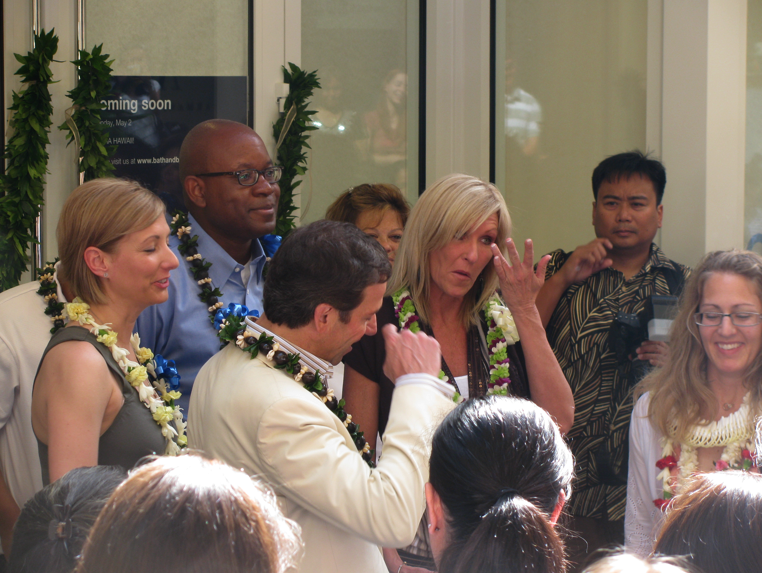 Bath & Body Works Hawaii Jennifer Thomas Ala Moana Center
Hawaii's Bath & Body Works countdown began on Sunday, May 1, with a store blessing that brought tears to the eyes of the management staff. Special guests, including VIP family and friends, and members of the media, had a sneak preview.
The grand-opening celebration for the public kicked off on Monday, May 2 at 9:30 a.m. Two hours after the ribbon-cutting ceremony and the doors opened, the line to get into the store stretched over to Macy's and wrapped around Shirokiya. Security guards armed with ear pieces and walkie-talkies were sprinkled throughout the mall to handle the eager crowd waiting to get into the store.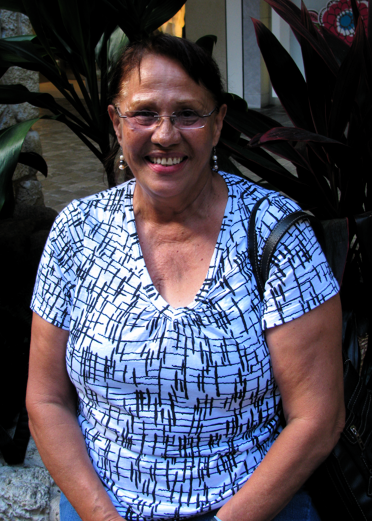 Bath & Body Works Hawaii Ala Moana Center Sylvia
The first shopper standing in line was Sylvia Bogac of Ewa Beach, who was standing in line since 5:30 a.m.
"I'm so excited to be here," says Sylvia. "When I heard that the Bath & Body Works store was opening in Honolulu, I had to be there. I woke up at 2:45 this morning to get here. I like the hand sanitizers, shower gels and body lotions, but that's all I know of so far. I can't wait to see what else they have in this store." 

Sylvia, who usually purchased her Bath & Body Works products in Las Vegas, says she's not the only fan in her family.
"My granddaughter, who goes to Kamehameha Schools, is also a fan of their hand sanitizers and body washes. Even my mom and husband like the anti-bacterial soaps."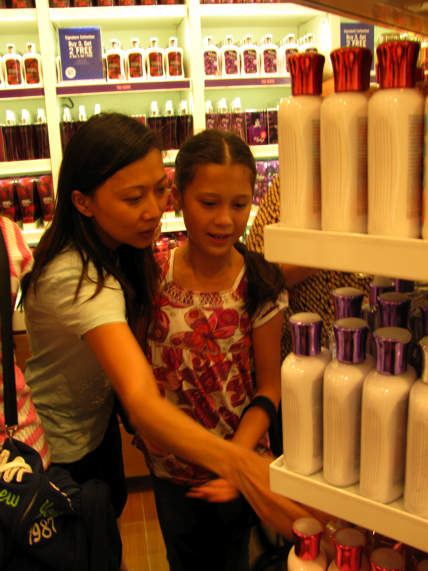 Bath & Body Works Hawaii Ala Moana Center Nitaya Chloe
When it comes to staying healthy, clean hands are essential. Ten-year-old Punahou student Chloe and her mom, Nitaya, agree. Both are fans of Bath & Body Works' hand sanitizers and anti-bacterial collection, and enjoy the variety of different scents.
"The soaps smell really good," says Chloe of Honolulu. " I really like the Nectarine Mint, White Citrus, Cucumber Melon and Sweet Pea scents."
Luckily, Punahou students are out on a junior school intermission break, allowing Chloe to shop in Hawaii's first Bath & Body Works store with her mom, who was just as excited.
"We always have to carry them home from the Mainland," says Nitaya, "but now we can come here to purchase what we want."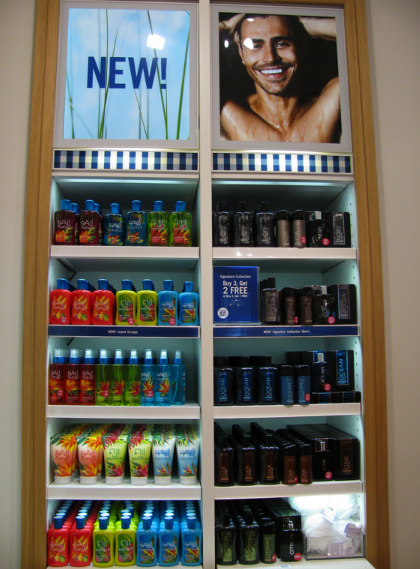 Bath & Body Works Hawaii Ala Moana Center
Despite the large selection of fragrances for women, Bath and Body Works also offers a men's line, including hair and body washes, shaving cream and deodorizing body sprays.
Additionally, the store features seasonal scents created by home fragrance master Harry Slatkin. The Slatkin & Co. collection, which is exclusive to Bath & Body Works, brings fresh fragrances available in room sprays, candles, and an assortment of "Scentportables" (stand alone air fresheners) and "Wallflowers" (plug-in air fresheners).
Need to relax? Create your own mini-spa with the True Blue Spa products designed for the body, hand and feet. For parents: don't miss the aromatherapy section designed to boost energy, relieve stress and help to promote sleep. There are essential oils, bath salts, sugar scrubs and pillow mists.
While there are a lot of new products and accessories, a lot of customers are most familiar with Bath & Body Works' anti-bacterial hand soaps.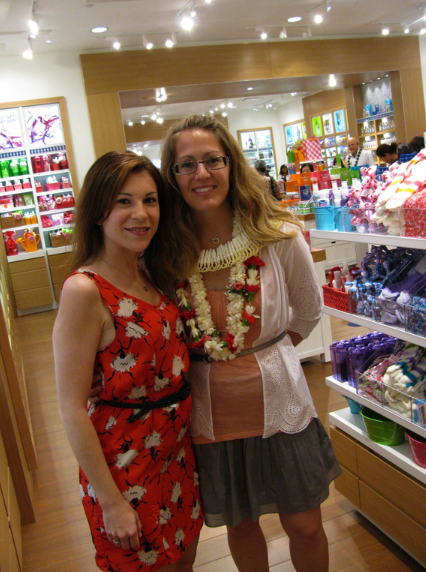 Bath & Body Works Hawaii Jennifer Thomas Melissa Palmieri Ala Moana Center
"Our anti-bacterial collection is the bestselling in America," says Hawaii store manager Jennifer Thomas (pictured on the right with Melissa Palmieri). "We also have one of the largest variety of scents, including our Signature Collection as well as our seasonal scent collections."
This Spring, Bath & Body Works has launched its Fresh Picked Anti-bacterial Collection which will be available for a limited time.
"For people who've never experienced our products before," says Thomas, "I would like to invite them to come in and try them out. We also have sinks that customers can use to test out our soaps. You can experiment to see what you like and it also makes washing your hands so much more fun."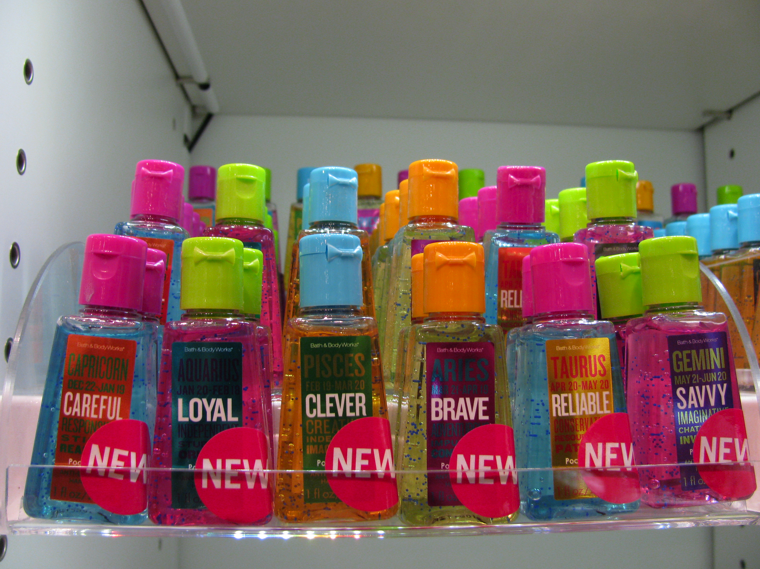 Bath & Body Works Hawaii Ala Moana Center
Can't get to a sink? Try PocketBacs, the latest collectibles to help keep your hands clean. These mini anti-bacterial hand gels were developed in 2009, but new limited edition and seasonal designs come out every year. The latest collections are the horoscope PocketBacs and the Patriot collection for the Fourth of July.
"It's all about making hand washing and cleanliness fun," says Melissa Palmieri on behalf of Bath & Body Works. "We know now more than ever it's really important to keep your hands clean and we've come up with a fun and interactive way to do it."
Bath & Body Works created new customized sleeves to allow customers carry the PocketBacs on their purses or their children's backpacks.
"We've also created fun themes for young kids," says Palmieri, "because moms have armed them with PocketBacs to ensure that they have clean hands before they eat in school. It's also become a hot collectors' item with teenagers."
Photos by Sherie Char

 
---
Did You Know? Can you guess what is Bath & Body Works' most popular and bestselling scent? Visit Island Family Magazine's Facebook fan page to find the answer. We'll also show you more of the hottest products designed for the Spring season. Click here for more info and photos (see Island Family Magazine's "Bath & Body Works Hawaii Grand Opening" photo album on Facebook).
Not sure which scent is right for you? Ask a Bath & Body Works' sales associate for the "Fragrance Personality Quiz." Discover which of the four Signature scents—Cuddler, Sexy, Fresh or Romantic—is perfect for you.