Bargain Hunting: Kapolei Short Sale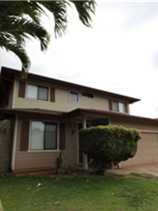 Short sales can be challenging buys, but bargains can be had if you're up to the task. This Kapolei Knolls short sale has been on the market for a week and was reduced by $20,000. Similarly sized homes in the community are listed for $654,000 to $739,000, so this house is priced to move. "We work with the first reasonable offer that comes in the door," says listing agent Adrienne Lally, who specializes in short sales.
Built in 2000, the 2,000-plus-sq.-ft. residence, which sits on a 6,000-sq.-ft. lot, has five bedrooms and three baths. The owner, whose husband passed away, has had the house rented out, so there may be some needed maintenance. "When you have tenants, there's always going to be some wear and tear," says Lally.
The listing agency, RE/MAX Honolulu, has obtained the necessary documentation and paperwork from the distressed homeowner, and just received an auction postponement. "We were able to get a postponement on the property, so now we have some time to market the home and get a reasonable offer," she says.
An open house is scheduled for this Sunday, Dec. 12 from 3:30 to 5 p.m.
Money talk: The house is listed for $629,000.
Contact: Adrienne Lally, RE/MAX Honolulu. 687-8921, AdrienneLally@remax.net.