The Balancing Act: 8 Ways to Help De-Stress Your Family
Busy? Tired? We know. Try these tips for de-stressing and strengthening your family, one small gesture at a time.
When couples walk into Malia Cabral's family counseling office in Kapolei, she often notices two things: both parents have demanding careers, and both are exhausted from raising children.
"Some of my clients are overwhelmed," Cabral says. "It becomes like a competition between the mom and dad, to see who is suffering more, that they are not paying attention to each other."
Trudy Narikiyo Guo, Ph.D., a clinical psychologist in Honolulu, has seen the number of overburdened families increase in the past decade. "The parents are struggling to balance work, child-rearing and household responsibilities, in addition to financial and health issues," she says.
It doesn't happen suddenly. Small daily challenges can build up into bigger problems. So how do you keep stress from zapping the fun out of raising a family? We asked three local therapists to identify the most common stressors, and we asked five couples with children what they do every day to strengthen their families.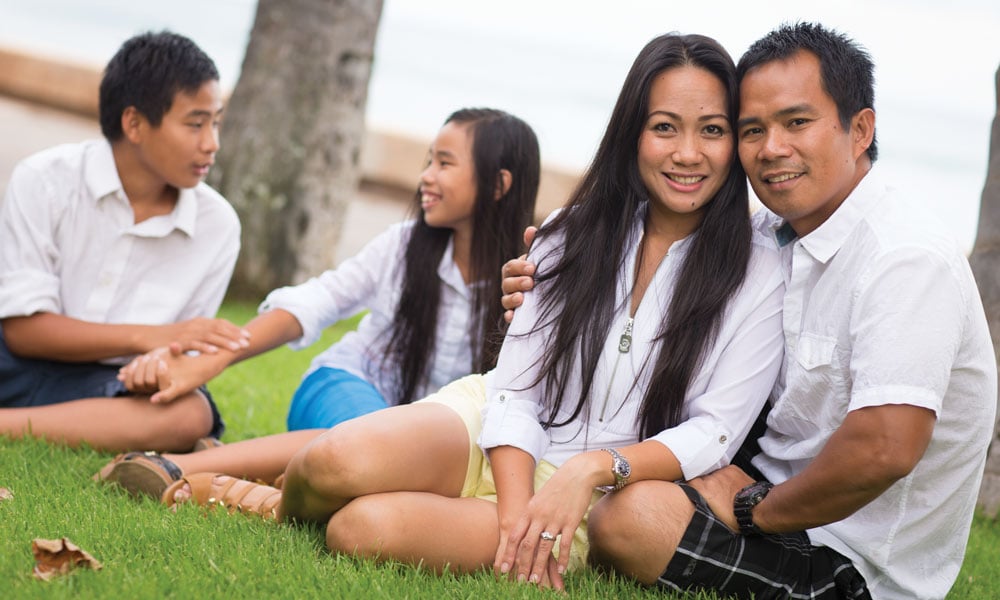 The Gadianos: Daver, Marlyn, Lemmuel, 13, and Jamila, 10.Photo: Karen DB Photography
FAMILY CHALLENGE: Busy families rarely spend time together.
SOLUTION: Find ways to bond even in mundane moments.
At one house in Ewa Beach, the day begins at 4:30 a.m. That's when Daver Gadiano heads to the gym before going to work as a glazier foreman in Hawai'i Kai. At 7 a.m., three more vehicles depart. Daver's wife, Marlyn, drives their 13-year-old son to school. Her sister, Marites Morta, and her 16-year-old son are next. Then Marlyn and Marites' parents leave with their 10-year-old and 13-year-old granddaughters. An hour later, Marites' husband, Samuel, goes to work as a courier for a global delivery company.
The daily routine can be exhausting. "I used to cry while driving, sitting in traffic," recalls Marites, an office clerk at an insurance company. "Commuting was horrendous! Then I realized that I could use the time to get to know my family instead of grumbling about the situation."
To encourage the teens to talk in the car, Marites shares her thoughts about radio talk-show topics, friends and mundane issues, then she asks their opinions with "What do you think?" and "How do you feel?" questions to "help them express their own feelings," she says. If she hears one-word answers, she works harder for more detailed answers, using tact, without being too pushy. She tells jokes or changes topics when she hears silence.
Marites picks up all the children from school once a week, and, on the hourlong ride, her kids and their cousins sing in the backseat, play their favorite "I Spy a Luxury Car" game and, with her blessings, scream for as long and loud as they want "since that would be the only time to do it," she says, laughing. The Gadiano and Morta clans are proof that quality time with family can happen anywhere, even on the H-1 Freeway.
Sometimes, opportunities happen during extended family time. Kenzy Kobayashi, 15, and his sister, Shaeli, 13, spend almost every weekend at their great-aunt's eight-bedroom home. The Pālolo home is "a gathering place where family always pops in," says their mother, Carie-Anne, a stylist who sometimes works past 8 p.m.
The family dynamic cements her own strong relationship with her kids. "Everyone is an open book," she says of her extended family. "They have no problem telling me if there's something that I need to know about my children."
Carie-Anne's first cousins — in their 20s and 30s — often help Shaeli and Kenzy with homework and school issues. It's the same thing Carie-Anne remembers doing as an older cousin. "It's the second generation repeating itself," she says. "My husband, Daniel [an auto-body-shop specialist], and I wouldn't be able to raise our kids without family."
In addition to quality time with nuclear and extended families, counselors say it's critical for mom and dad to spend time alone. "Families are happier when they are centered around a strong marital bond between the parents," Guo says.
Sandra Nakao, who handles human resources for a public-relations firm, and her husband, Darren, chief executive officer for a healthcare company, have had regular date nights throughout their 12-year marriage. These moments are a time to "have fun and to discuss family matters, plan ahead and communicate expectations with each other," she says.
The Kobayashis, Gadianos and Mortas also schedule husband-wife outings to movies and dinners several times a year. Otherwise, their twice-monthly dates are nothing fancy. A favorite activity for the couples interviewed in this story? A late-night trip to McDonald's, for "budget-friendly" dessert.
It is also important for mom and dad to demonstrate their commitment with regular smaller acts of kindness. Cabral advises: "Every day, ask yourself two questions: 'What can I do to make my partner feel special and important?' And 'What can I do to take away my partner's stress?' By doing this, you're being proactive and protective of your relationship."
Marlyn encourages her husband Daver to book professional massages or golf with buddies to relieve stress. She also "doesn't burden him with chores and kid issues when he is busy with work and church assignments," she says. In exchange, Daver makes Marlyn feel like a queen by doing housework in the evenings and texting her thoughtful messages throughout the day [see sidebar "Families Come First, Before Technology."]
Samuel helps his wife, Marites, de-stress by regularly cleaning the bathrooms and cars, washing laundry and buying her spa treatments or flowers for "just-because occasions," he says. To make Samuel, her husband of 19 years, feel special, Marites does what most starry-eyed women do when they first date their husbands: "I give my full attention to him when we are together!" she says.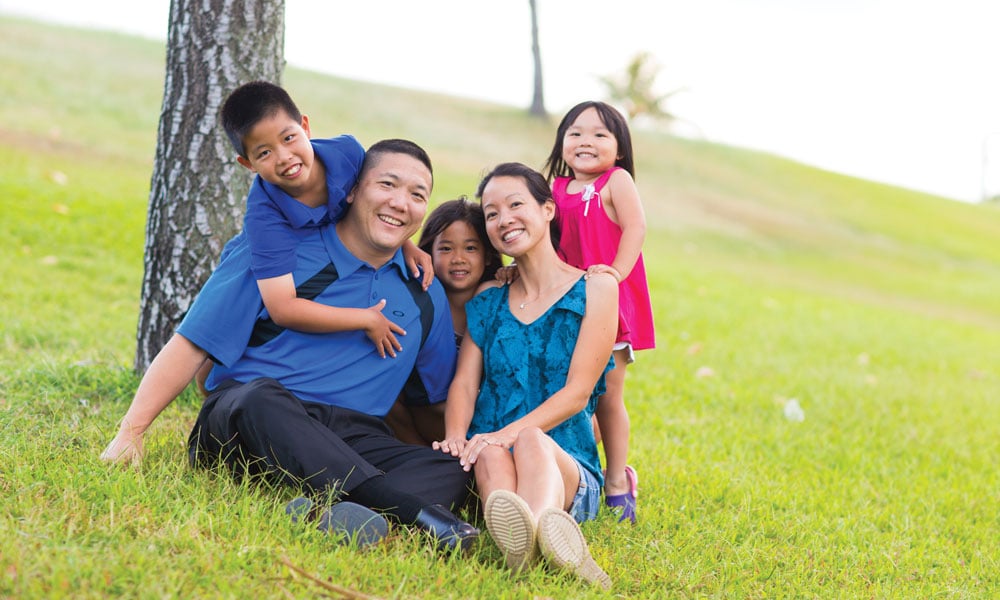 The Nakaos: Darren, Sandra, Brett, 9, Allison, 8, and Caitlin, 3.
FAMILY CHALLENGE: Tired couples argue a lot, especially in front of children.
SOLUTION: Pick your battles, and fight with fairness.
Kids will not be scarred for life if they witness feuds between mom and dad. "You don't want to shield kids from all adversity and sadness — it's OK to show realistic difficulties and disagree on issues," Guo says.
The key is to fight with respect. Counselors offer the following advice: Don't yell at your partner. Don't swear and name-call. Don't attack your partner's character. Don't judge. Instead of saying something you later will regret, take a moment to notice the physical effects of your anger (for example, a clenched jaw, pounding heart and rapid breaths). Call a time-out, if necessary. "Do whatever it takes to calm down," Guo says.
Exercise is a time-out tactic for the Nakaos of Mānoa. "One of us goes on a jogging break to allow our emotions to calm down and process internally," Sandra says. "We pray about the things we can't agree on, and we make sure to apologize and forgive each other quickly."
For some parents who don't like to admit wrongdoing, saying "I'm sorry" can be excruciating, like pulling teeth. Cabral can't stress enough the importance of sincere apologies. "Take ownership of your faults, and be humble," she says. On the other side, the other partner must "receive the apology, and be able to forgive."
The conflict-management style of parents is a blueprint for children's future relationships – and mental health.
"If parents have a loving relationship, kids will be more affectionate, more relaxed," Cabral says. "If parents are quick-tempered, kids soak that up and become more anxious and insecure."
That's why the Kobayashis of Kaimukī, married 17 years, work hard to minimize arguments in front of their children. "I don't think they need to see that," Carie-Anne says. "I don't want them to feel stressed or feel that it's their fault."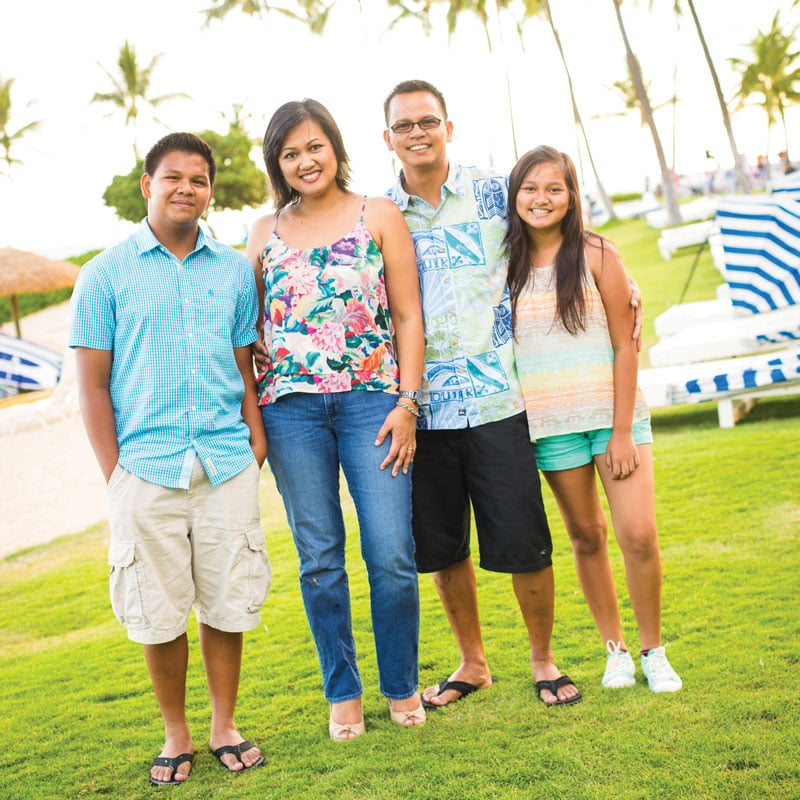 The Mortas: Samuel, Marites, Gabryel, 16, and Danielle, 13.
FAMILY CHALLENGE: Money and finances overwhelm families.
SOLUTION: Prioritize your family's values, and live simply.
The high cost of living in Hawai'i causes anxiety for many families seeking help from Phillip Rios, Psy.D.,
a clinical psychologist in Honolulu. "Both parents have to work longer hours, taking time away from each other and the kids," he says, and, as a result, "people grow apart by not maintaining that healthy connection when they first fell in love."
It helps for mom and dad to sit down, prioritize their values on a scale of one to five, and ask questions such as: Is the family's financial burden caused by private-school tuition and a home mortgage? How can parents restructure working hours to spend one-on-one time with their children, and with each other? How often should the family share weekends with acquaintances and extended family? Do parents' hobbies and children's extracurricular activities eat the family's monthly budget?
"We all want what is best for our children," says Ruhi Shah, a former executive of a global computer firm, now a stay-at-home-mom married to cardiologist Amit. The Shahs have two daughters, Anaya, 4, and Aanika, 2. "If that is measured by our kids going to good schools and universities, well, then, that is attached to a pretty large bill," she says.
To ease monetary woes, it's smart to trim debt and expenses. Some cost-cutting suggestions: Pack daily breakfasts, snacks and lunches for the entire family, using ingredients from big-box stores and farmers' markets; discuss chauffeur and tutor services with other parents to cut the cost of gas and private lessons; and encourage kids to participate in their schools' work-study programs to reduce tuition. Another money-saving tactic, albeit a drastic one, is to sell or rent the family's home and move in with relatives.
Ruhi's advice to families, burdened by long working hours and high expenses: "KISS — Keep It Simple, Stupid," says the Kāhala mom. "We've got to learn to simplify our lives, otherwise we'll drive ourselves to insanity and exhaustion trying to juggle all the pieces of our lives."
There is no doubt that navigating the complex jungle of parenting, careers and marriage is a challenge. But counselors say nurturing the family daily is an important step in finding a balance that benefits everyone.
Otherwise, "resentment in one partner builds up if a family waits too long, or thinks the problem will take care of itself," Cabral says. Families are like gardens that need constant nourishment to thrive, she says.
Rios likens families to brand-new homes. "Inside the house is beautiful, but it will deteriorate, unless you continue to maintain it on a daily basis," he explains. "Families are exactly like that."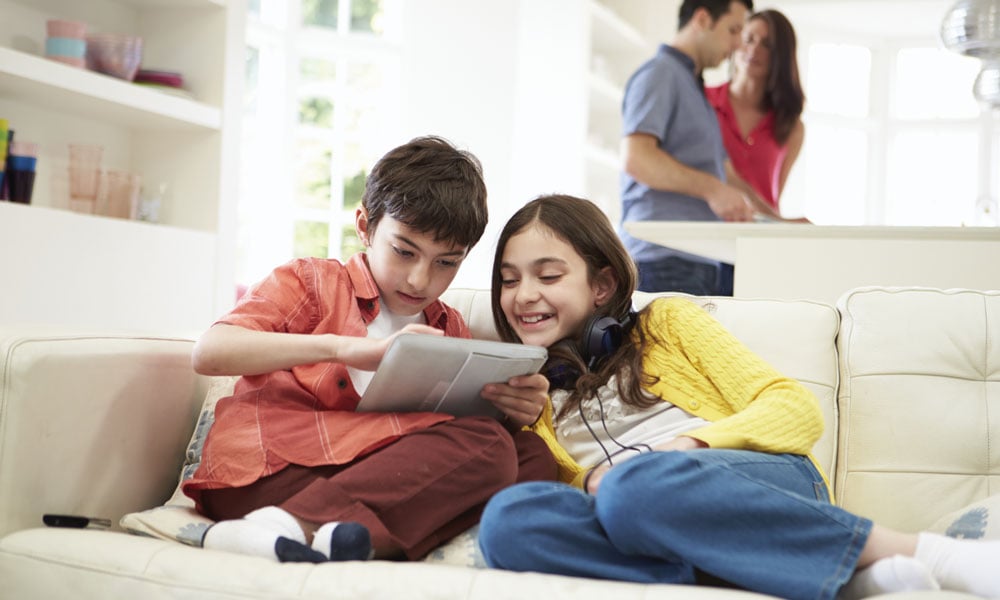 FAMILY CHALLENGE: Families come first, before technology.
SOLUTION: Designate a no-tech time each day to unplug and focus on one another.
Often, technology dependency begins when tired parents — wanting peace — park their tiny tots in front of a movie at the family dinner table. Soon, the kids need electronic games for nonstop entertainment, while parents constantly use their smartphones for work emails and social-media posts.
Phillip Rios, a Honolulu psychologist, says this growing trend among local families diverts attention away from one another, devalues face-to-face interaction and sends kids the message that families are not a single unit. "Technology seems to be more of an issue every year, as parents feel committed to answering or responding to messages, or keeping in contact on Facebook," he says.
Reversing that trend is easy: Designate a no-tech time each day to unplug and focus on one another.
Marites and Samuel Morta shut off all electronics and eat dinner together with their children, Danielle, 13, and Gabryel, 16. Mealtime conversation should be positive and uplifting, "not a time to scold anyone," Samuel says.
Darren and Sandra Nakao eat dinner at 6:30 every night, sans technology, with their three children, Brett, 9, Allison, 8, and Caitlin, 3, followed by bedtime routines, prayers and time alone with each child before lights out at 8:30.
The tech-free routine gives Darren and Sandra between six hours and eight hours of sleep nightly, necessary for the "family to stay healthy and treat each other well," Sandra says.
When it comes to social media, Daver and Marlyn Gadiano have house rules. They are aware of each other's posts and social-media friends. Their children, Lemmuel, 13, and Jamila, 10, use computers and iPads only in the living room, where family members gather.
In some ways, technology has strengthened the Gadianos' 14-year marriage. Daver calls or texts Marlyn at least once daily "just to say hi or send poems" he composes. That small gesture reestablishes the couple's bond, even when separated by long hours at work. "You don't want that much time to lapse without letting your partner know you're thinking about them," says Malia Cabral, a marriage and family therapist.
"Connect, call on the phone or text!"