Recipe: Baked Chicken Tenders
A healthy version of a kid-friendly meal.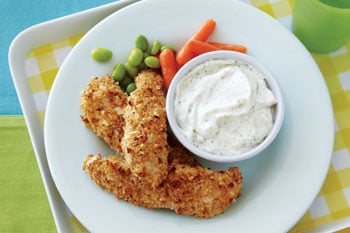 Baked Chicken Tenders
Ingredients
1 packet Hidden Valley Original Ranch Salad Dressing and Seasoning mix
2 cups nonfat Greek yogurt
1 cup low-fat buttermilk
20 ounces fresh chicken tenders
1 cup whole-wheat bread crumbs
Sliced almonds
1 teaspoon garlic powder
Pepper
Olive oil cooking spray
Instructions
Combine ½ packet ranch dressing and seasoning mix with yogurt. Refrigerate.
Combine remaining ranch dressing and seasoning mix with buttermilk. Refrigerate.
Rinse chicken and thoroughly pat dry on paper towels.
Combine chicken and buttermilk mixture together in a food storage zipper bag and refrigerate 6 to 24 hours.
Heat oven to 425 degrees.
In a food processor, combine bread crumbs, almonds, garlic powder and pepper.
Coat chicken in bread-crumb mixture.
Set a wire rack on a baking sheet and coat with cooking spray. Lay chicken pieces on wire rack and spray with more cooking spray.
Bake 16 to 18 minutes, or until no longer pink, the internal temperature should be at least 170 degrees.
Use yogurt mixture as a dipping sauce.
Prep Time: 20 minutes
Cook Time: 20 minutes
Ready Time: 1 hour
Source: Family Features