Back-to-School Safety on the Streets of O'ahu
Take the pedestrian pledge, download coloring books for kids and talk with your family about traffic safety.
Connor Anderson of Honolulu was 9 when he started walking to school by himself. "I was nervous," says his mom, Lisa. "He had to walk across a total of 13 lanes and one of the busiest intersections in Honolulu. He was a safety-conscious kid, but I worried about distracted drivers. I had seen SO many red lights run."
Connor once saw a truck hit a small girl who had the right-of-way in a Makiki crosswalk. The accident left such a strong impression that he now makes eye contact with every driver he crosses when walking to his new school. The 2-mile route includes major roads—some with unmarked or faded crosswalks and no stoplights.
Lisa's advice to families teaching their keiki to be smart pedestrians: "Walk the route with your kids several times, pointing out potential dangers," she says. "Teach them to watch for cars that may not stop even if they have a red light."
This August marks the 10th anniversary of Pedestrian Safety Month. Since it's also back-to-school season, now's a great time to teach—or remind—children to be safe on the streets.
To help you get started, here are some tips and resources:
1. Attend a pedestrian-safety program
Bring your family to an event hosted by Pedestrian Safety Month organizers. You'll learn safety tips from traffic specialists, recite and take the Walk Wise Hawaiʻi Pledge and receive a free device to help you stay safe on the streets. hidot.hawaii.gov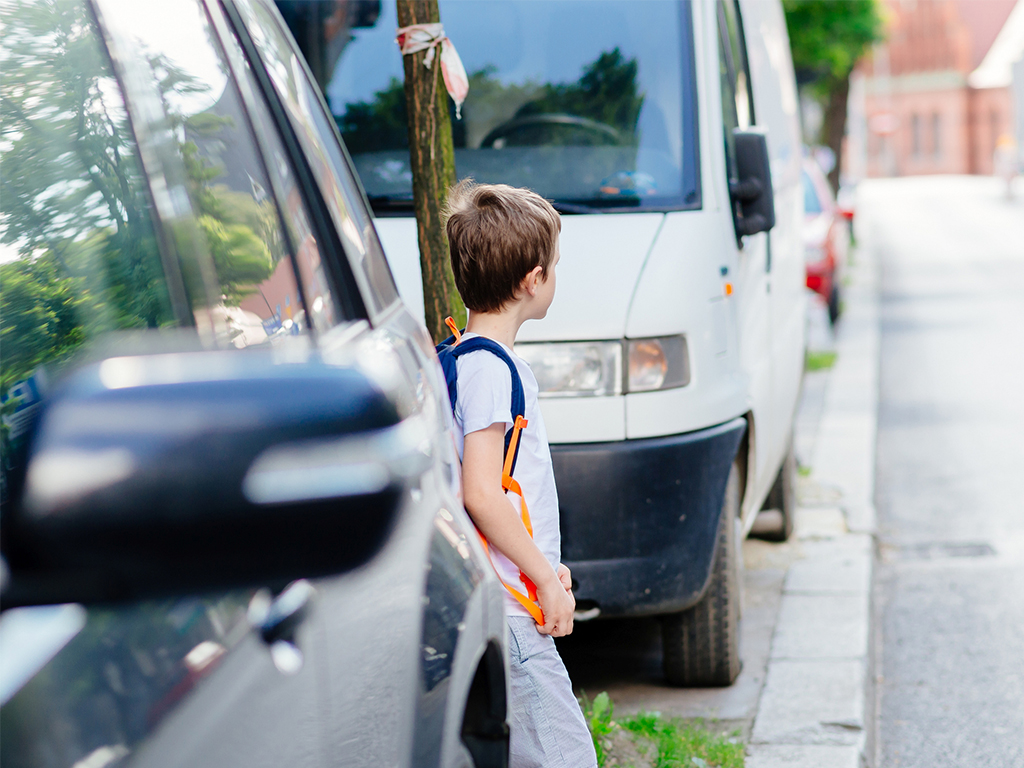 Photo: Getty Images
2. Teach your family about the laws
Pedestrians cannot legally enter a crosswalk while a countdown timer is flashing numbers. In other words, you can only cross when the traffic sign has an upraised palm or a figure of a walking person. There's a $130 fine for breaking this law, which took effect in July 2019.
Another important law, passed in 2017, bans pedestrians from looking at their mobile devices while crossing streets. So, that means no texting, playing video games, taking photos and talking on cell phones without a Bluetooth or earpiece. The fine for breaking this law is $15 for the first citation and up to $99, based on frequency.
3. Share these tips on the road
Below are some talking points when walking with your family, or when driving a vehicle with your kids as passengers.
Always look for turning cars before stepping off the curb to cross a street.
Look left, right, left again and over your shoulder before stepping into a street.
Cross only at marked crosswalks.
Stand at least 10 feet away from the curb when waiting to cross a street, or when waiting at bus stops.
Watch for vehicles turning onto or backing out of parking spaces or driveways. Never assume that drivers always see you.
Dress to be seen. During the day, wear fluorescent or neon clothing. At night, wear reflective material on your clothes and accessories, including bags, hats and shoes.
When crossing in front of stopped cars, make eye contact to be sure drivers see you before crossing in front of them.
Because of their shorter height, children can be extra cautious in parking lots by listening and watching for cars reversing or turning corners. When in doubt, children can wait and let cars go ahead of them.
4. Get creative and colorful
Online, you can find and download the Walk Smart Activity & Coloring Book for children. It has word scrambles, mazes and photos of traffic signs that kids should know.
Another downloadable book titled, Bee Safe Be Seen on Halloween, is available in four reading levels. Click here for the preschool edition, the kindergarten through first grade edition, second through fourth and fifth to sixth.
"Halloween is a good time to talk about pedestrian safety with keiki," says Lance Rae, spokesperson for the state Department of Transportation's Walk Wise Hawai'i. "It's the very first time children walk without parents, or with older siblings." He suggests mapping out kids' trick-or-treat routes and reminding kids that the safest route is not always the shortest route. He also says to walk on the side of the road facing oncoming traffic.
5. Know local programs for keiki
There are a number of pedestrian-safety programs that visit schools and kids' clubs throughout the year. The newest one to launch is "Walk Ed," which began in March 2019 with third graders from Kapolei Elementary School. In the pilot program, students watched safety presentations (using life-sized foam crosswalks), received safety vests and applied what they learned by walking around their school's neighborhood. "Walk Ed" also made the rounds at the City & County of Honolulu's Summer Fun Program this past year and is scheduled to present at public schools on O'ahu during the 2019-2020 school year.
Another program is "Safe Routes to School," which teaches children in grades kindergarten through eighth grade to walk and bike safely to school. "Parents can contact their child's school administration to help collect SRTS data and create a SRTS plan," says Dana Teramoto, traffic education specialist at the City & County's transportation services department. Click here to start an SRTS program in your community.
6. Role model good behavior
"Pedestrian safety education begins at home," Teramoto says. "Some parents are observed jaywalking with their young children. This sends a message that it is okay to jaywalk. Parents can teach children by being alert, pointing out ways on how drivers are distracted, and obeying pedestrian safety laws."
Role-modeling happens in the drivers' seat, as well, Rae says. "We can send mixed messages to our children in the backseat if we're drinking our sodas, eating French fries, fixing our hair and makeup while driving," he adds.
7. Be aware of what's happening
As of June 25, 2019, there were 23 pedestrian fatalities statewide, of which 12 were on O'ahu. These numbers are "unofficial," Rae says. The official and final count will be released at the end of 2019.
Last year, there were 32 pedestrian fatalities in Hawai'i. "2018 was a big year for pedestrian crashes, not just in Hawai'i but across the nation," Rae says. He cites some reasons: More people are on the streets in general, more drivers opt for larger vehicles, and people continue using cell phones while driving and walking.
Additional resources:
Call (808) 535-9099 for Walk Wise Hawaiʻi.