Authentic Hawaiian Food: Kaumakapili Church's 40th Anniversary Luau, July 16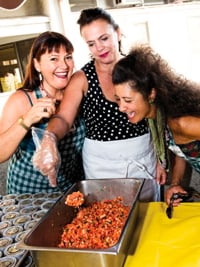 For 40 years, Kaumakapili Church, the historic Hawaiian church in Kalihi, has been putting on a benefit luau.
This year's anniversary luau is Saturday, July 16th.
The church whips up amazing quantities of authentic Hawaiian food. It's all prepared with love by church volunteers. More than once, Biting Commentary has found himself working with the volunteers. For the full behind-the-scenes story, click here.
The church parish hall only holds 500 or so people, so the sit-down luau Saturday evening sells out almost the minute it's announced. It's too late for this year.
However, the church also sells luau take-out, a big white cake box full of goodies.
Kalua pig cooked in the imu grounds at Kamehameha Schools.
Chicken long rice and lomilomi salmon from the church's traditional recipes.
Poke with limu.
Plenty opihi.
Sweet potato, haupia and cake.
A pineapple wedge and a soft drink.
At $17 a box, it's a bargain.
"We'd like everyone to be able to afford it," says the luau co-chair, Kellie Maunakea.
The luau helps raise funds for the church's outreach programs. As Kahu Richard Kamanu (below) puts it, "While Kaumakapili is not a rich church, its members have found wealth beyond measure in efforts to help those who have great needs."
Pick up for take-out boxes is from 10 a.m.-5 p.m. the day of the luau, July 16.
There are only 2,500 takeout meals and demand is brisk. You'll need to buy a ticket ahead of time (like right away) by calling the church office, (808) 845-0908.
Planning for the luau takes months. Work begins more than a week ahead, all volunteers, one of the most welcoming and warm group of people you'll ever find laboring in a church basement. If you'd like to volunteer or make a donation, you can also call the church office.
Kaumakapili Church is located at 766 N. King St., just across Palama Street from Tamashiro Market. Pick up for take-out boxes is on Kanoa Street, parallel to King just behind the church.
For more information and volunteer opportunities, click here.