At the Summit
New Festival fosters cultural exchange in an intimate setting.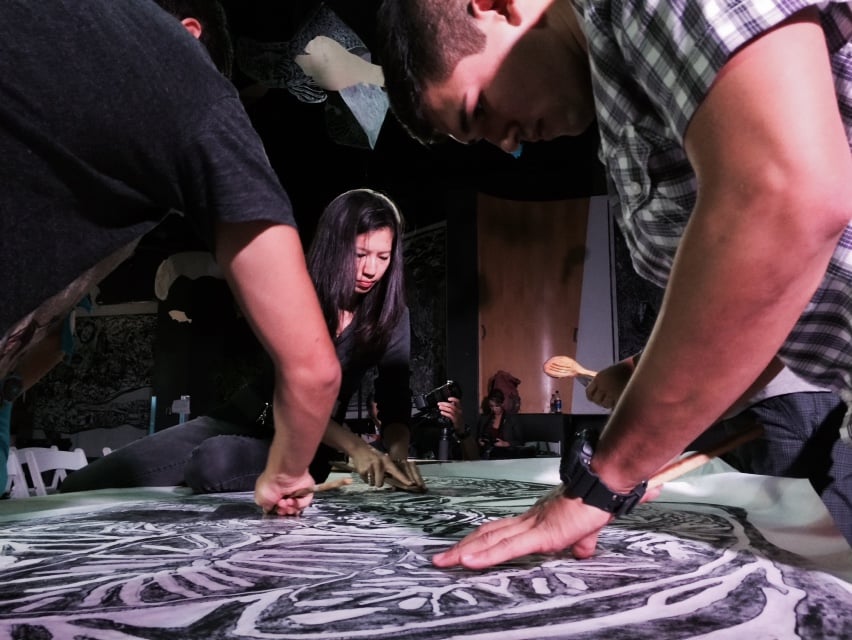 At the kick-off party for SUMMIT Fest Friday evening, Kumu Kahua Theatre's Donna Blanchard sits across from singer/DJ Po'ai Lincoln on the roof of the IBM Building. A few feet away, artist Sergio Garzon sketches their silhouettes for an illustration that he might turn into a watercolor later.
Such was the vibe of SUMMIT Fest, a three-day event exploring cultural issues that ranged from the need for collaborative workspaces, investigating pesticide exposure on Kaua'i, to firsthand experiences growing up in the former leprosy settlement at Kalaupapa, through a mix of presentations and performances.
"Deliver me from my constant expectations of life. Deliver me from trespassing in a trance; I want to wake up and resurface from my subliminal sanctuaries of mental hibernation," internationally recognized poet Iyeoka Okoawo told the crowd.
Without a formal stage on the IBM Building rooftop, performers spoke, sung, or recited poetry only a few feet from guests at eye level, creating a spirit of closeness that charged the crowd. The intimacy set the stage for a weekend of celebrating local culture, arts, and community.
Designed to highlight Hawai'i as an innovation hub for the Asia-Pacific region by sharing culture and exploring issues with both local and global relevance, the first-time event began on the roof of the IBM Building at Ward Centre.
The cultural theme extended to the food: Kale's Deli chefs Jenn and Christina Hee presented variations on local favorites, such as pork laulau, ginger ceviche with green mango, and a 'shoots and roots' salad that included long rice and sea asparagus.
Hawai'i actors and improvisers Garrick Paikai and R. Kevin Doyle hosted a live, not-so-late-late show, interviewing Summit presenters for the weekend such as TV news anchor Yunji de Nies, recent Project Runway contestant Kini Zamora, and Independent Music Award-nominee Iyeoka.
Organized by TEDxHonolulu veterans Matthew Lynch and Gene Shofner, Laurien Nuss, and Hawai'i Independent publisher Ikaika Hussey, the event reached out to a range of talent that came together over the weekend.
Iyeoka again: "I believe that we have 365 days to journey to be amazing.To uplift from the solitude that contributes to dragging us down."