At Home on Diamond Head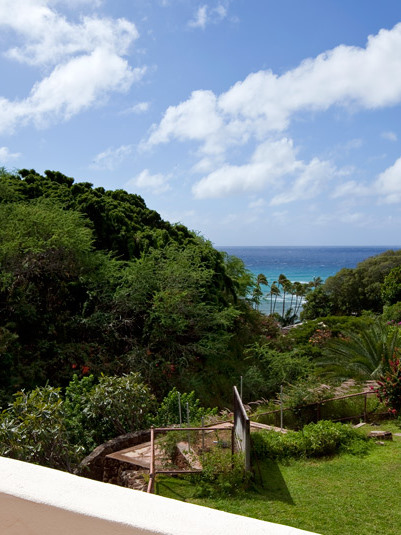 It seems fitting that two of Hawaii's most renowned architects, Vladimir Ossipoff and Hart Wood, would have their designs sitting side by side on the slopes of Diamond Head. Ossipoff, as I'm sure you all know from reading this column, is one of Hawaii's most renowned modernist architects. For almost a decade, Hart Wood was Charles Dickey's partner, a collaboration that produced such notable local landmarks as the Alexander & Baldwin Building and Honolulu Hale. Among Wood's more remarkable designs are the First Chinese Church of Christ on King St., a striking blend of Western architectural and traditional Chinese designs; the Gump Building, one of the first stores in Waikiki (now home to Louis Vuitton), and the Honolulu Board of Water Supply Administration Building on Beretania St.
This Hart Wood-designed residence is located on an exclusive street of multi-million-dollar homes tucked away on the lower makai slopes of Diamond Head, with views of the Pacific Ocean and, if you look up, tourists snapping pictures from the top of the trail. The current owner, who resides on the Mainland and has recently had the home rented out, also owns the neighboring property, a low-slung Ossipoff design that I wrote about a few weeks ago.
The abode was built in 1931 for the Robert Pew family. The home's architecture, a combination of Hawaiian modernism and Eastern design influences, stands out among its mostly modernist neighbors, particularly the sapphire blue, double-pitched hipped roof, an ode, perhaps, to the aqua waters down below. The entry, through a circular door, flows into a ballroom-size great room with marble floors and banks of glass doors that lead out onto a spacious, wraparound lanai. Ornate woodwork and Chinese geometric patterns throughout the home add visual interest to the grand living spaces.
The home, which was remodeled by architect Jeffrey Long, has four bedrooms and five-and-a-half baths for a total of 5,897 square feet. The results of Long's renovation are most evident in the contemporary kitchen and bathrooms, as well as the addition of a light-flooded circular entry to the master bedroom. Otherwise, much of Hart Wood's original design remains happily intact.
Money talk: The house is listed for $6,995,000 fee simple. It can be purchased in conjunction with the neighboring Ossipoff-designed home, which is listed for $3.9 million.
Contact: Stephen Cipres, Elite Pacific Properties. 589-2040, stephen@elitepacific.com.