At a Glance: Makee Ailana in Waikiki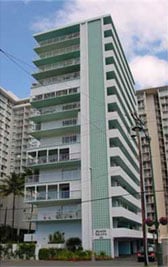 I almost always leave Waikiki with a mild neck and backache (not to mention sore feet), the result of touring one condo building after another. Shopping for real estate in this tourist town can be overwhelming. There is an abundance of buildings tucked down the city's myriad side streets and sitting prominently along its main boulevards, and, like me, you've probably walked past them and wondered what it would be like to live there.
One of those buildings that I've long been curious about is Makee Ailana on Kapahulu. The fairly nondescript, concrete building is located next-door to the recently rehabbed Queen Kapiolani Hotel, across the street from Kapiolani Park and Honolulu Zoo. Built in 1967, the 14-floor building has 48 two-bedroom/two-bath condos with 1,104 square feet and an owner-occupancy rate of approximately 48 percent. Amenities in the secure building include a rec area, storage, swimming pool and elevator, though there's only one elevator and it's fairly old.
This particular unit is on the seventh floor and features two bedrooms both with en suite baths, an updated kitchen and baths, walk-in closets, an in-unit washer/dryer and ceramic tile, vinyl and carpet flooring. The 100-sq.-ft. lanai has peek-a-boo views of the ocean, though the predominant view is of the rooftop pool/lanai at the Queen Kapiolani (great people watching, if that's your thing). The condo has a window A/C unit, and comes with a covered parking stall.
Money talk: This condo is listed at $545,000 fee simple. The monthly maintenance fees are $570.
Contact: Suzanne Smith, Suzanne Smith Associates. 922-3100, suzannesmith@usa.com.