Art in the City
Where to take the keiki for a downtown art adventure.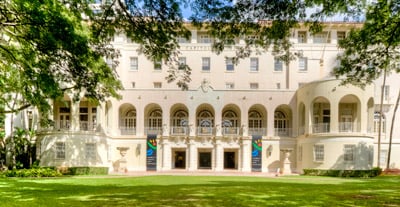 If you've ever watched your kids fingerpaint with abandon, you know how much art can inspire them. The downtown art scene in Honolulu provides the perfect venue for children to experience local art and artists up close and personal through museum and Chinatown gallery visits. Here are highlights from our family-friendly downtown adventure.
State Art Museum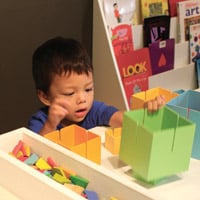 For many, the Hawaii State Art Museum, also as HiSAM, is a well-kept secret. It's located at 250 S. Hotel St. (the corner of Hotel and Richards streets, a stone's throw from the State Capitol), in a stately white building with a long history. The museum opened to the public in 2002, housing one of the largest and finest collections of work by Hawaii artists. The museum is the primary venue for the public to view the Art in Public Places collection of the State Foundation on Culture and the Arts.
Free admission provides access to wonderful local art. The museum's top highlights are the lobby restaurant, Downtown, owned by chef Ed Kenney of Town in Kaimuki; and a terrific, hands-on "toy room" for kids, with fun ways for children to learn about lines, shapes, colors and other aspects of art. Parents and children can rest and read on chairs.
Remind kids to:
1) Use quiet voices so others can enjoy the space. It's like being in a church or library.
2) Move slowly and carefully. Everything is precious. Think of each piece as something fragile, like a tower of blocks, and be sure not to bump into it.
Interested kids should team up with brave, alert parents. With two parents, our 2-year-old and 6-year-old managed to see about half of the exhibit on display.
Consider planning your visit to coincide with the activities at the museum's Second Saturday, which has as its theme, "Bring the Families of Hawaii Closer to the Arts." Past activities have included weaving lauhala star ornaments and creating in clay.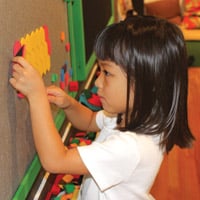 The building housing the museum is on the site where the Hawaiian Hotel originally sat, built in 1872, during the reign of King Lot Kamehameha V. The hotel was later renamed the Royal Hawaiian Hotel, which is how Hotel Street got its name. In 1917, the YMCA purchased the three-story building and opened later that year as the first Army and Navy YMCA. The building was later demolished. The current structure, designed for the YMCA with Spanish Mission features such as cast-stone detailing and iron grillwork, was built in 1928 (see hawaiistateartmuseum.org for more history).
Hawaii State Art Museum, No. 1 Capitol Building, 250 S. Hotel St. Corner of Richards and Hotel streets. Hours: Tuesday through Saturday 10 a.m. to 4 p.m. Closed all holidays. Open for First Friday Live from the Lawn monthly from 5 to 9 p.m. General HiSAM information: 586-0900. For docent tours contact the museum educator at 586-9958.
First Friday
First Friday Hawaii Art Walk happens the first Friday of each month. Nighttime provides a different look and feel to the area. Our 6-year-old daughter said some things, like lights, look better at night. But the trip seems easier in daylight. First Friday now has a lively bar scene and block parties, creating traffic challenges. Closely-parented kids are welcome in the shops and galleries (the food and drink events are not appropriate for kids). For more information, see firstfridayhawaii.com. Here is a recount of a recent First Friday:
Chinatown Boardroom
Chinatown Boardroom features custom, one-of-a-kind surfboards and what it calls Lowbrow art by local and international artists. Past exhibits have included surf-themed art and photography. Owners Eric and Jackie Walden have a child of their own, so their space is kid-friendly. Do mind the rack of surfboards–functional works of art. Chinatown Boardroom, 1160 Nuuanu Ave., chinatownboardroom.com, 585-7200.
Super Citizen
Some stores, such as Super Citizen, are open late for First Friday. Located in the Marks Garage complex, Super Citizen aims to "bring you thoughtfully acquired gifts, accessories and products that will make you proud of your choices." Another way of describing the shop is an ecoconscious shop featuring clothing made of such fabrics as recycled denim and organic cotton. Recently, there was a cardboard playhouse set up in the store for kid-size explorers. Super Citizen, 22 S. Pauahi St., supercitizenstore.com, 593-4333.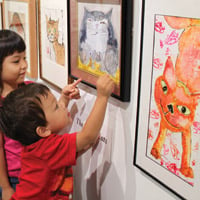 Louis Pohl Gallery
On this particular Friday, one featured artist was Linda Bachrach, whose paintings depict cats. Gallery owner Sandy Pohl is friendly and kind. Our kids checked out the gallery and munched on the snack of the night, Maui-onion potato chips. I asked them to name three materials used in the artwork: "Paint, clay and paper!" said Mei, age 6. The gallery is spacious, but keep a close eye on kids to ensure their safety and that of the artwork.
Kids are drawn to what they like, and art is no exception. Ask them why they like a work (color, shape, texture, etc.). If they are inclined, they can sketch it in the gallery or later. Louis Pohl Gallery, 1142 Bethel St., louispohlgallery.com, 521-1812.
Mei Sum
Dim sum can be fun for kids. The different small plates are delivered to tables by servers pushing carts. Perhaps it's all the action kids like. Favorites at our table were sticky rice in lotus leaf and jin dui with red bean (a deep-fried, sesame-coated hollow mochi ball with sweet azuki inside). Our light meal for two adults and two young kids cost about $25, including tip.
Arrive early, just before 11 a.m., as Mei Sum tends to get busy at lunch.
The server stacked two chairs to get our 2-year-old up higher. He liked this.
The kids did some drawing at the table, as they pleased. Mei Sum, 1170 Nuuanu Ave. #102, 531-3628.
Mini Garden Noodle House
Our kids like noodles of all sorts. Mini Garden Noodle House is a favorite because the food is good and the servers are helpful, even providing kitchen
scissors to cut the noodles. Our favorite is Char Sui Noodle in Soup, which has big chunks of red pork, vegetables and lots of very thin noodles ($6.50). The restaurant can get crowded at lunch, but not so packed as to be unpleasant. There are live fish and other seafood in tanks—for customers' consumption, of course —which are fun to look at. Mini Garden Noodle House, 50 N. Hotel St., 538-1273.
Otto Cake
We stopped at Otto Cake and picked up a slice of pumpkin cheesecake ($5) and a ginger-strawberry lemonade ($2). Otto is known for his many flavors, which vary throughout the year. The store is small and brightly painted. The cash register is old fashioned and custom painted. It feels like a theater. "Look, dots!" said our 2-year-old. "Fun." Otto Cake, 1160 Smith St., 834-6886.
Parking
Parking in Chinatown isn't hard. My go-to parking lot is the Chinatown Municipal parking structure on Beretania St. between Nuuanu and Smith (1170 Nuuanu). It's underground, so the driveway is easy to miss. Rates are reasonable and the parking area is clean, though the nearby Smith Street park does have an issue with sketchy characters. But, although visible through the glass exiting the elevator, they tend to keep to themselves.
For the State Art Museum specifically, consider Alii Place, located at 1099 Alakea St. The garage is clean and bright. However, since it is located in downtown, it is a longer walk from Chinatown back to Alii Place.
Rates: Before 5 p.m., the rate is 75 cents per 1/2 hour for the first two hours, then $1.50 for each additional 1/2 hour. After 5 p.m., the rate is 50 cent per 1/2 hour or $3 max.