April 19 – Weather or Not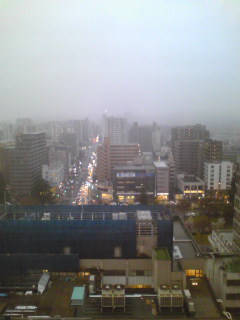 As Tohoku residents continue to rebuild, the weather reminds them again that some things are beyond their control.
We woke this morning to a photo from Yasue and a one-word text: SNOW!
What a change from the blue skies, bright sunshine and cherry blossoms she photographed in Sendai just the day before. Today's picture shows the Sendai skyline blurred by falling snow, overcast dark-gray sky, wet, cold, miserable.
Sendai is basically on the same latitude as Washington D.C. and therefore gets similar weather. In April, it can be near summer-like one day and winter the next. That's nothing new for the residents in northeast Japan to deal with. However, the new things they are dealing with make this wintery reminder seem like a cruel joke.
It sure would be nice if they could catch a break. With the rolling blackouts and intermittent aftershocks, is it asking too much for spring to firmly take hold and winter to retreat once and for all? For the more than 100,000 people still living in evacuation centers, a little sustained sunshine could really help brighten their day.