April 13 – Before Large Aftershocks, Many People Get Buzzed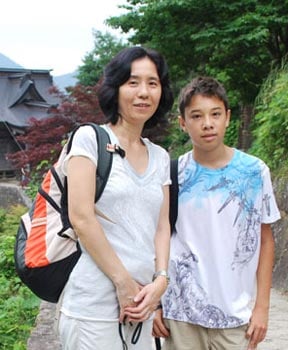 Technology allows many in Japan to hear an aftershock seconds before feeling it.
Yasue shared with me yesterday that she was in a grocery store when she heard that another aftershock was about to hit. The warning gave her a few vital seconds to move away from the shelves and to prepare for the quake.

The two largest cell phone providers in Japan, NTT Docomo and au by KDDI, offer their customers earthquake warning alerts. The free service sends a very loud, distinctive warning sound to cell phones when a Japan Meteorological Agency alert is issued for an impending earthquake of magnitude 5.0 or greater.

In essence, this is the same technology that immediately shuts down the bullet trains when a large earthquake is about to hit.

The technology is totally different than the point-to-point texting many of us use. Basically, when an alert is issued, every cell phone tower in Japan immediately sends an alert to every cell phone within range. The warning sounds the same on everyone's phone.

Well, not everyone. Yasue's cell phone provider, Softbank, does not offer this technology to its users. However, when Yasue is in a crowded place like the grocery store, she can hear the alert going off on other shoppers' phones. Yasue said the alerts only work about 50% of the time as the quakes often hit so quickly, the shaking arrives before the audible alert. But, when they do work, they give people as much as 10 seconds warning to get to a safer place and prepare for the quake.