April 1 – The Spam has Landed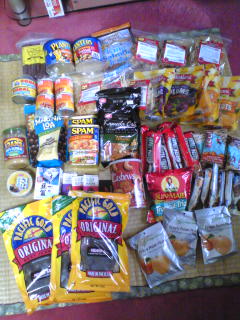 Two boxes packed with protein arrive in Sendai from Hawaii.
It took nearly three weeks, but, our first care packages from Hawaii finally arrived in Sendai. Much of the food Yasue was able to get in the first few days following 3/11 were all starches — rice, noodles, bread, etc. We were thrilled she could get anything, but, knew that she would eventually need more than just starches.
So, Ian and I sent her two small boxes packed primarily with protein — beef jerky, nuts, protein bars, tuna, Spam, Vienna Sausage, dried squid and tako (octopus), etc.
Of course, we also included a few "goodies" like hand-crafted, Hawaii-made dark chocolate, chocolate-covered macadamia nuts and some dried fruits. These will make nice gifts for Yasue to give to the neighbors and hospital staff who have helped here so much. Her mom and roommates will enjoy the food as well.
HONOLULU Magazine's owner, aio, is organizing a fundraiser for Tohoku University Hospital. Click here for details.