Anatomy of a Parking Garage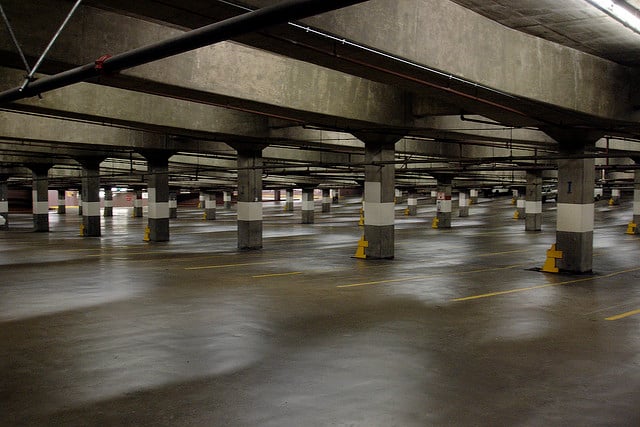 Parking. You do it all the time. On a good day, it passes without much notice. On a bad day, finding a space in Honolulu can be an exercise in frustration.
We started thinking about parking recently after noticing a small felicity in the Iwilei Costco parking lot: the stall dividers aren't just single lines, but are doubled up, to enforce an extra buffer between each parked vehicle. With one simple design tweak, cars are encouraged to park straight in their stalls; no more getting squeezed in so tight your door won't open.
The detail made us wonder: Just how much thought goes into designing parking lots and garages? Quite a bit, we discovered, after speaking with architect Joe Farrell, of Architects Hawaii. He's been laying out parking structures in Honolulu since 1970, and even invented the double-helix parking garage, an efficient coiled design that eliminates two-way traffic congestion while parking. We asked him about the do's and don'ts of creating a parking garage.
Q: When you're laying out a new structure, what design problems do you need to solve?
A: One big issue is the width of the stalls. Nine feet is ideal for retail. You don't see that much, though. The building code for standard cars allows stalls to be eight feet three inches wide. It used to be eight foot six inches, but there were pressures on the government, I guess.
The big problem is what's called compact stalls. They're allowed to be seven foot six inches wide. There ought to be a law against that. People are just going to park a big vehicle in there anyway. So why cause that frustration? Have you ever parked in the lot right next to Neiman Marcus? Those are tiny stalls, and boy do they get curses! People bang each other; it's just terrible. Eight foot six is really a minimum.
Q: Why not just have roomy stalls?
A: There is pressure from developers who want to pack in as many stalls as possible. Everyone's trying to maximize the return on that footprint. Bishop Square started off with bigger stalls, and now they're eight foot six. Interestingly, downtown parking managers have discovered that they can get additional income renting 125 percent of the stalls every month. People go out of town, or aren't parked after office hours.
Q: How do you decide how to lay out a new lot?
A: The size and shape of the site is a large factor when designing the parking. You want to have double-loaded parking, which means that you have one drive aisle and you can park on either side of it. That requires nearly 60 feet of room, though. If you have a lot that's only 45 feet wide, you're hurting, because you'll only be able to squeeze one side of parking for that one drive aisle. If you're fortunate enough to have 120 foot wide lot, where you can have two double-loaded aisles, then you can circulate cars one way around the lot. It's a puzzle, designing one of these.
Q: Do you keep an eye out for good and bad parking lots? What stands out to you?
A: I always notice any structure where the traffic backs up. Take Ward Centre, for instance. Big problem there. They've got two-way traffic, and flat slabs. You go around and around and wait and wait. If they had a double helix configuration, they wouldn't have that problem. And the width of the stalls is probably eight foot three inches, I would guess.
Costco, in Iwilei, on the other hand, has really wide drive aisles. Typically everyone uses a width of 22 feet for a two-way drive aisle. I think Costco's are more like 25 feet. They're thinking of their customers, and those big shopping carts that need extra room.
Q: Are there new advances in the world of parking design?
A: One thing we do these days that we didn't used to think about is to make the parking structure safer, especially for women. There needs to be enough lighting, and we try to get them painted white on the inside. We keep obstructions to a minimum, so you can view across the parking structure. Take the stairs and the elevator, for instance; instead of putting them in the center, we put them on the outside.
We're also trying to help people navigate parking structures, and not get lost. One thing we're trying now is to brand each floor with a different animal. A lion, or a dog or something, big and super graphic. You instantly realize that you're on the turtle floor. We've tried color coding, but it doesn't really work. There are too many floors and not enough colors. People can remember the basic primary colors, but they're not going to keep track of these in-between shades. But a six-foot-tall lion's face, that'll stick in your head.