An interview with Philip Chiang, founder of P.F. Chang's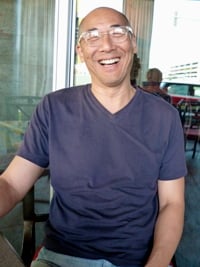 For a guy who founded a 200-restaurant chain with $1 billion in revenue a year, Philip Chiang seems pretty relaxed. He's drinking coffee on the lanai of the P.F. Chang's China Bistro, the one in the Hokua condominium near Ward, wearing jeans and a purple T-shirt, listening to music on his iPhone.
"I'm mainly a goodwill ambassador for the company now," he says. "I go into the test kitchen every once in a while, but the R&D staff does most of the heavy lifting." Chiang spends about a week a month at events like the fifth anniversary of the Hokua P.F. Chang's. The rest of the time? He paints. "Art is my first love. I'm a bohemian, not a corporate guy at all."
So how did he create the first chain of Chinese restaurant to reach out across America and, increasingly, the world? He's got a remarkable back story.
He grew up in Japan, his parents having fled China in 1949 when Mao came to power. Although they were Chinese, not Taiwanese, his father became a Taiwanese diplomat. His mother, however, had family in California, and she eventually relocated with Philip and his sister right into the heart of San Francisco's Chinatown.
His mother, who'd grown up in a palace and never worked in a restaurant, opened an upscale Chinese restaurant called the Mandarin (left), which opened slow until Vic Bergeron (Trader Vic) took San Francisco Chronicle columnist Herb Caen to eat there. In a few years, Cecilia Chiang was the most famous Chinese restaurateur in San Francisco, finally expanding to Beverly Hills as well.
In the meantime, Philip had finished high school and gone to Los Angeles to art school. Things were slow in the art field, so when his mother went to China for extended visit, he took over operations at Beverly Hills Mandarin. "I didn't want to work in a restaurant, I just wanted a steady paycheck for a while," he says.
But he caught the restaurant bug, opened his own, more casual restaurant called Mandarette. "We simplified Chinese food, took out the filler, made it cleaner and fresher, lots of small plates," he says.
One of his customers was Paul Fleming, who owned the Ruth's Chris Steakhouse franchise in California. "We became friends," says Chiang.
When Fleming moved to Arizona (more Ruth's Chris), he couldn't find a decent Chinese restaurant, so he asked Chiang to help him start one. "I was the food consultant, he was the operations," says Chiang. "We didn't even write anything down. It was just a handshake."
Their first P.F. Chang's (the P.F. for Paul Fleming, the Chang for Chiang) opened in Scottsdale shopping mall—and took off. "We got 1,000 customers the first weekend," recalls Chiang. "We were working 16-hour days."
The combination of Chiang's simplified Chinese cuisine and Fleming insistence on having American-style service, a wine list and a dessert menu turned out to be a huge hit.
Both founders eventually turned the company over to more corporate hands, with Fleming doing his own steak houses and Napa winery, and Chiang able to go back to painting. "I figured it was about time to do what I always wanted to do."
For Chiang, the food he created for P.F. Chang's is as Chinese as the palace his mother grew up in. "Just simpler, fresher, not so cornstarchy and gloppy."
Biting Commentary recalled the Oolong Sea Bass and Mongolian beef (right) at the fifth anniversary gala celebration the night before. Weren't they, ahem, a trifle sweeter than Chinese food should be?
Chiang winced a little. "You need some sugar to balance the harshness of the soy sauce," he says. "But in a chain, consistency is a problem. You can't get chefs to measure when they are pumping out food as fast as we do." The chefs seem to adjust to local tastes, he notes. "People in Hawaii seem to like sweet. It's the same in the Southeastern United States."
The 5th anniversary celebration of the Hokua P.F. Chang's continues the rest of the month. You can win a trip for two to China by entering here. And, this could be fun, you can win a $500 gift certificate to the restaurant by guessing the number of fortune cookies in the red Mini Cooper parked outside the restaurant. A tip: It's a brandnew Mini, so they put cardboard to keep fortune cookies from wedging themselves under the seats.
P. F. Chang's China Bistro, 1288 Ala Moana Blvd., (808) 596-4710, www.pfchangshawaii.com