An Evening of Sustainable Cuisine, March 11, Halekulani, Honolulu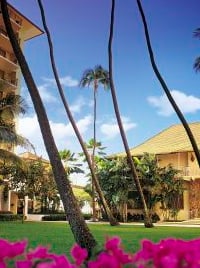 It's an evening dedicated to eating well and eating green, Friday, March 11, at the Halekulani.
"We did something similar a year ago as a benefit with Alan Wong and Roy Yamaguchi," says Halekulani gm Gerald Glennon. "It was such a success, we decided, as part of this weekend devoted to sustainable design, we'd do it again."
This time it's bigger and better.
Among the chefs is one that Glennon describes as "practically the poster child for organic and sustainable cuisine in Honolulu, Ed Kenney."
Kenney (left), of Town, will whip up such dishes pork belly with braised Savoy cabbage and chipolatas with grilled radicchio, with ingredients supplied by Glenn and Amy Shinsato of Kahaluu's Shinsato Hog Farm, and Gary & Kukui Maunakea-Forth from Waianae's Mao Organic Farms. The farmers will be in attendance at the event.
With ingredients from Janice and Bob Stanga of Hamakua Mushrooms and Brooks Takenaka of the United Fishing Agency, Roy Yamaguchi (right) will lend his talents to dishes like ham hock and pioppini mushroom "Head Cheese" with fresh wasabi mushroom bisque and truffle foam. And Hawaiian ono sashimi with Hawaiian Vanilla vinaigrette, Big Island hearts of palm and Kahuku sea asparagus.
The home team, Halekulani executive chef Vikram Garg (left), will do dishes like abalone fritters with Nalo greens. And ahi crudo with roasted Kahuku corn Chaat, dry mango powder and avocado vinaigrette. Made with ingredients from Hiroshi Arai of Big Island Abalone Corporation, Kylie Matsuda of Kahuku Farms and Dean Okimoto of Nalo Farms.
Even the drinks will pick up the sustainable theme. The wine will be provided by Napa's boutique Hall Winery, the first California winery to achieve LEEDS gold certification.
On hand to make cocktails with local ingredients is one of America's most noted bartenders, Julie Reiner (right), who grew up on Oahu and has brought her love of Hawaii-style fresh fruit to New York lounges like Clover Club and Lani Kai.
Tickets are $125 and, Glennon points out, this is a "net zero" event for the hotel, with the profits from the evening going to the Culinary Institute of the Pacific (CIP).
What is CIP? It's a good idea, long delayed. "I've been working on it for 11 years," says CIP's Conrad Nonaka, "and John Morton had it in the works years before that."
Hawaii now graduates about 100 culinary arts students a year from its six community college campuses. Few of those can afford to get advanced culinary training at places like the Culinary Institute of America. To raise the next generation of Hawaii regional chefs—and to make sure local students stay competitive worldwide—Hawaii needs a four-year degree-granting culinary program.
That's exactly what Culinary Institute of the Pacific is designed to do, as well as attract students from around the world. CIP is close to signing a 65-year lease at $1 a year for the old Cannon Club facility on Diamond Head. "We're getting there," says Nonaka. Above left: an architect's rendering of one of the new food labs.
The trouble: The facility will eventually cost $30 to $40 million.
"We've got great industry backing," says Nonaka. "We're hoping with the 20th anniversary of Hawaii regional cuisine this year, it will be clear to everyone it's time to grow the industry." With any luck, the facility will open in 2012.
"Any money we can add to their war chest is positive," says Glennon. "It's time for them to break ground."
For tickets and information, (808) 931-5040. Halekulani, 2199 Kalia Road, Honolulu, Halekulani.com