The aio Hawaii State Spelling Bee
Why You'll Want to Watch This Weekend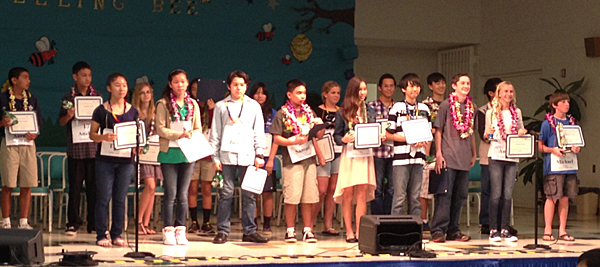 The last time I attended a spelling bee, I was in it.
Actually, I was in my class qualifying spelling bee where I failed to correctly spell mosquitoey. The winning word was triceratops. I indignantly noted in my diary, "That was so easy."
This year, I had the opportunity to represent aio Hawaii at the Central District Spelling Bee. After watching 20 of the district's top spellers, it's fair to say, I wouldn't have lasted even the practice round.
Sitting there with proud families and a very serious set of judges and officials, I found myself fascinated with what was happening around me. Here's a few things I learned at the 2013 Spelling Bee:
1 – It's heartbreaking.
You can almost feel every parent around you holding their breath as their kids battle it out on stage, wearing just a number as a name. But it was crushing for anyone watching, the moment a student heard the bell signaling a mistake, and had to walk off stage.
If you need a relief from the suspense, watch the contestants' younger siblings. They spent the hour wriggling around on benches (usually while a mom or dad furiously whispered for them to keep quiet), crawling under the cafeteria tables, running to grab complimentary graham crackers from the snack table, or sneaking their parents' smartphones out of purses or pockets.
2 – Think the spelling is hard? You should hear the origins. Seriously.
The origins you see printed in the dictionary are really cliff note versions. The request for the origin of the word beige went on for what felt like almost a minute, hopping across several continents and going back hundreds of years of history. All of that for a color that most consider boring, at best.
3 – How easy the word is depends on your point of reference.
Here are a few that the crowd seemed to think were simple: Adobe, stucco and beige. But really, if you've never done a renovation or had to download multiple PDFs through Adobe Acrobat, would you know these?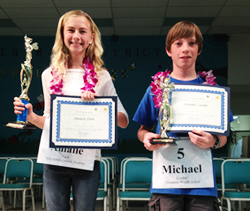 4 – Don't knock the importance of the pronouncer.
Even the tiniest inflection or variation of a vowel sound could throw a speller off. Not only that, but pronouncers have the right to define a word or five any other information that they think may be helpful, whether a student requests it or not. They're often the only person the contestants have any sort of interaction with, so the pronouncer can be their best friend.
In the Central District Spelling Bee, the winning word, spelled correctly by Amalie Yach of Holy Family Catholic Academy, was rhetoric. Impressive for a seventh grader standing in silence, on a stage, in front of strangers? Sure. Especially when you consider that shortly after the competition, I was telling a friend what the winning word was. His response was, "That's with one 'd' right?."
You can catch the state's top spellers in the 2013 aio Hawaii State Spelling Bee live, . The winner will compete in the Scripps National Spelling Bee near Washington, D.C., May 28 to 30.