And the aio Hawaii State Spelling Bee winner is…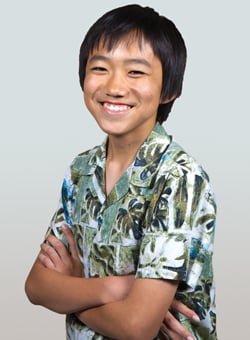 Akira Takabayashi, an eighth grader from Chiefess Kamakahelei Middle School on Kauai.
The winning word was lamentation, but other words such as Hemerocallis and baruhkzy were among the list of words that moved him forward in the competition. He won an International Dictionary Unabridged from Merriam Webster.
Amazingly, the Japan born Spelling Bee champ didn't learn English until just a few years ago.
It was nerve wracking to watch the fourteen students spell words most adults would have trouble spelling.
Hayley Dietrich, also an eighth grader from Le Jardin Academy came in second place.
Let's cheer Takabayashi on as he represents Hawaii in the Scripps National Spelling Bee near Washington D.C. on May 28. The competition will air live on ESPN.
The aio state Spelling Bee aired Sat., March 23 at 7 p.m. on PBS Hawaii.