aio Hawaii State Spelling Bee: Legacy of Learning
How one family taught their way to three of the state's finest spellers.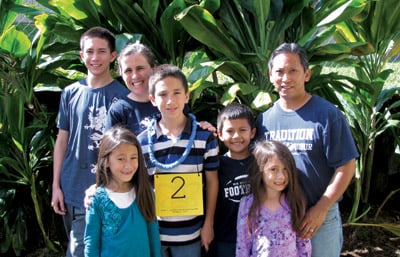 The 2013 aio Hawaii State Spelling Bee airs this Saturday, March 23 at 7 p.m. on PBS Hawaii. Get ready by taking a look at the legacy of learning behind last year's winner, Taggart Nakamoto, from our Summer 2012 issue of HONOLULU Family.
The Nakamoto family is no stranger to the Spelling Bee. This year, Taggart, a sixth-grader from Konawaena Middle School on the Big Island, won the 2012 aio Hawaii State Spelling Bee on March 24. But he's just the latest Nakamoto brother to prove his exceptional spelling skills.
Oldest brother Teagan, 19, was a state finalist in 2005 and 2006. Taggart's second-oldest brother, Talmage, 16, won sixth place in the State Bee in 2007, and advanced to the National Spelling Bee in 2008 and 2009.
Is it in their genes? Or just smart parenting? Likely it's a little bit of both.
Shan and Traci Nakamoto have six children and have raised three exceptional spellers by understanding their children's different learning styles.
This past November, she and dad Shan started posting flash cards around the house—a new studying technique they created for Taggart. "We used a book of Greek and Latin root words and have been writing each onto a 3×5 card," says Traci. They color-coded the cards for Latin roots, and included words with that root, sometimes with a short definition, if the word was unfamiliar. Up to 15 cards hung around the house. "The great thing about the roots is that this allows you to break an unfamiliar word into parts and put those parts together again," she says.
Shan and Traci also paid attention to Taggart's energy level. "Over months of practice, we could tell when he reached his limit for the day," Traci says. A few weeks before the State Bee, they decided that Friday night was going to be the last study session before Saturday's big competition. "We felt that cramming would just get him more confused and uptight, and that keeping him loose would help him remember the things he learned," says Traci.
Their parenting technique worked. Instead of being quizzed, Taggart played Sudoku and read a book.
"I really enjoy reading books," says Taggart, 12. "It helps me to relax." His tips for future spellers?
"Study hard and read a lot," he says. "Reading helped me learn new vocabulary words."