Affordable Rentals on the Beach in Oahu? It's Possible.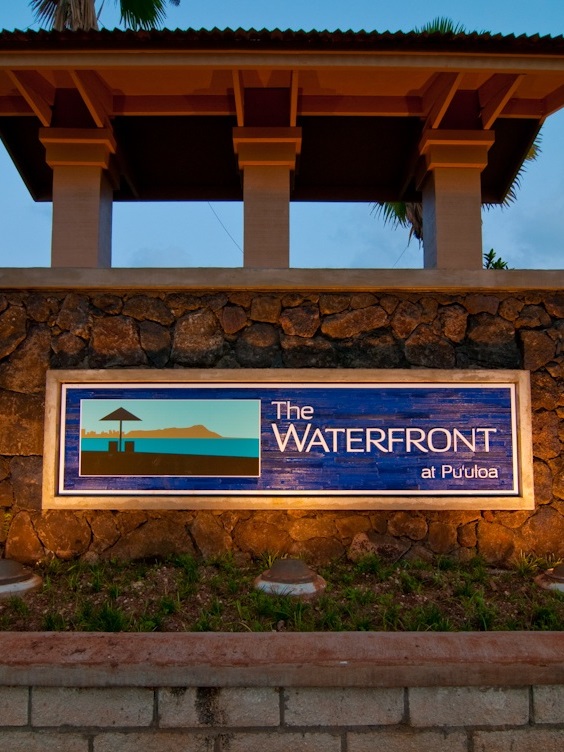 Vibe: The Waterfront at Puuloa offers beachfront living in former military housing. Formerly known as the Iroquois Point Island Club, the community's military roots are still evident: There's a Navy Exchange gas station and mini mart, and a somewhat-reliable ferry that shuttles military residents (about 60 percent of the community's population is military) to and from Ford Island and Pearl Harbor Naval Shipyard. The community, with 1,450 homes and approximately 5,000 residents, comes off as a small, Sims-like town, one littered with new town-esque details like "future resident" parking spaces, a Kamaaina Kids daycare, a fitness center with yoga and Zumba classes, walking and jogging paths along Puuloa Lagoon and a Diamond Head-facing beach with cabanas, "palapas" and lounge chairs. On Facebook, the neighborhood sounds like a modern Mayberry, with posts about a recent keiki fishing tournament, a community clean-up and garage sale, a baby hui for neighborhood parents and residents looking for lawn mowers, babysitters and dog walkers.
Value: The community offers four-bedroom, two-and-a-half-bath townhouses with smallish, enclosed yards for $1,600 to $1,900 per month. There are also two-, three-, and four-bedroom, single-story homes for $1,500 to $4,000. Rents vary based on location and square footage, says leasing supervisor Jeffery Choi, with beachfront homes obviously costing the most. Additional amenities include gated access and 24-hour security, and central air in the townhouses (single-family homes have in-window units or split AC).
The fine print: The Waterfront's location means you're in for a long commute if you work in town. All of the homes feature carports, not enclosed garages, though there is a good deal of parking. Despite renovations, the homes are older and many of them feel older (creaking wood floors, jalousie windows). The community is directly under a flight path, and, yes, those jets are loud. Section 8 is accepted here on a case-by-case basis (they have to undergo the same credit and background checks as everyone else), and, according to Choi, the number of Section 8 renters is very small.
On www.apartmentratings.com, reviewers of the Waterfront at Puuloa are split, with about half singing its praises (good school, huge houses, great fitness center, etc.) while the most frequent complaints include pest control issues, old construction and noise. When asked about the site and the issues raised, Choi says that the managers are aware of the complaints and try to respond, and admits that there have been insect issues—"it's Hawaii." He says that exterminators spray each home prior to occupancy and that residents are welcome to call for additional pest control.
Bottom line: It's a good value for Oahu and the views of Honolulu and Diamond Head from the beach can't be beat, but the commute and noise are certainly details to be aware of before you rent.
For more information: 441-9999, www.thewaterfrontpuuloa.com.