Affordable Condos in Ala Moana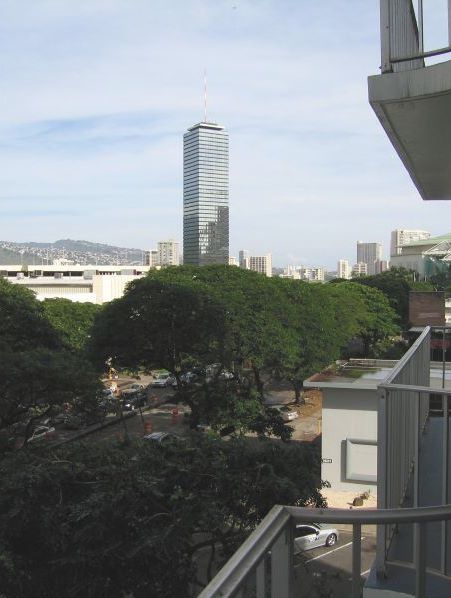 As I previously mentioned, Honolulu developer Peter Savio has two new condo projects on the market—the Pensacola Chelsea, which I wrote about yesterday, and Ala Moana Tower, a 17-floor building with 105 fee-simple condos and nine commercial spaces located next to Ala Moana Center. The former apartment building, which was constructed in 1968, sorely needed a facelift and, apparently, new management (one reviewer on apartmentratings.com noted that his rental had a "roach infestation" and "leaky pipes").
The Ala Moana Tower's updated two-bedroom/two-bath condos have 798 square feet of living area, while the one-bedroom/one-bath units have either 511 or 539 square feet. Each condo has a lanai, and most units have city views. A range, refrigerator, A/C and disposal are included with each condo, as is one assigned parking stall. However, none of the units come with washers and dryers—the building's Association of Apartment Owners (AOAO) has been given the funds to install a laundry room on each floor with two washers and dryers. Currently, there is a common laundry area. Trash chutes are also going to be installed on each floor. As of now, there's only a "trash receptacle" at the entry to the parking lot.
Like the Chelsea, building amenities are minimal: The sales sheet lists a swimming pool. However, I like to think of the building's pet-friendly policy as another of its amenities. Estimated monthly maintenance fees cost between $440 and just under $700, which is a little on the high side. The fees cover water, sewer, common area maintenance, insurance and electricity, which means your rates will likely increase every year. Additionally, at closing buyers must contribute to the AOAO's start-up fund, which costs between $480 and just over $1,000.
Show me the money: One-bedroom/one-bath condos are currently listed for about $235,000 to $270,000. Two/bedroom, two-bath units are listed for between $337,000 and $365,000.