Accessions Exhibit Opens at the Hawai'i State Art Museum
HiSAM invites you to view the most recent additions to the Art in Public Places collection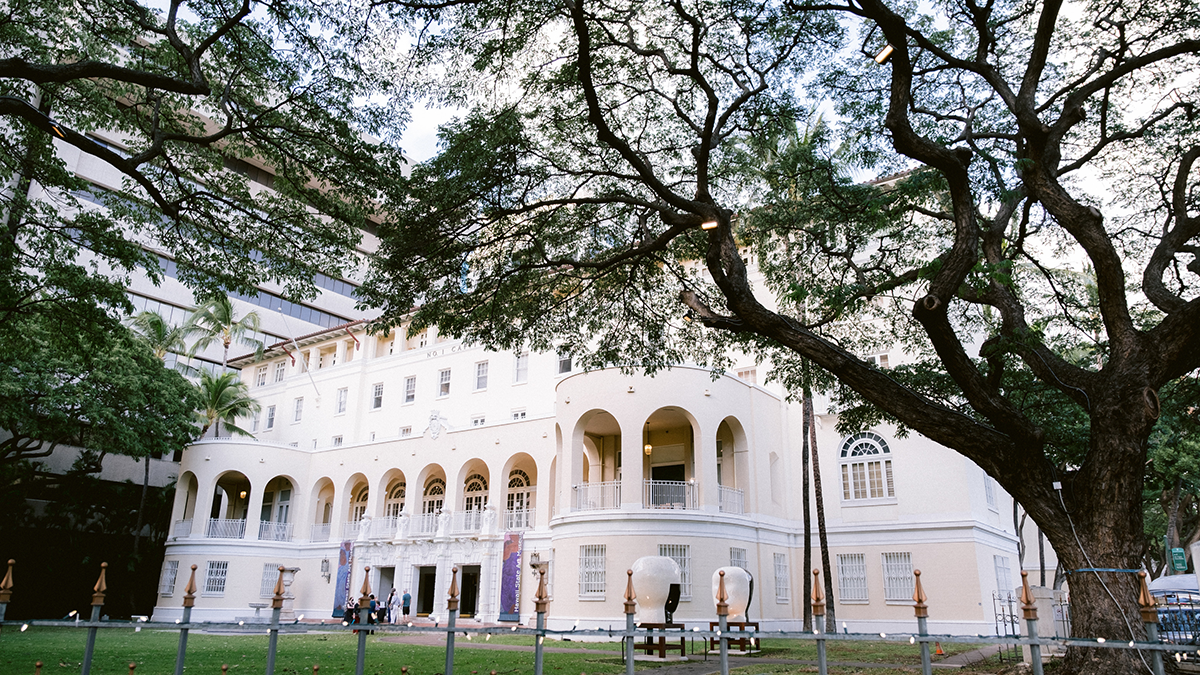 For more than 50 years, the State of Hawai'i has been the biggest art collector in town. The State Foundation on Culture and the Arts frequently visits curated and juried exhibitions at galleries, museums, and art centers across the islands to hunt and gather exceptional works of contemporary art. These become added to the Art in Public Places collection where the works are displayed in over 640 locations statewide including schools, libraries, airports, the State Capitol, and Hawai'i State Art Museum, giving the public access to inspiring art. This is made possible through the visionary Art in State Buildings Law where one percent of construction and renovation costs of state buildings are reserved "to acquire and commission works of visual art to beautify and humanize the built environment."
Now you can see the most recent acquisitions on view at HiSAM. The Accessions exhibit features 51 new additions to the Art in Public Places collection from 38 Hawai'i artists: Amber Aguirre, Bernice Akamine, Margaret Barnaby, Derek Bencomo, Don Bernshouse, Jake Boggs, Tobias Brill, Allyn Bromley, Sean K. L. Browne, Gaye Chan, Melissa Chimera, Ghislaine D. Chock, Jonathan Yukio Clark, Debra Drexler, John Fackrell, Lynn Martin Graton, J. D. Griggs, Daven Hee and Joy Sanchez, Darius Homayounpour, Roen Hufford, May Izumi, John Krenik, Tom Lieber, Constance Liu, Licia McDonald, Emily McIlroy, Sarah Metz, Susan Mori, Richard Nelson, Carl Franklin Kaʻailaʻau Pao, Maya Lea Portner, Darold Ramelb, Don Shamblin, Esther Shimazu, Juvana Soliven, Dalani Tanahy, and Maile Yawata.
This is the first new acquisitions exhibit since the pandemic began and many of the pieces were produced during that time. Works were created meditatively by the artists with strength and perseverance. Curator of Art in Public Places Elizabeth Baxter says "There seems to be more hope, even if only abstractly and there's an embracing and respect for tradition and history reflected in a fresh, original, and contemporary way."
One of the highlights of this exhibit is seeing works made out of kapa (Hawaiian bark cloth). The traditional kapa making process is incredibly time and labor intensive, and includes beating wauke (paper mulberry) by hand. The resulting works that the artists envisioned are truly something to marvel at.
"I would hope that the public takes away a greater appreciation of the diversity and richness of artwork being created in Hawai'i today. And that the arts are alive and well and exciting." says Baxter. "Besides the aesthetic and conceptual differences between the works, there is also a wide variety of approaches to art, and a complete blurring or disintegration of the line between art and craft."
Free admission, On view through 2023, Monday to Saturday 10 a.m. to 4 p.m., Closed on Sundays and State holidays, Hawai'i State Art Museum , 250 S. Hotel St., @hawaiistateartmuseum